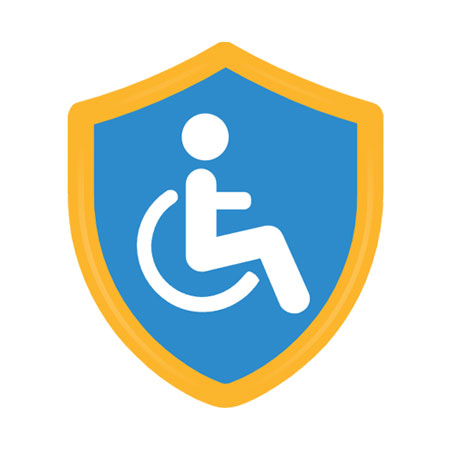 ADA Shield®
Sign up for an INNsight Subscription and let the professionals at INNsight design your hotel's brand new ADA Compliant website. INNsight will provide a custom responsive website design that offers all applicable content and bookability to achieve ADA Title III compliance and conforms to W3C WCAG 2.1 Level AA web accessibility standards from its launch. Not to mention, a brand new killer website that is not only going to be compliant with ADA but also data protection laws, and offers the latest web technologies to help drive more direct bookings!
\r\n\r\n
Our experienced Content Management team will work with you to establish all of your property's accessibility features and portray them accurately on your new website Powered by INNsight. Your website will have several dedicated contextual placements and features, which have been thoroughly usability tested in the field, that adequately describe all of your property's accessibility features. Your new ADA Compliant website Powered by INNsight will allow visitors to ascertain whether your property fulfills their accessible accommodation requirements with ease.
\r\n\r\n
Utilize the ADA Title III Compliant INNsight Booking Engine to drive the direct bookings of accessible guest room types. Our data tracking, shopping cart abandonment, and inventory management technology ensures that guests who intend to book an accessible room can look and then successfully book their stay. Our reservation system automatically removes the accessible guest room from inventory and satisfies the conditions of ADA Title III, and provides the data to confirm it.
\r\n\r\n
INNsight will complete a full ADA Title III audit/ before your new website is live and certify compliance with The Law.* Additionally, your website is submitted to a battery of tests, including industry-accepted WCAG checkers, to ensure that there are no errors in the web accessibility of your website's code. Finally, we enable the ADA Tray® assistive technology to fully layer on our built-in screen reader and website presentation manipulation technology so individuals with visual and mobility impairment can fully configure your website for their tailored consumption.
\r\n\r\n
Your brand new hotel website Powered by INNsight will be certified as ADA Title III Compliant by INNsight and launched to the public. Your new ADA compliant hotel website will provide you the ability to confidently promote your business to individuals that may face a variety of disabilities and also protect you from frivolous claims from serial litigants with defensible website design backed by years of subject matter expertise, usability testing, legal precedence, and user data.