By now all hoteliers know or have heard about the importance of having a standalone vanity website in today's digital age. Rather than depending on your property's physical location if in a tourist destination, or walk-ins to generate same day reservations, digital real estate lets the entire world know that you are open for business and allows bookings 24/7. Beyond that, having a responsive, ADA compliant hotel website for your place of accommodation allows your exposure to climb in search ranking especially if your website is well designed and leverages SEO and Social Media.
Key Hotel Website Elements: Finding The Best Hotel Digital Marketing Firm
A well-designed hotel website will correctly portray the experience the guest will enjoy when they cross your threshold into you hotel's lobby. You will want to ensure that your hotel's website is ADA Title III & WCAG 2.1 Level AA compliant to avoid exposure to click-by lawsuits. Most importantly, you will want to ensure that your hotel website is optimized and responsive; meaning the website will render perfectly irrespective of screen size from mobile phones and tablets to desktop PCs. Design your hotel's website for social engagement, and you'll want to make sure the design and navigation is intuitive and easy to navigate.
You'll want to choose a digital marketing provider that can expertly manage your Web Design, Social Media PPC, SEO, CMS, Reputation, even PMS for properties that need this functionality. You really need to choose a provider that expertly manages all of these areas, understands your most robust channels, and regularly innovates, so your website and digital marketing do not stagnate and become obsolete. If you have a substandard, low-functioning, unsightly web site, you are absolutely going to be losing revenue. What you once thought to be a bargain, in the end will be valueless.
Driving Direct Traffic – Where to Start?
Your property itself is a large piece of the puzzle when it comes to driving direct traffic. Consider what type of property, amenities and features you offer guests, as well as your online reputation, and how you differ from your competition. Make sure you have your physical property and its amenities up to par to give yourself a competitive edge and attract guests. Use professional high-resolution images on your website to dazzle travelers and display all of your property features. Additionally, make sure your staff is trained, helpful and friendly and you use off-line techniques such as printed collateral, business cards, and rack cards with your hotel's website prominently displayed. By implementing this winning combination, you will earn good reviews and drive more direct traffic.
Travel Spend - What is at Stake?
In the USA alone, travel spending increased 12.5 percent in 2017 according to Allianz Travel. The total amount American's spent vacationing totaled over $189 billion dollars. This staggering amount does not include business travel, foreign travelers, or domestic non-vacation travel. Digital travel sales are forecast to surpass $200 billion dollars by 2019. In 2017 81% of travelers researched and booked their trip via a mobile device. With the right strategy and Digital Marketing Provider, there is no reason you cannot attract your share of this multi-billion dollar travel spend relevant to your hotel and local market.
Do you know what your most powerful channels are for reaching potential guests?
Your Website

Social Media

OTA Presence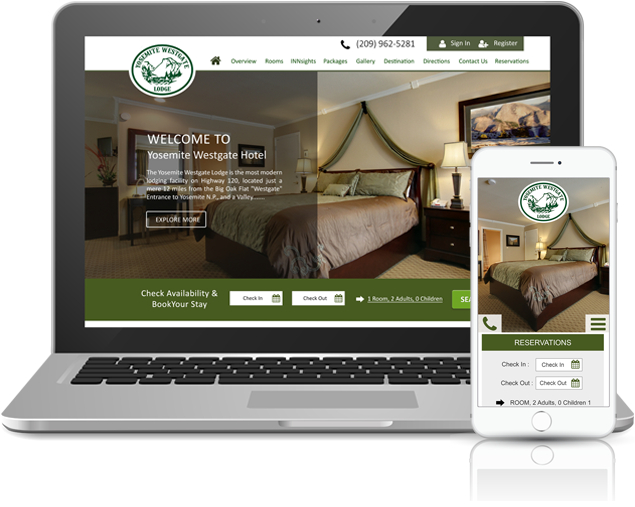 How are guests finding your hotel?
Well over 60% of travelers utilize mobile devices to search, plan and book their accommodations. Over half of business owners that were surveyed reported their website as the channel that generates the majority of their direct bookings, followed by the telephone, and lastly OTA's.
1. Promote The Benefit of Booking Direct with Your Hotel
Revenue is lost every time a booking is made through an Online Travel Agent (OTA). To increase your margins, you need to own your property's bookings and control your pricing and offer meaningful discounting. Promoting direct bookings and offering a "lowest rate guarantee" is a great way to drive traffic to your site. The money hoteliers save on commission fees to OTA's can perhaps go toward upgrades or complimentary add-ons for guests as an additional reward for booking direct. Your standalone website and booking engine give you the most control over your property, positioning, rates, and margins. Knowing what your comp set is, and adjusting your inventory pricing to ensure your rooms are competitively priced is essential. Additionally, having an understanding or pricing optics by using the 5's and 9's rule will help drive direct traffic.

Travelers are more likely to book a room that is $85.00 or $89.00 over a $90 or 100 dollar room. Alternatively, by creating deals, custom packages, and promotions, you will drive more direct traffic as well.
2. Word of Mouth
Another powerful tip is to gather reviews on your website while driving 3rd party reviews. Think of online reviews as the modern twist to 'word-of-mouth.' You can boast your favorable reviews via social media to assist in garnering likes, stir interest, and drive travelers to your website. Allow guests to opt-in to receiving email specials and have your digital marketing provider send custom e-blasts to guests that advertises specials for returning guest visits.
Reviews are everywhere and travelers do read them! 96% of travelers read and are influenced by online reviews according to TripAdvisor. Hotels need Online Reputation Management that will result in conversion.
Implement a Clear Strategy for Success
It is crucial to create and implement a strategy for successful revenue generation. Without a clear approach, it is difficult for many hoteliers to garner direct reservations. Over 70% of website visits originate from major search engines like Google or Bing. However, OTA's dominate at least half of every search page with advertisements that that are equivalent to a trawling net, and if travelers are not paying attention, they can easily click on an OTA site instead of your standalone website.
"If you don't know your strongest channels for reaching your guests and implement a successful strategy, you are losing potential revenue."
Your strategy needs to incorporate your visibility and availability on OTA's, review sites, and other channels, while at the same time, driving your more profitable direct traffic to your standalone. Driving traffic to your site is not a singular path it is the precision implementation of a multi-channel strategy that will ultimately reduce your reliance on OTA's.
Owners of hospitality based businesses need to rethink the importance their hotel website. Rather than thinking that your property's website is merely a visible 'placeholder' for the public to know you exist, you need to understand that your lodging website is an extension of your physical business, it is where the guest experience begins, and one of the most significant pieces of your revenue building strategy. Think of your website as one of your greatest business tools, not merely a business expense; Invest for ROI with your hotel's website.
Our Award-Winning San Francisco-based company has been artfully crafting responsive hotel websites and driving hotel digital marketing over a decade. INNsight offers the only complete digital marketing system in the hospitality industry, and we develop the industry's most advanced Title III and WCAG 2.1 Level AA compliant hotel and restaurant websites leveraging the latest web technologies and usability best practices to drive higher user engagement and conversion, and shield you from costly ADA click-by lawsuits.
If you would like a free audit of your current website or would like more information about how INNsight can help your property's digital marketing through our Award-Winning Technology and awesome customer service, don't hesitate to call: 415.741.4113 or email: sales@INNsight.com or go to: www.INNsight.com