30-sec Summary
A Property Management System (PMS) is a centralized computer software that organizes, schedules, and performs the day-to-day functions and transactions involved in the operations of a lodging property such as a motel, bed & breakfast, or hotel. The adoption of PMS software has significantly increased the efficiency in the hospitality industry by allowing users to update and consult centralized guest records, manage reservations, and increasingly integrate with third parties. In this blog, you will learn the following:
What is a hotel Property Management System?
Why is having a Property Management System important for Hotels?
Benefits of using a cloud-based Property Management System
What is the best Property Management System?
Why is INNsight's Property Management System (PMS) the right choice for you?
What is a Property Management System?
Gone are the days of managing a hotel with a ledger and receipt book, and reservations are made by telephone.
With the advent of cloud-based software, you must upgrade your hotel to the latest and greatest Property Management Software to ensure that you can manage your hotel more efficiently and that your hotel inventory is managed online to drive maximum exposure and sales.
A Property Management System (PMS) allows hotels to manage guest reservations, check-in and check-outs, guest information, online room inventory distribution, revenue management, hotel accounting, and operations more efficiently.
The more robust your hotel's Property Management System and rich in features to handle the many use cases that go into the management of a hotel, the less your staff has to manage manually.
Front-desk operations, online reservations, channel management, housekeeping, rate and occupancy management, and payment processing are essential aspects of a PMS.
Although Property Management System software is mainly used to manage reservations and financial transactions, it can also be used to manage other departments such as housekeeping and human resources.
In general, a hotel's primary processes for internal and external operations are facilitated by a PMS.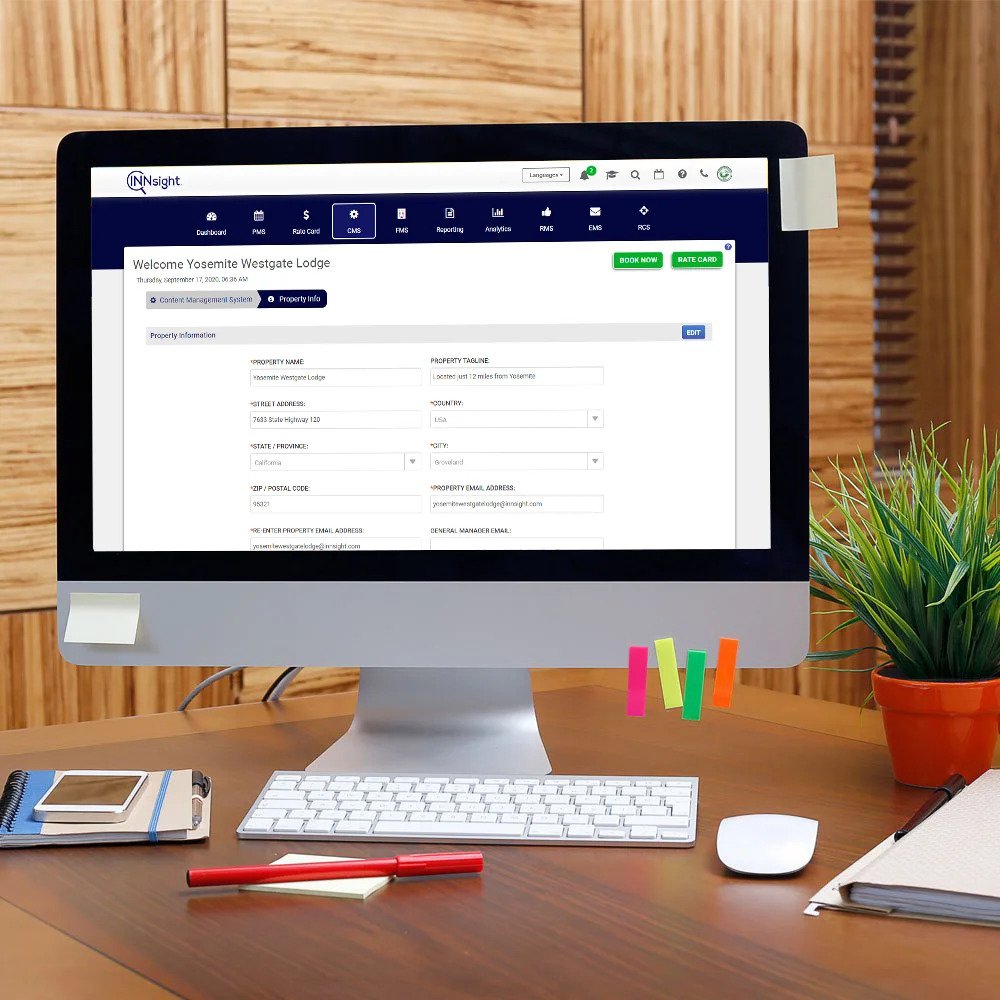 Why is A Property Management System Important for Hotels?
Hotels have faced dramatic challenges in the past few years due to the impacts of the Global Pandemic brought on by Covid-19.
As travel has slowed down and staffing storages continue, hotels need to modernize their technology in order to survive.
A high-quality property management system (PMS) is a crucial tool to help you easily consolidate your workload and manage your hotel.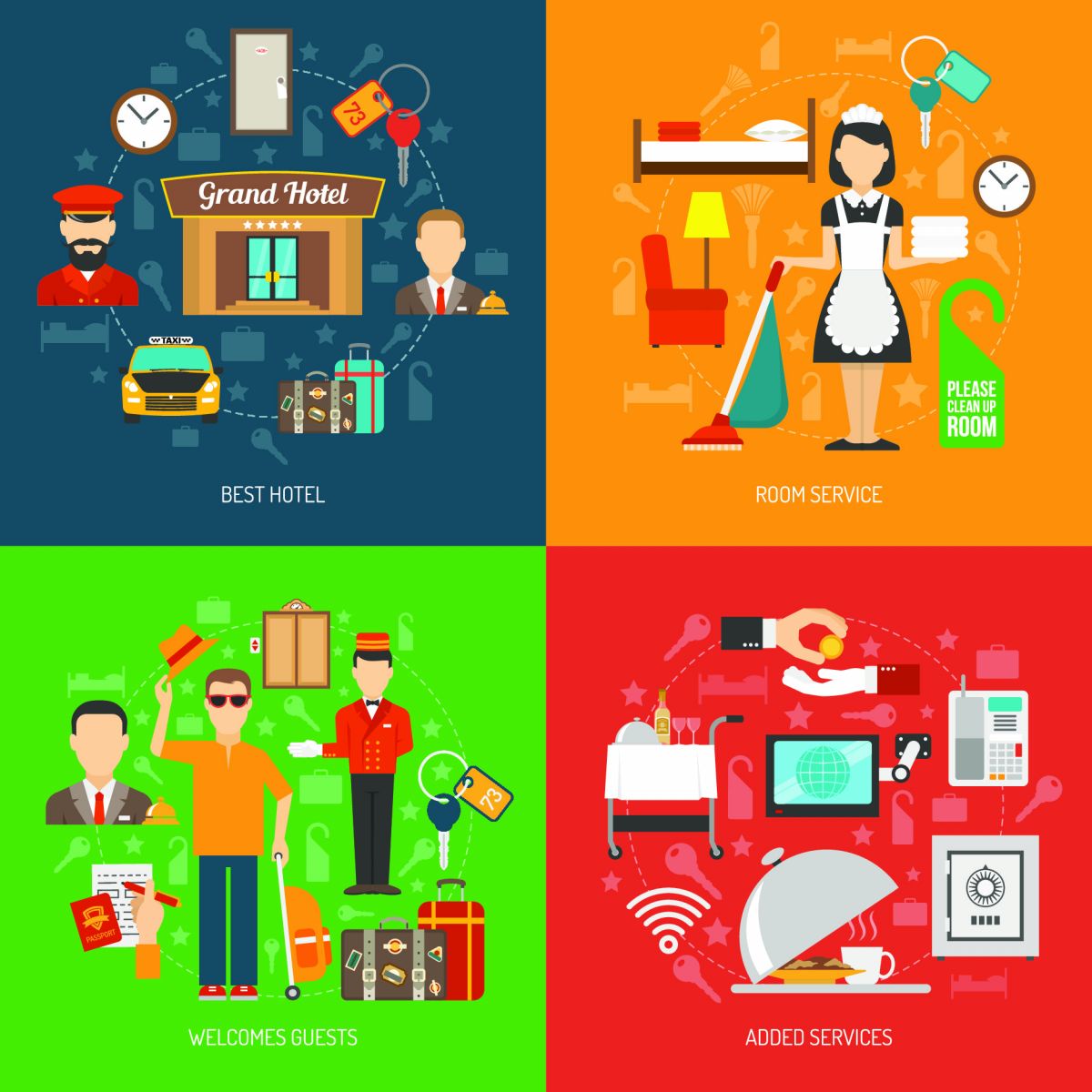 Benefits of using a Cloud-Based Property Management System (PMS):
1. Guest Reservations
An ideal PMS should enable a hotel to centralize all guest bookings, whether they come from third-party channels, Direct walk-ins, Brand.com, FITs, or Groups.
When all your reservations are consolidated in one location, it is easier for hotel staff to access up-to-date inventory information and syndicate room inventory and rates in real-time to all online sales channels.
Furthermore, it informs hotel employees about which rooms are reserved and allows them to manage operations accordingly.
2. Managing online third-party sales channels
Most PMSs collaborate with various hotel channel managers, such as INNsight, to ensure that hotels can seamlessly transfer rate and availability data to OTAs and receive reservation delivery into the hotel system.
Furthermore, some PMSs include channel management functionality, allowing hotels to provide a better online reservation experience via an extensive network of volume-producing online sales channels.
Always look for a PMS with its own CRS or Central Reservation System built-in to avoid interchange issues, API call errors, and additional costs.
Selecting a hotel Property Management System on a unified software stack with an online distribution module built in is ideal.
The Smart PMS™ by INNsight is an all-in-one hotel Property Management System (PMS) with its own CRS with robust price and inventory management tools allowing the hotelier flexibility in setting and managing rates and inventory levels across multiple online channels, including Expedia, Booking.com, AirBNB, TripAdvisor and more.
3. Revenue Management
The most sophisticated Property Management Systems also assist hotels in effectively managing revenue and yield effectively.
They enable hoteliers to evaluate the performance of their properties using key performance indicators such as Average Daily Rate, Revenue Per Available Room (gross operating profit per available room).
The best PMS also includes rate plan management, which allows hotels to quickly create room type-rate plan combinations, allowing hoteliers to respond to changes in demand more efficiently.
These fluctuations in demand can be attributed to seasonality, local events, and various other factors.
The Smart PMS™ by INNsight has its built-in Pricing Intelligence Engine called RateCatalyst™ that offers rate suggestions by evaluating historical performance, competitive analysis, and demand data.
Simplifying online rate management for hotels with a top-rated PMS is integral to saving time and effort while maximizing revenue.
4. Front-Desk Operations
A front-office module enables a front-desk manager to view and update the status of room reservations, manage guest check-ins, and process payments.
Some hotel property management systems integrate with check-in kiosks or allow check-in and check-out via QR code.
Mobile and contactless checking are popular features of the most advanced PMS software support.
This module integrates the reservation, housekeeping, spa, activities, and guest relations management modules into a unified environment.
The Smart PMS™ by INNsight offers a Front Desk Log Book and messaging so Front-Desk Employees can communicate with other staff members.
5. Digital Check-In
With social distancing becoming the norm, many guests prefer digital or contactless check-in.
Thanks to contactless technology, guests can arrive and check in using a mobile app on their phone or a self-service check-in machine.
Furthermore, the PMS can automatically sync, keeping check-in and occupancy information up to date.
6. Guest Data Management
Hotels must collect and organize guest data to stay in touch with current and previous customers during and after their stay.
A CRM integrated with a PMS can assist the front desk and reservation team in gathering all guest information from these sources, storing guest data, and maintaining an accessible database.
An advanced PMS also enables hotels to manage guest loyalty programs effectively.
7. Third-Party Integrations
Hotels today require a variety of technology solutions to manage their properties effectively.
However, the critical challenge for hotels is that most technology solutions operate in silos.
As a result, hotels become challenging to see how everything fits together.
An integrated system enables hotels to have synchronized data, which is necessary for making informed decisions.
As a result, a hotel PMS must have an open API or the ability to integrate with other technology systems so that hotels can benefit from it.
INNsight PMS has an open API and documentation to allow third parties to easily connect a world of features to the most potent hotel PMS in the hospitality industry to make it more functional and feature-rich.
8. Integrated Internet Booking Engine
The best PMS will offer an integrated internet booking engine that offers excellent usability and provides real-time inventory management, promotional pricing support, and integrated guest communications.
The INNsight PMS provides the online ADA Title III, WCAG 2.1 conforming web-accessible zero-commission internet booking engine included with the INNsight PMS.
9. Accounting & Back-Office Operations
Increasingly, Property Management Systems need to support digital marketing and hospitality eCommerce functionality, including direct online bookings and online payment processing.
It doesn't make sense to have a Property Management System that charges your guest's credit cards, closes your batch, and processes payments.
The best PMS will handle all back-office accounting and provide an integrated solution to manage all accounting functions.
10. Reporting
The most feature-rich PMS has powerful reporting features.
Every day, hotel employees have access to various reports, including guest data, reservations, booking pace and trends, channel performance, and a variety of other relevant metrics for business performance analysis.
A good PMS delivers high-quality reports with advanced analytics and insights in user-friendly formats.
Why is INNsight's Hotel Property Management System (PMS) the Best PMS Option For Your Hotel?
INNsight has built a full-featured, free Hotel Property Management System for all types of places to stay.
Our Cloud-Based PMS is designed to help INNkeepers sell more hotel rooms without paying commission for direct bookings.
Additionally, our integrated software and single software stack solution reduce cost and inefficiencies by having to simply bolt on multiple software solutions to manage your hotel's operations.
Hotels and other lodging property types can use the Free Property Management System to manage rates and inventory and sell their rooms on their Hotel Website Powered by INNsight, TripAdvisor's TripConnect, Expedia, and even Booking.
INNsight's Free Property Management System is more robust than most solutions and offers an easy-to-use cloud-based solution with the following features:
Room Board: You can see a quick snapshot of your hotel's room inventory and click to book with actionable room tiles.
GRID: The Graphical Room Inventory Display: A powerful tape chart view that displays your inventory and booking schedule in a calendar view to easily manipulate room assignments, and identifies rooms to sell.
Reservations Management: Take reservations on the fly for telephone bookings or walk-in guests. Guests receive branded confirmation, reminders, and review solicitation emails automatically. As a result, you can easily engage guests, reinforce your hotel's brand, and manage all communications from one software.
RateCatalyst™: Manage your rates and availability on your main distribution channels with unprecedented ease with INNsight's powerful and easy-to-use tools that help you manage your revenue like never before. Learn more about hotel revenue management
Sales Reports: Download Excel-based Daily, Monthly, and Annual Reports and stop the headache of nightly audits. Receive daily status emails with a variety of valuable metrics.
Third-Party OTA Connect: Now, you can manage your hotel rates in Rate Card and have your inventory and rates automatically updated on Expedia, TripConnect, and Booking.com for FREE! Learn more about managing your hotel rates across multiple distribution channels..
Guest Directory: Guests managed in your PMS end up in your Guest Directory to easily manage return customers. The ultimate hotel guest Customer Relationship Management tool.
Markdown Manager: Set up markdowns, promotion codes, and custom discounts to promote and sell more rooms on your hotel website.
Along with Property Management, it is also important to manage your hotel's online image; go through this blog to get an overview of how to manage your hotel's online reputation.
Conclusion
The hospitality industry is transitioning as it attempts to cater to an increasingly tech-savvy audience. This will lead to further transformation and even more dynamic technology solutions from PMS vendors and their partners.
INNsight's Free Cloud-Based SaaS Property Management System, Smart PMS™, is a comprehensive platform that will help you sell more rooms without paying any commission. Contact us at sales@innsight.com to learn more.