Booking.com Reputation Management Setup
Step 1: Log into your hotel's Booking.com account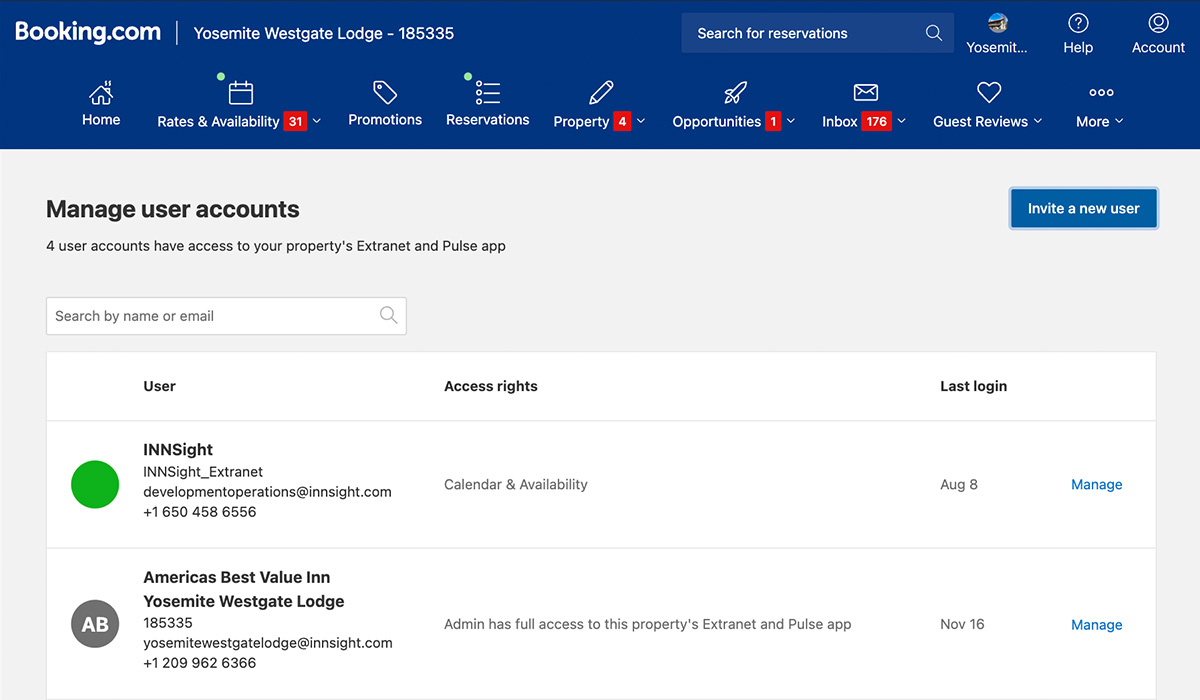 Step 2: Go to Account>Create and Manage Users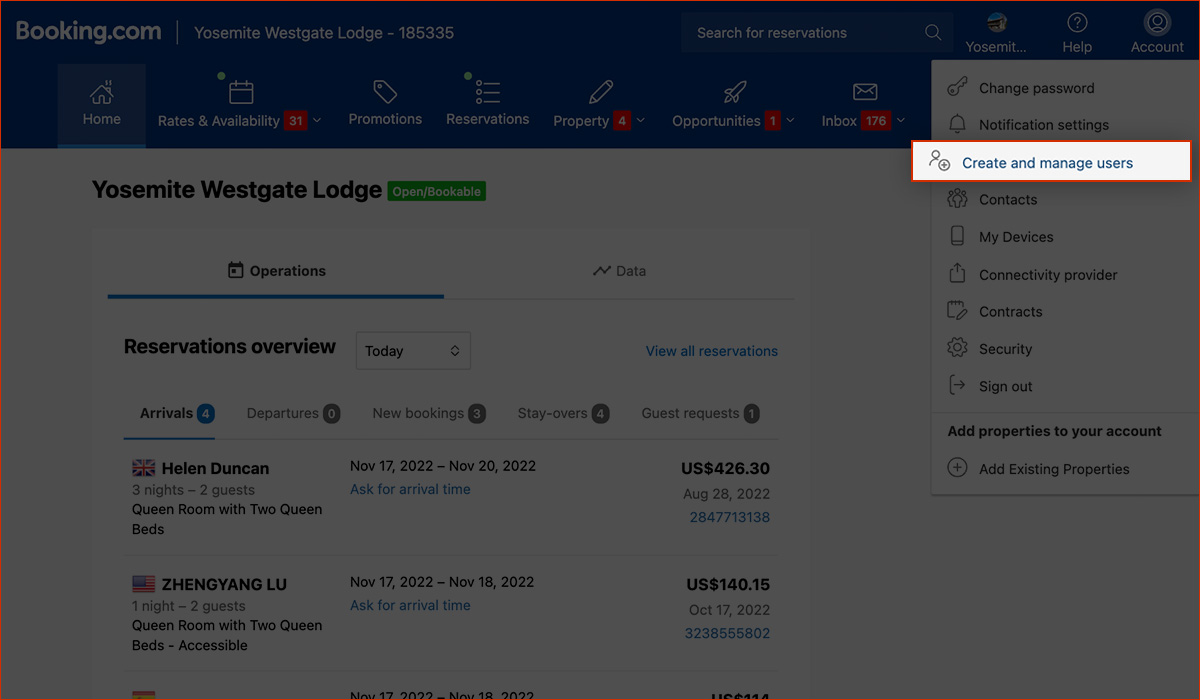 Step 3: Click on Invite a New User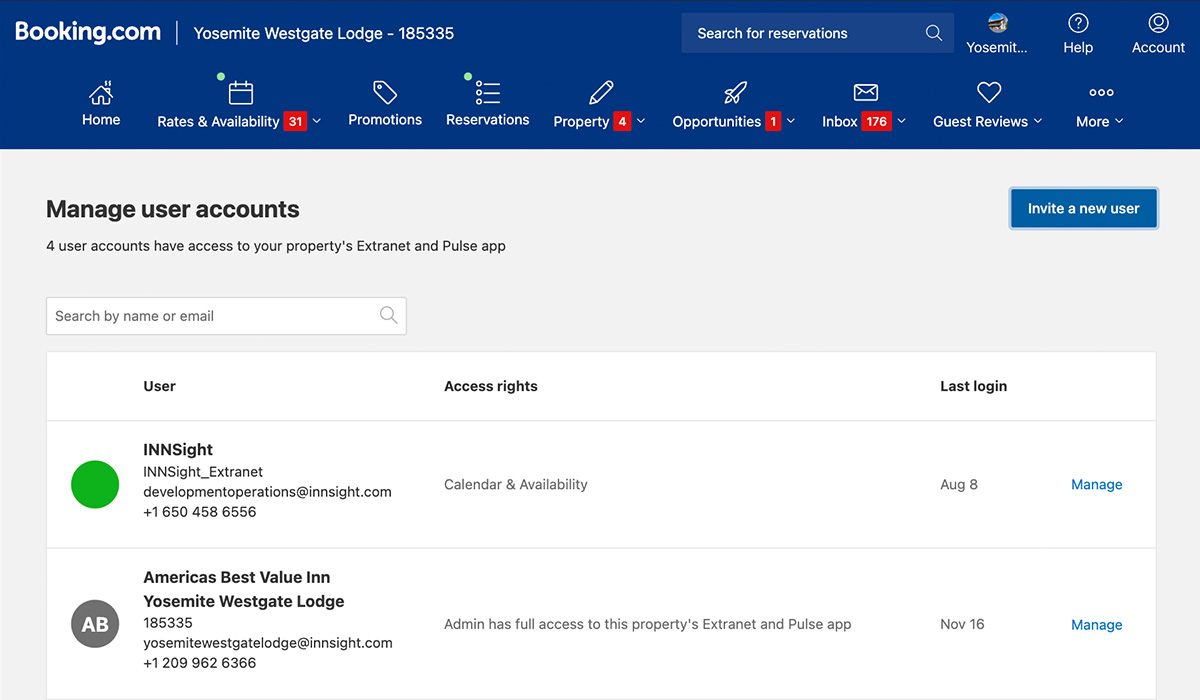 Step 4: Select Existing User and fill in the fields with the information below and click View Access Rights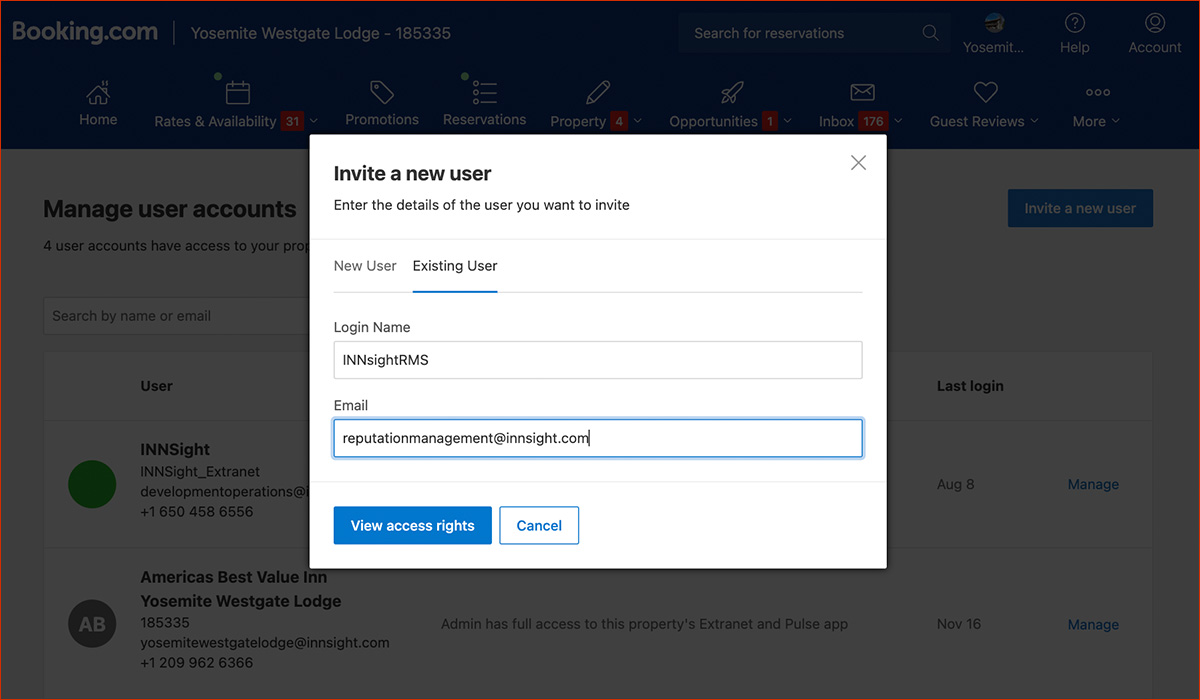 ∙ Login Name: INNsightRMS
∙ Email: reputationmanagement@innsight.com
Step 5: Turn off all except for Inbox Access
Expedia Reputation Management Setup
Depending on your Expedia account it may or may not allow you to add additional users via their extranet. Please follow either of the two steps below to get INNsight added to your Expedia account.
Add by The Expedia Admin Portal
Step 1: Log into your hotel's Expedia Partner Central account
Step 2: Click on the sandwich bar and select Adminstration>Users

Step 3: In the user details section add INNsight for the First Name and RMS for the Last Name. Add the email address reputationmanagement@innsight.com. Click Next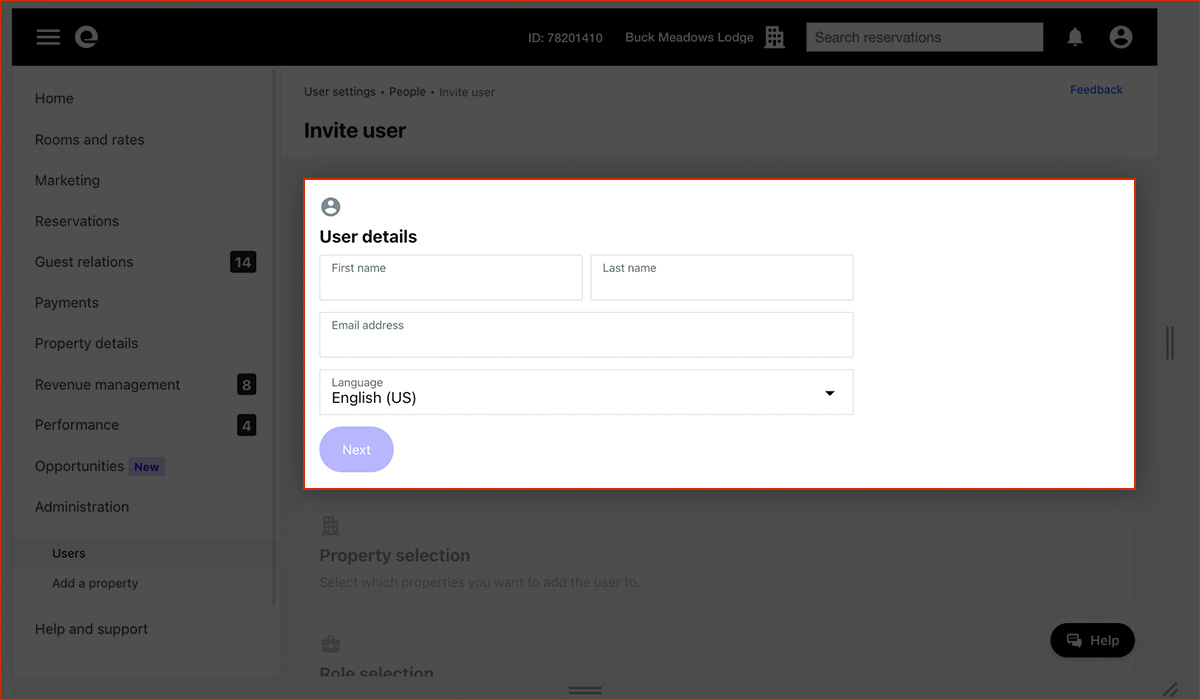 Add by Contacting Expedia Via The Extranet
Please contact your Expedia Account Manager or Expedia Support using the information below to have them add INNsight as a manager of your account. Please follow the instructions below.
Step 1: Log into your hotel's Expedia Partner Central account
Step 2: Go to Help and Support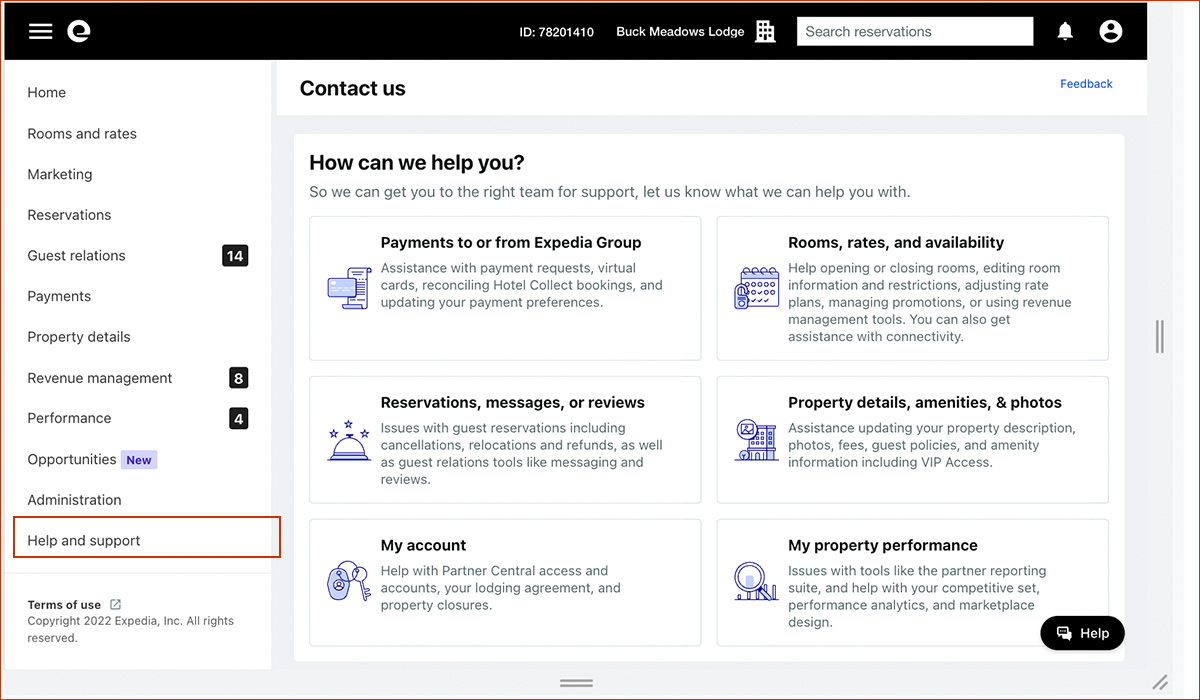 Step 3: Click on Contact Us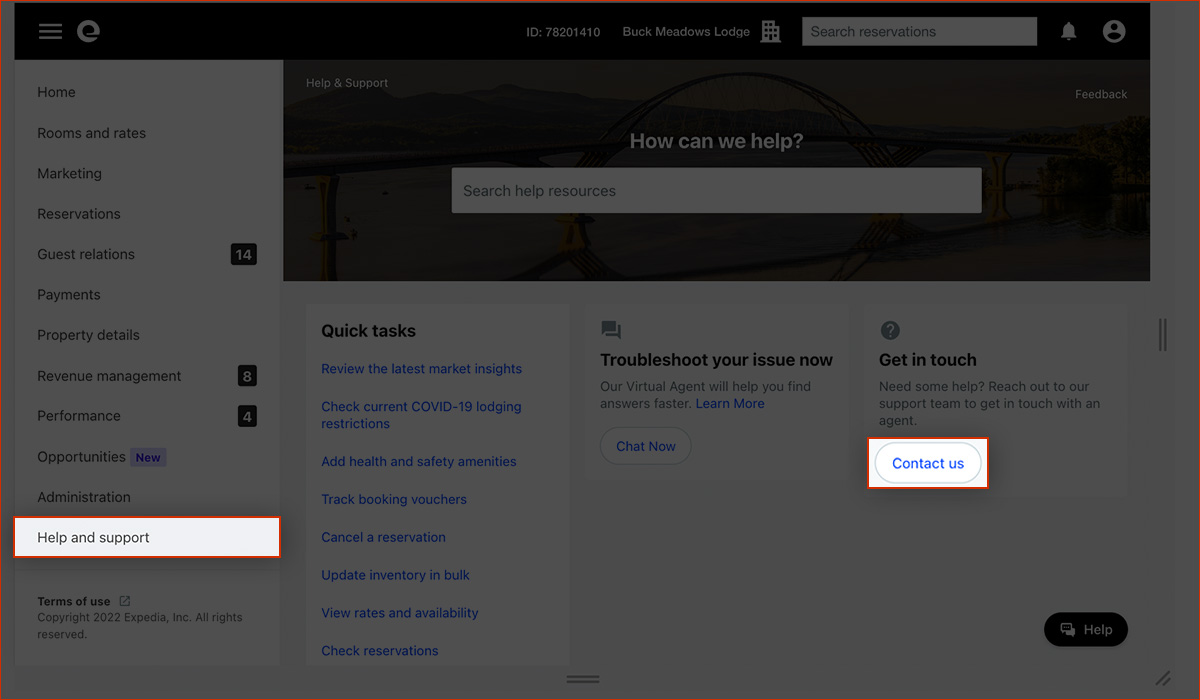 Step 4: In the what can we help you with dropdown please select Partner Central Access and then Create/remove Partner Central account
Step 5: Click on 'Send a Message'. Copy the message below in red and paste it in the text box and click 'Send'.
Dear Expedia Account Manager,
Can you please add the following existing Expedia user account below as an additional user of my hotel's Expedia Account. Please give the username/email address (already an existing Expedia user) below access to the guest relations tab of my account.
Existing Username: INNsightRMS
Existing User Email: reputationmanagement@innsight.com
Thank You!
TripAdvisor Reputation Management Setup
Step 1: Once logged into your account go to Help & Settings>Manage User Access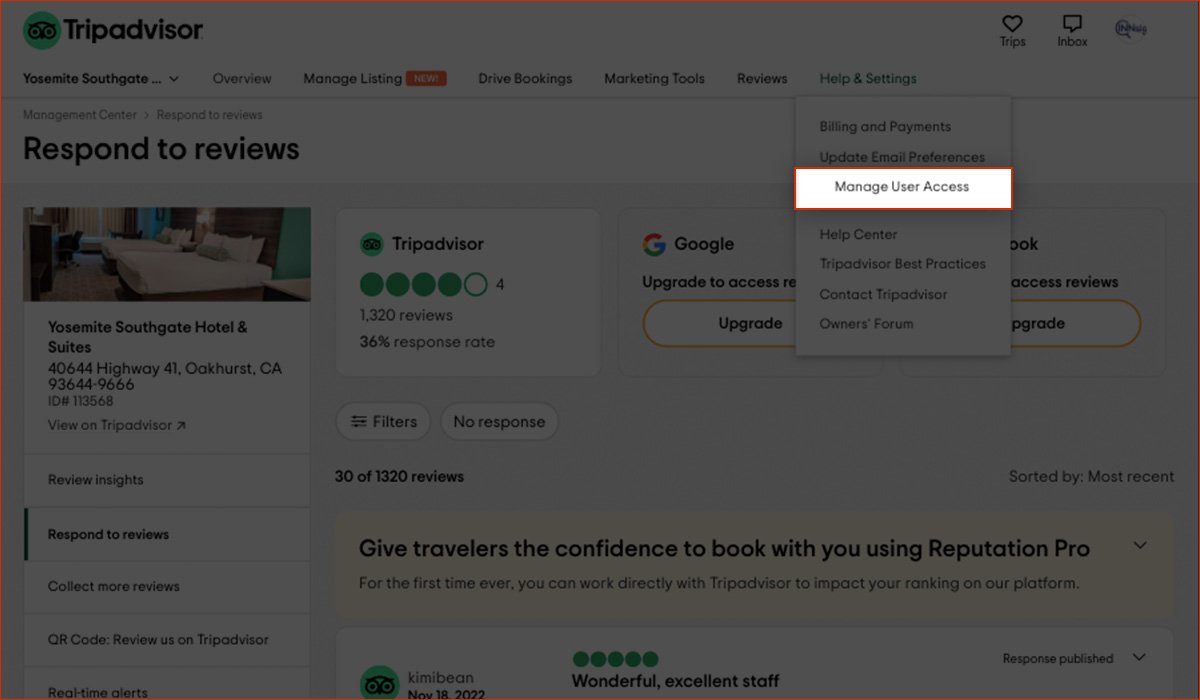 Step 2: Click Invite New User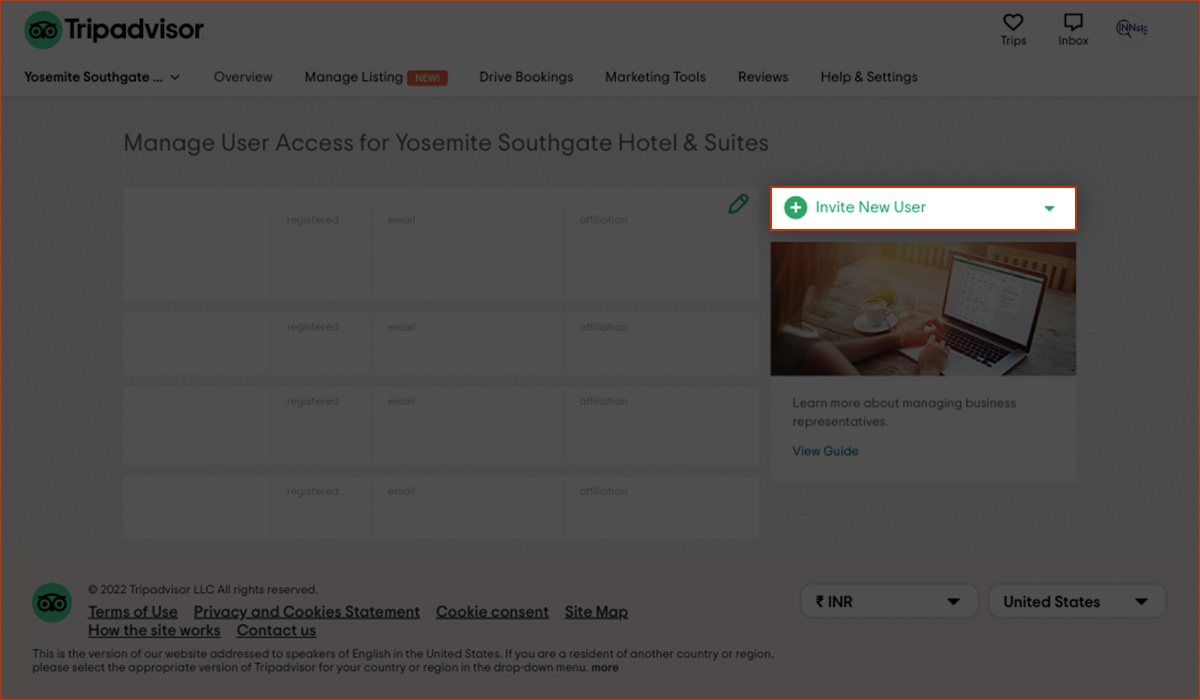 Step 3: Enter the Email reputationmanagement@innsight.com and click Send Invite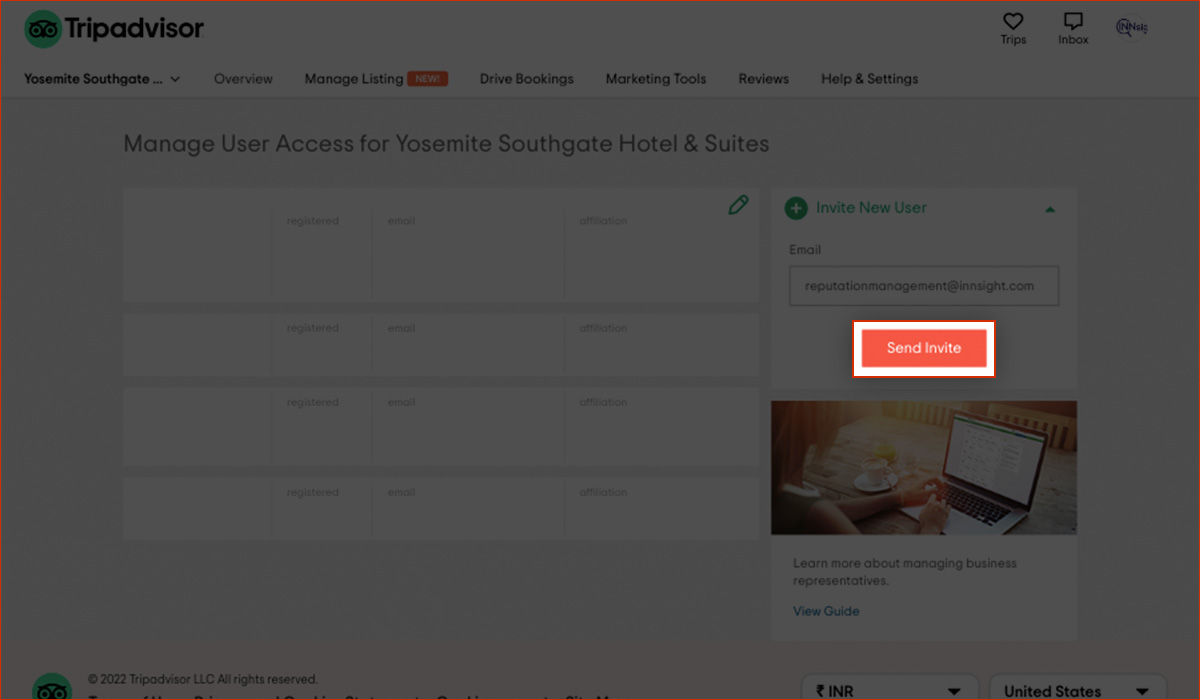 Yelp Reputation Management Setup
Step 1: Login to your hotel's Yelp account
Step 2: Click on Icon on the top right of the window and select Account Settings>User Management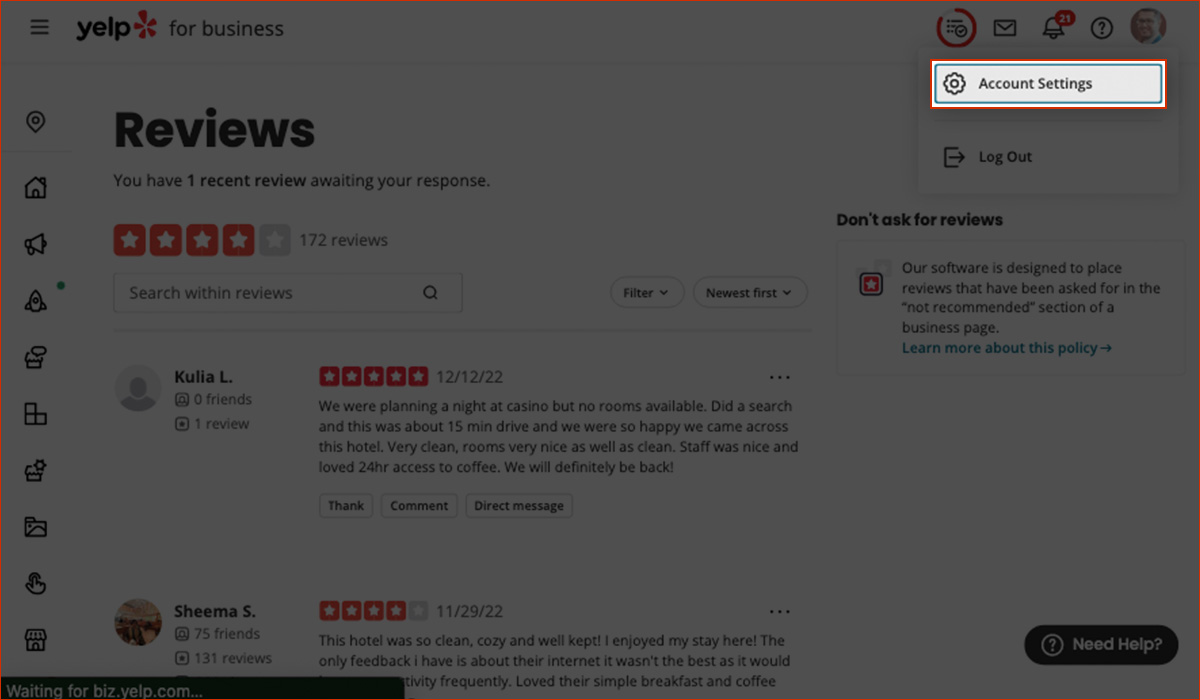 Step 3: Click Invite a User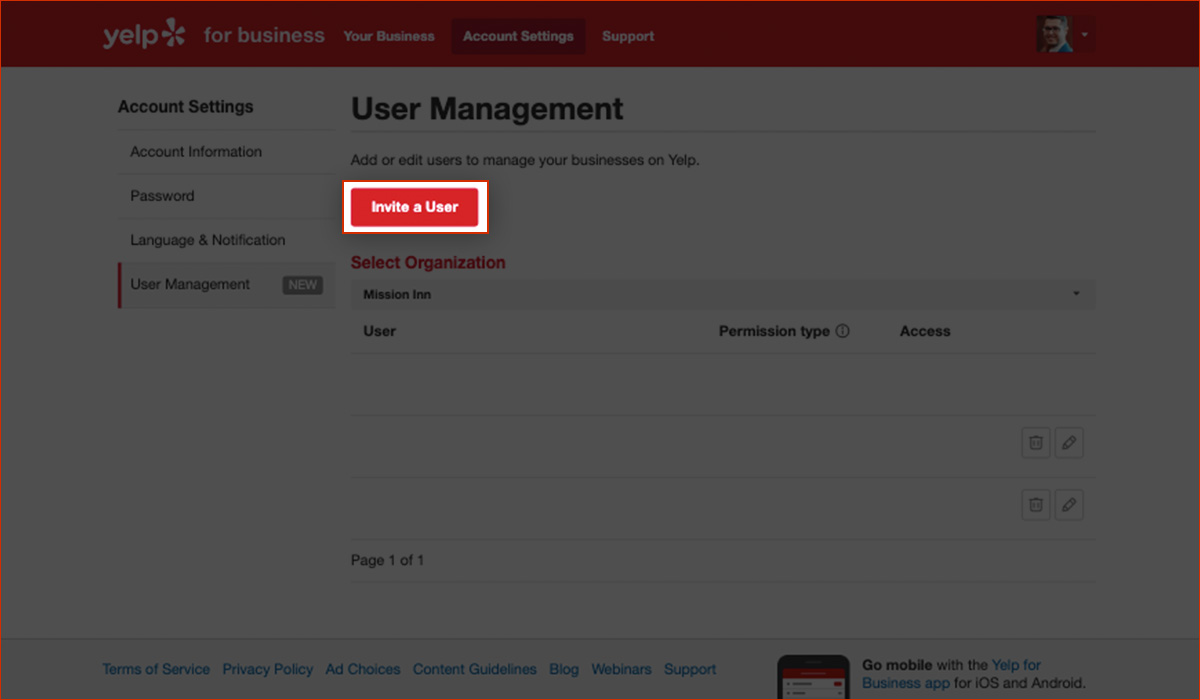 Step 4: Add the email address reputationmanagement@innsight.com and click Send Invite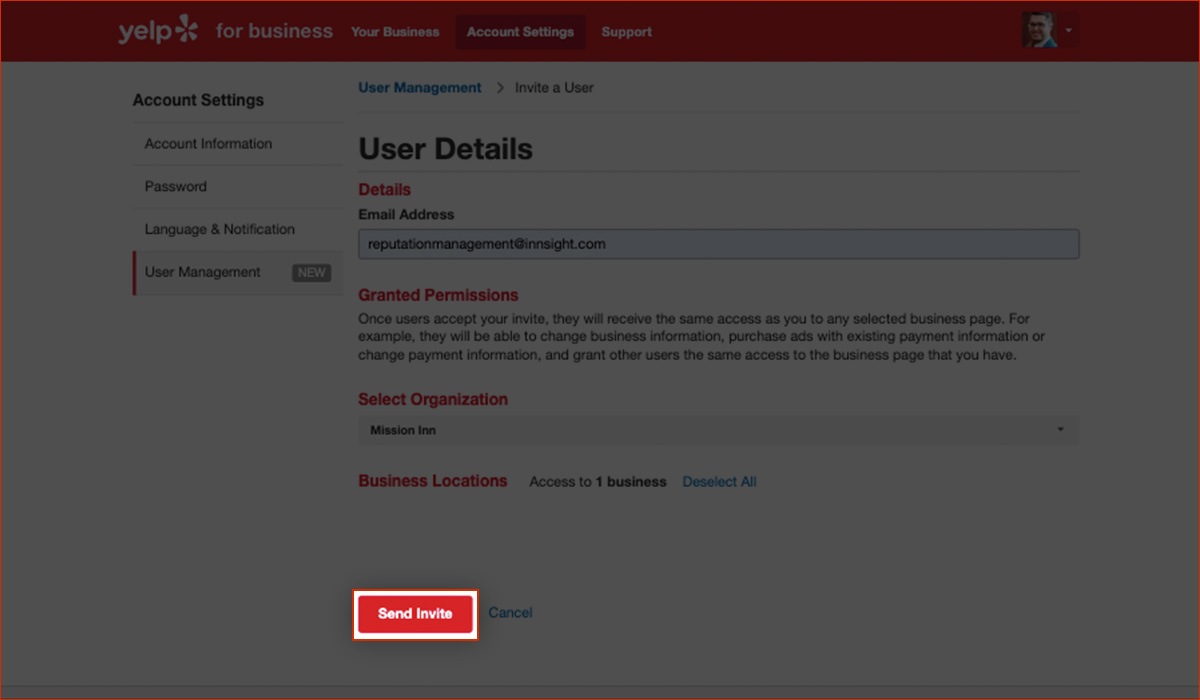 Google Reputation Management Setup
Step 1: Login to your hotel's Google account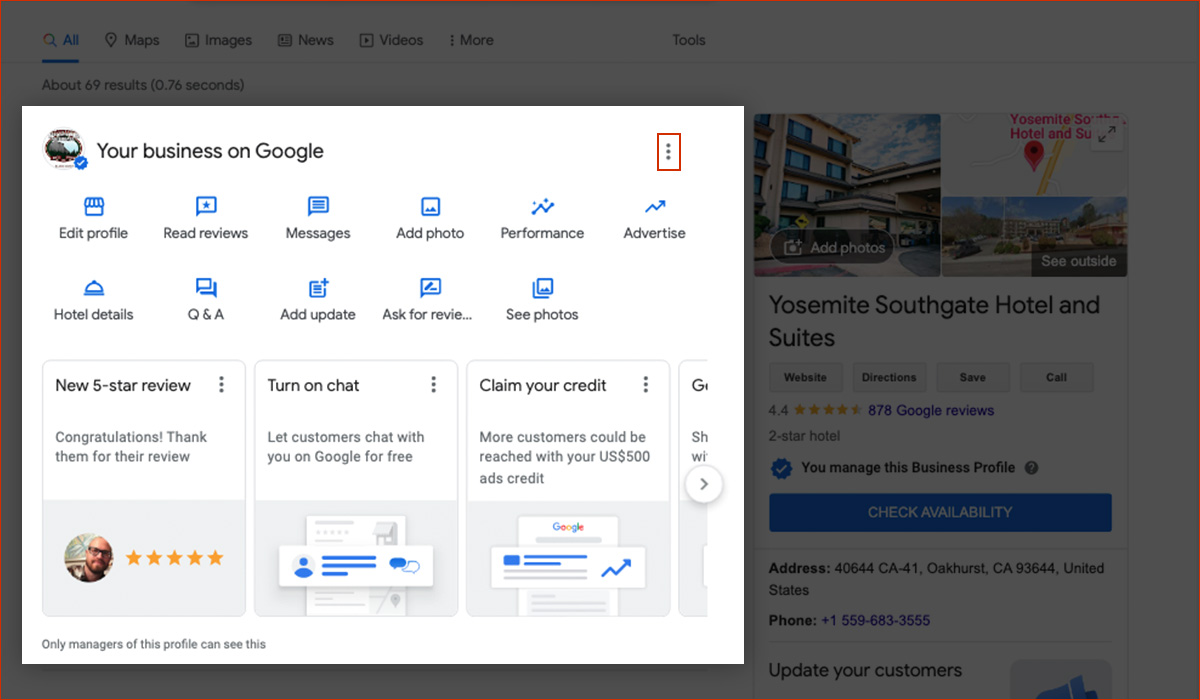 Step 2: Once you select your hotel's listing click on Users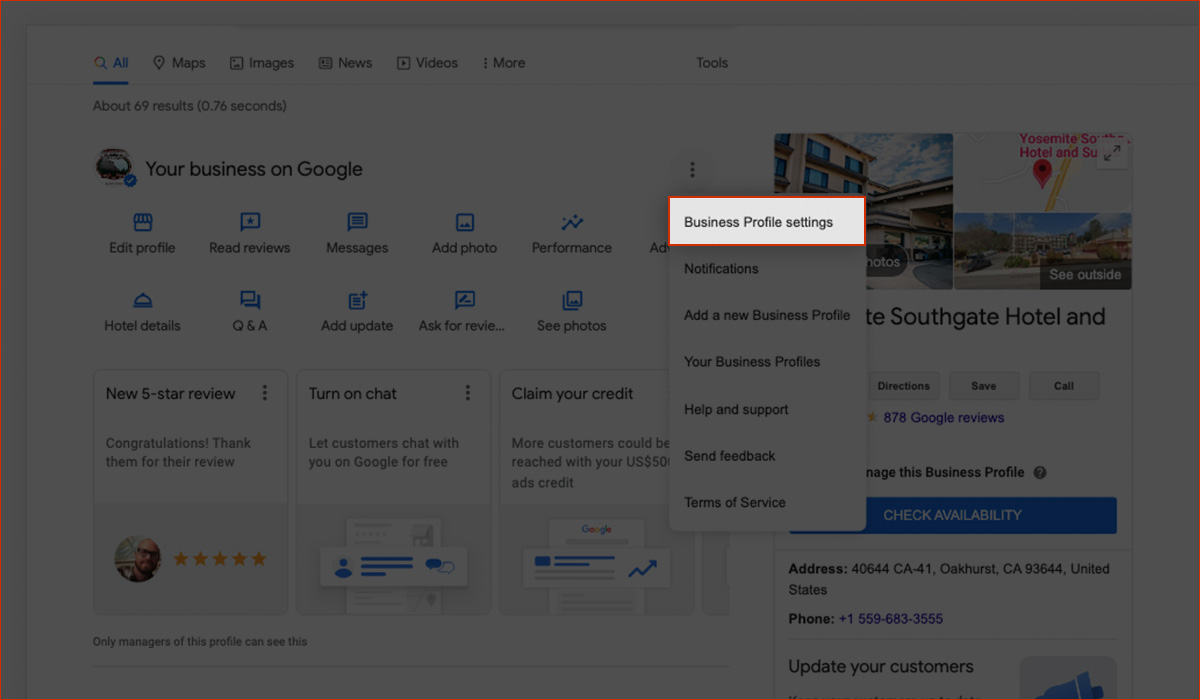 Step 3: Click Invite New Users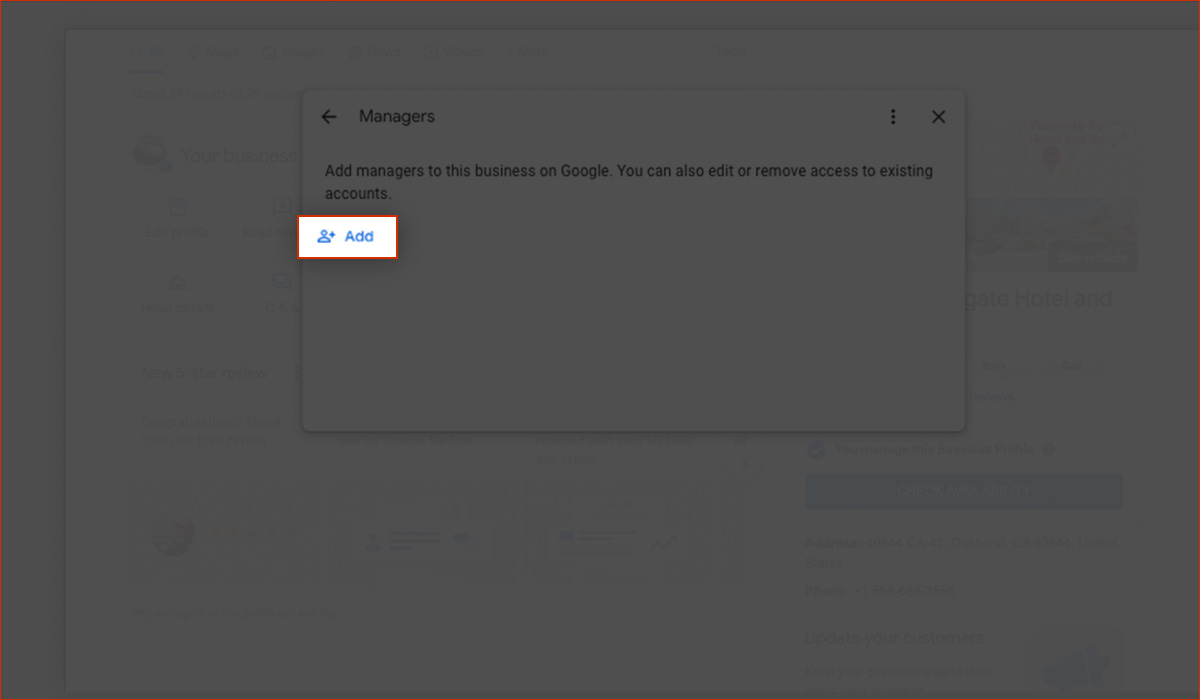 Step 4: Add innsightlocal@gmail.com as a manager and click Invite