30-Sec Summary
Choosing a digital marketing company for hotels is a big task. A hotel owner must know what is needed for their business and search for potential options. Furthermore, the business owner must know how to search for an agency that fits their needs and budget.
This blog will cover the following:
Why do you need a hotel digital marketing company?

What are the questions that you need to ask the company?

How will the company help you?

How can you make the perfect decision?

You probably know that the pandemic changed how hotels operate. But if we look at the situations pre-pandemic and post-pandemic, the hotel industry has never seen such a low since its inception. People became hesitant to travel anywhere, let alone stay in a hotel.
The hotel industry was in a very tough spot, and that's when the digitalization of hotels came into the picture. Before the pandemic, people were talking about it, but after the pandemic, people were trying hard to get on the internet and accelerate their hotel businesses.
In this blog, you will learn about the different aspects of hiring a digital marketing company for your hotel. Hiring a digital marketing company and a hotel digital marketing company are two very different things.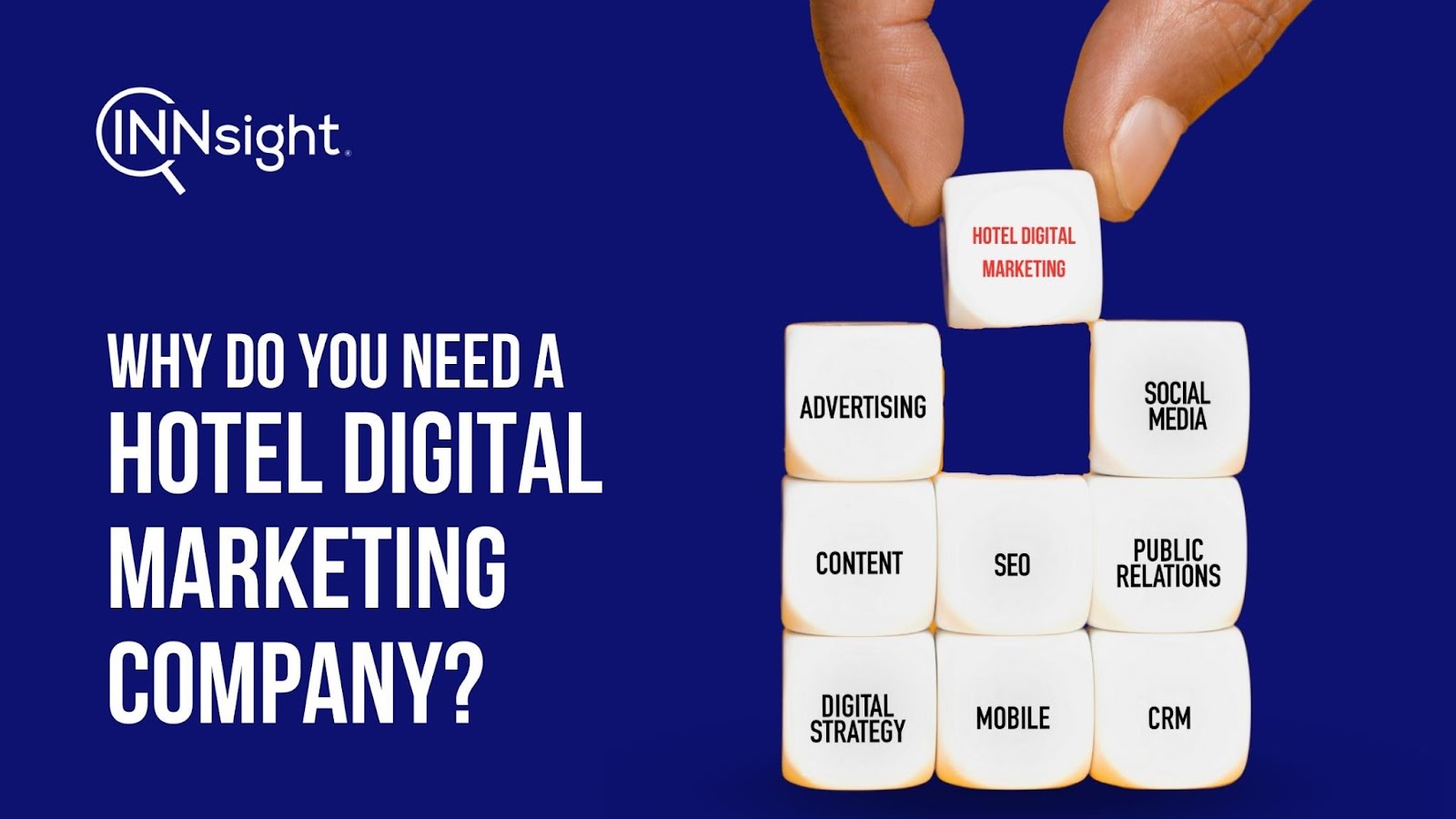 Why do you need a Hotel Digital Marketing Company?
Digitalization of the hotel industry was forecasted when COVID happened. It instantly accelerated digitalization to bring the hospitality/hotel industry back on its feet.
Now you may be wondering; do you actually need a hotel digital marketing company to see results?
The answer is yes.
There will be many digital marketing companies that approach you with their services and offers.
First, however, you will have to decide what services you need for your hotel and decide accordingly.
Don't get carried away with companies willing to offer everything, even the things you don't require. Although they are there to assist you, most companies offer standardized products and services.
Feel free to express your disapproval if the company suggests unnecessary services.
Ask the digital marketing company these questions: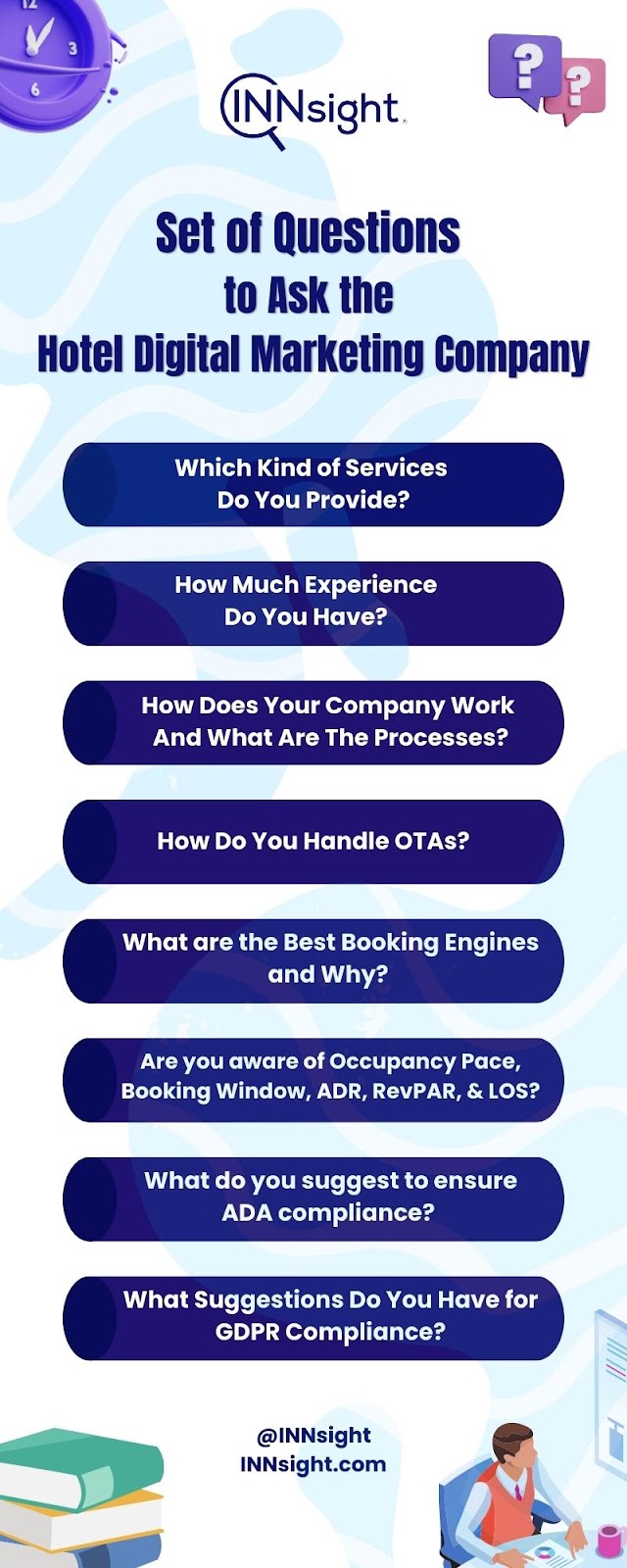 Set of Questions to ask the Hotel Digital Marketing Company
1. What kind of services do you provide?
Digital marketing is a vast concept. A hotel digital marketing company must provide all the services that you want. The services provided by the company must include social media marketing, Search Engine Optimization (SEO), email marketing, hospitality website design, Pay-Per-Click (PPC), and much more.
If the company doesn't provide the services you need, go for another one. It is always easier to communicate with one company than to hire different companies for different tasks.
2. How much experience do you have?
Experience is a very vital feature when making such decisions. So, ask the company about its experience in the hotel digital marketing domain.
Hotel digital marketing has different processes as compared to marketing any other product.
3. How does your company work and what are the processes?
Every company functions differently. Ask them about the following:
How do they communicate with their clients?

How do they make marketing strategies?

Do they provide analysis reports? If they do, are those monthly, quarterly, or yearly?

Who will be the primary person to contact?
These are necessary answers to know before you sign a deal. The questions below are technical and will tell you whether the company has experience in the hospitality field.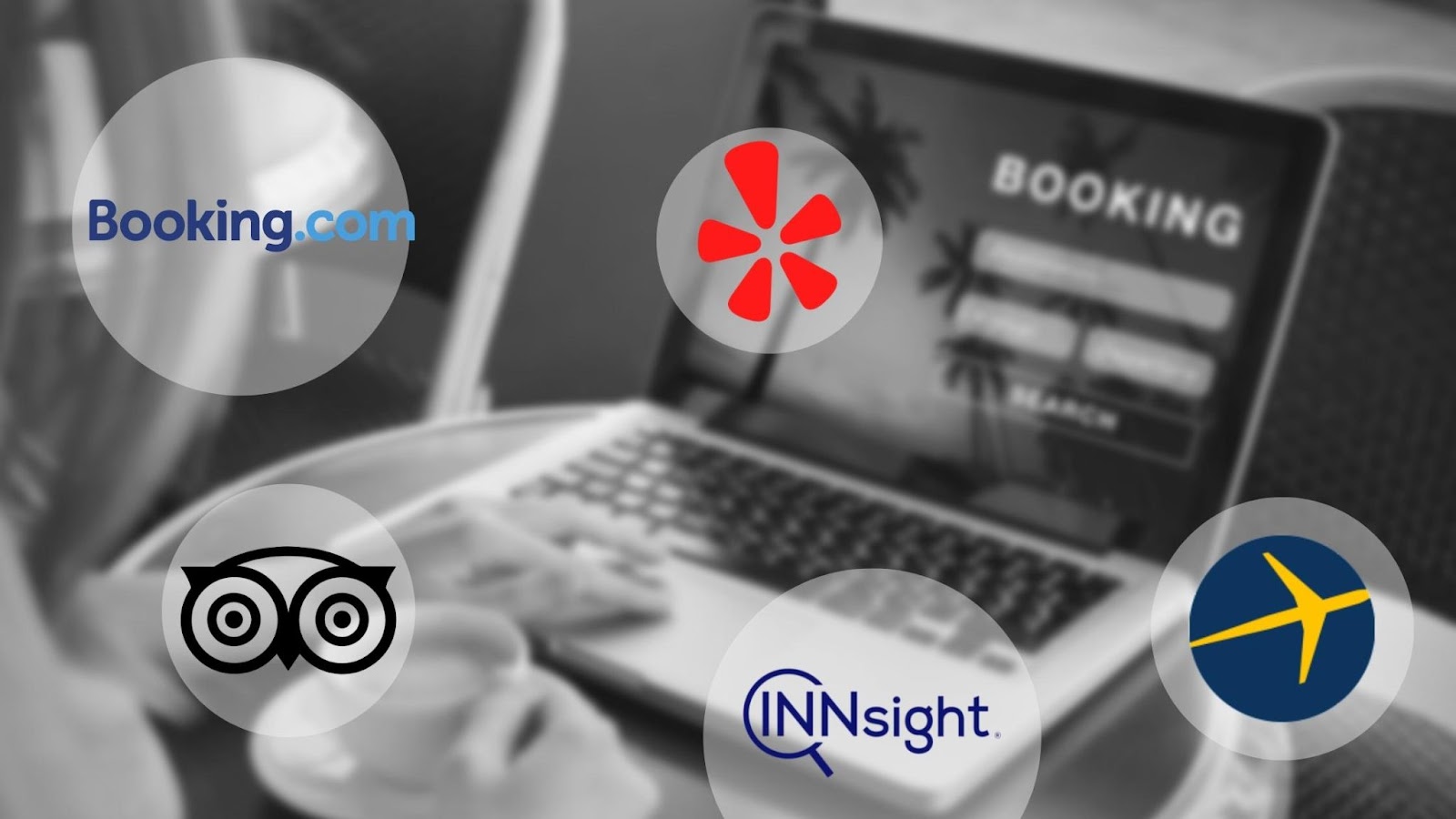 4. How do you handle OTA's?
Understanding Online Travel Agents (OTAs) is essential. Hotels rely on the OTAs for success as the world has turned online.
5. What are the best booking engines and why?
Ask their opinion on which one they prefer to use and the reason for using it. A hotel digital marketing agency must be aware of OTAs in detail and be able to answer you perfectly.
6. Are you aware of Occupancy Pace, Booking Window, ADR, RevPAR, and LOS?
Terms that are highly used in the hotel industry include ADR (Average Daily Rate), Occupancy Pace, Booking Window, RevPAR (Revenue Per Available Room), and LOS (Length of Stay).
7. What do you suggest to ensure ADA compliance?
Web accessibility has become a necessity. ADA compliance plays a vital role. With everyone getting online, the web has to become accessible for people with disabilities. Not all digital marketing companies will focus on this point, but it is highly recommended.
Know their suggestions and opinions about how to get ADA compliance and test them thoroughly. This can take your hotel to different levels.
8. What suggestions do you have for GDPR compliance?
Again, this is a crucial point you must consider when choosing a digital marketing agency for your hotel. GDPR Compliance entered the hotel industry in 2018 and has made noteworthy changes. Ensure you have enough knowledge about the questions you need to ask.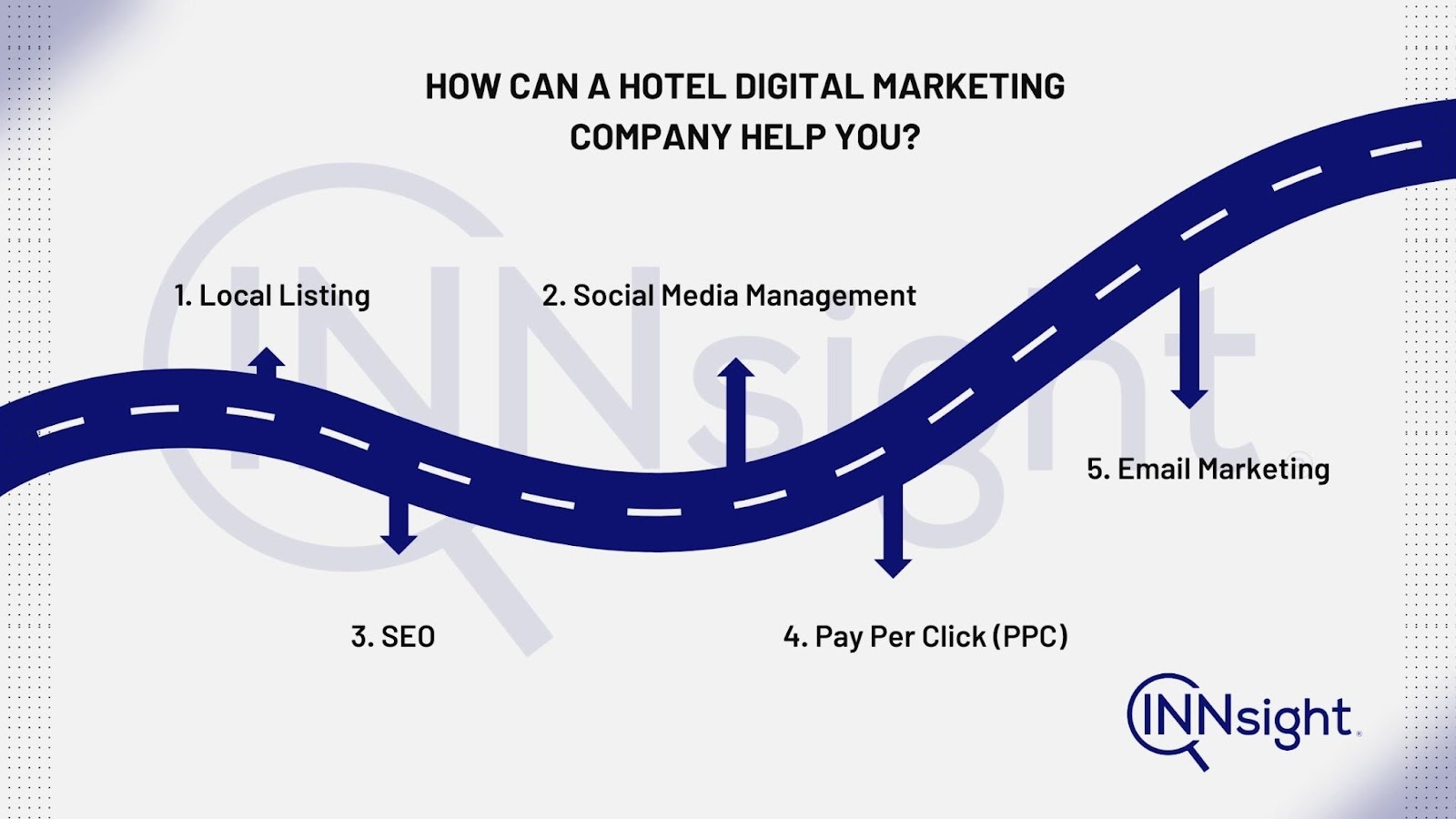 How can a Hotel Digital Marketing Company help you?
A hotel digital marketing agency can guide you in incorporating different online strategies to make your company stand out. To promote your hotel, you need to:
Create a hotel website that is SEO friendly and designed to drive more and more traffic.

List the hotel on all the leading Online Travel Agents (OTAs), including Booking.com, Expedia, Yelp, and others.

Keep your hotel's Google Business Profile listing up to date.

Make your room availability and rates available on Google Hotel Search.

For quick conversions, use Pay-Per-Click ads.
The hotel digital marketing company you choose will assist you with the following core concepts:
1. Local Listing
Local listing or Local SEO is the first thing every company must do, as it can drive traffic.
You might have noticed that search results or hotel locations show up on the left side of the search results when people look for hotels in your area.
Update your Google Business Profile page to increase your chances of being found in these specific search results.
Your Google Business Profile page can list your contact details, business hours, business details, photos, and room rates.
2. Social Media Management
Social media has become the MVP of digital marketing. Every hotel owner wants a solid social media presence.
The company you hire will do vivid and eye-catching posts on the hotel's social handles, such as Facebook, Instagram, Twitter, etc.
With that, your business's brand awareness will skyrocket, increasing engagement and reach.
3. SEO
Making changes to your website through SEO will help you rank better in search engine results. You want your website to come up first in the search results whenever a user searches keywords pertaining to hotels in the location you operate.
You must ensure your website has essential keywords that users are searching for to attain high ranks.
Such keywords notify Google that your page is appropriate to appear in the search results when you use them in your page title, meta description, and throughout the content of your website.
4. Pay Per Click (PPC)
With PPC, stay on top of the game on search engines.
This is very effective and doesn't take a lot of time. Spend less and gain more bookers in a short time by PPC. Moreover, it gives a guaranteed increase in the ROI of the business.
5. Marketing
Email Marketing is a powerful process that helps you maintain long-lasting customer relationships.
It can help elevate your hotel's online reputation, which is very important for any business.
Additionally, it also helps to get feedback from your guests and ultimately do an advanced reputation analysis.
Time Duration to Meet the Estimated Results
1. Social Media Marketing
Social Media is a long and patient process. Establishing a good social media presence on all your social media handles can take months.
When you start getting followers, you need to upload relevant content consistently to keep your followers engaged.
Social media platforms offer free and even paid options to gain followers quickly. The paid advertising will show you more rapid results and a significant increase in bookings.
2. SEO and Local SEO
It can take two to three months to implement the complete SEO strategy, and it may be another month or two until you start to see outcomes from your strategy.
Because of the intricacy of Google's ranking algorithm, changing your website today won't improve its rankings tomorrow.
Google's perception of your credibility must be earned over time. Be patient with the SEO process because as you begin to rank higher, you will also notice a rise in web traffic.
3. PPC
PPC produces results way faster than SEO or any other process. You can discover which ads have higher click-through rates and more conversions after a day.
However, it would be best to wait a few weeks before making modifications to understand which campaigns are more effective. Then, if you make adjustments, it is easy to do so and only takes a few seconds.
Pick the One!
When you list potential hotel digital marketing companies, follow this process. A step you cannot miss is getting REFERENCES!
References play a significant role. No matter what a company shows you, only their real work and customer testimonials can help you decide.
Pick the one that fits your requirements and fits your budget.
Then, sign the deal, and watch the magic happen!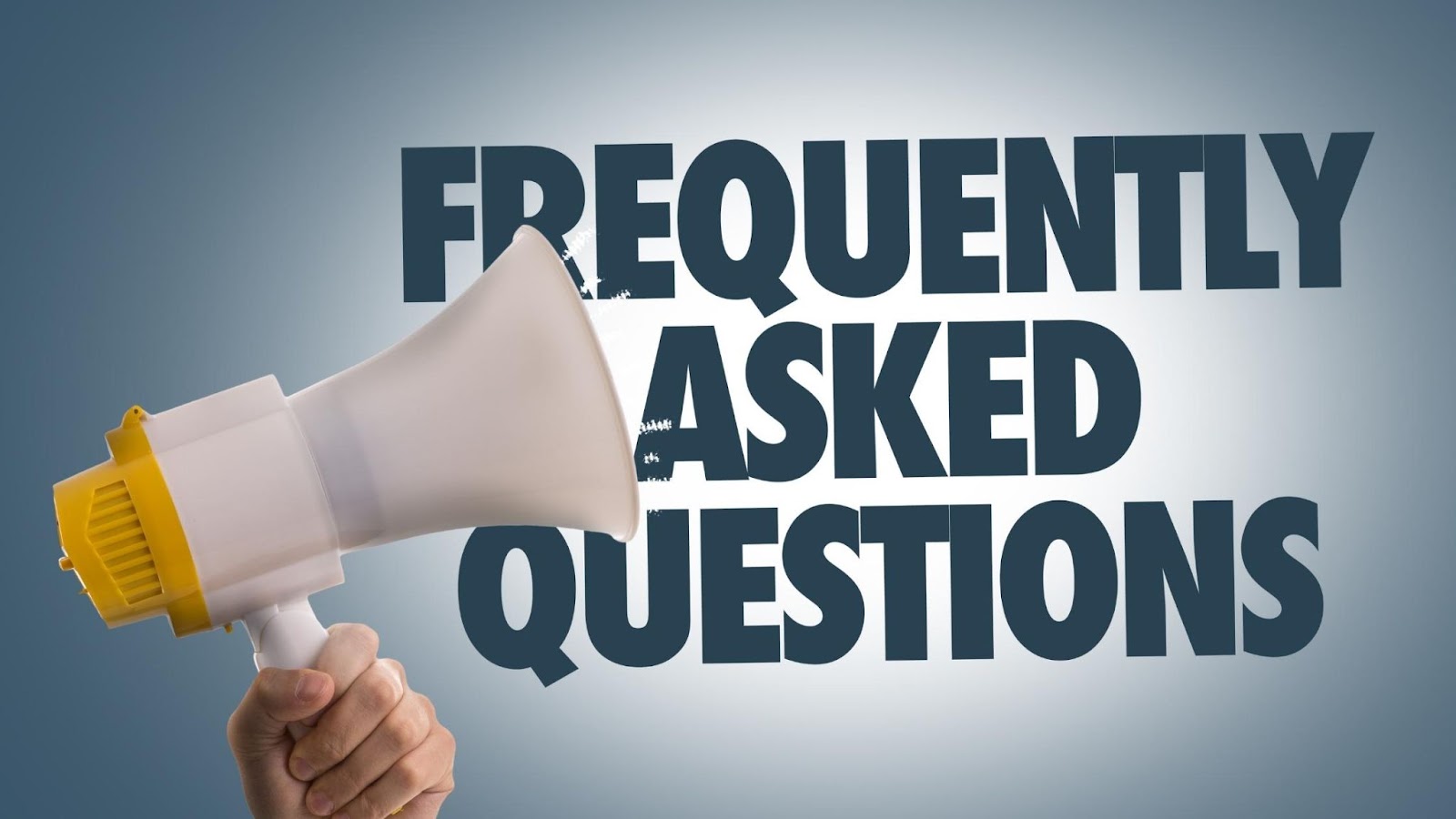 FAQs On Choosing A Digital Marketing Company For Hotels
Q. Do you really need to hire a Hotel digital marketing company?
A. You need to hire the right digital marketing agency to reach the top of the game in your industry. With a hotel digital marketing company, you get exposure to all their services which help you to grow. So yes, hiring a hotel digital marketing company is very important.
Is it important to hire an agency that specializes in hotels?
Hotels need a different strategy as compared to other products. You require a company that plans with the perspective of a hotel.
Q. How will the hotel digital marketing company help?
A. The hotel digital marketing company you hire will help your hotel with:
Local SEO

SEO

Social Media Marketing

OTA Management

PPC

Email Marketing
Q. Do I need to hire a hotel digital marketing agency, or can I hire a freelancer?
A. Hiring depends on you. But a freelancer may need help to provide you with all the services a company can. You may have to hire different people for different services, which is very difficult to manage over time. Communication with a company is always convenient.
FAQs About INNsight
Q. How many services does INNsight provide?
A. INNsight is a full-service marketing company for hotels:
SEO-friendly website design

OTA listing on platforms like Booking.com, Trip Advisor, Expedia, etc.

Google Business Profile Listing

ADA Compliance

Rate Management on Google Hotel Search

Pay Per Click (PPC)
Q. Why is INNsight the best company to manage my hotel's website and digital marketing?
A. INNsight is your one-stop solution when it comes to marketing your hotel online.
We are specialists in online ADA Title III Compliance and web accessibility for hotels. In addition, we offer ADA-compliant, accessible website design, content management, reputation management, email marketing, SEO, and PPC Services.
INNsight, a pioneer in hospitality technology, has over ten years of expertise in creating the best-performing hotel websites in the industry.
Q. Can digital marketing increase online sales for my hotel?
A. Yes, with INNsight's digital marketing strategy, you can see a noticeable increase in your hotel's sales.
You will be able to see an increase in direct bookings as compared to the expensive OTAs.
Additionally, a website powered by INNsight and our online booking engine will be linked to Google Hotel Search and enable zero-commission sales, increasing your margins and allowing you to drive more direct reservations.
Final Verdict
It can take time to pick the best hotel digital marketing company.
If you follow the processes outlined above, your chances of signing a contract with a company that best meets your needs will increase.
Choose cautiously, and don't forget to ask the essential questions that will help you make your decision.