30-sec Summary
15 Best Hotel Website Examples highlights some of the most impressive and user-friendly hotel websites in the industry. These websites have stunning visual design, intuitive navigation, and offer easy booking options. The blog also emphasizes the importance of having a strong online presence and a website that reflects the brand's values and unique offerings. Overall, the blog serves as a great resource for hotels looking to improve their online presence and user experience.
We won't be the first or the last blog on the internet to emphasize the importance of a website.
When a user looks up your hotel online, your website should be the first thing that pops up.
Treat your hotel website as a business card. Here, you get more space, time, and attention span.
Use this to your advantage to brief your audience about who you are and what you do.
Your hotel website should convey your message.
Understanding what makes up a good website is the first step. Here are some of the best hotel websites in the game.
The Stamford Hotel's website establishes its brand as a wellness-oriented independent hotel.
They use limited text, focusing on visuals with a CTA. The layout promotes the amenities and services the hotel offers.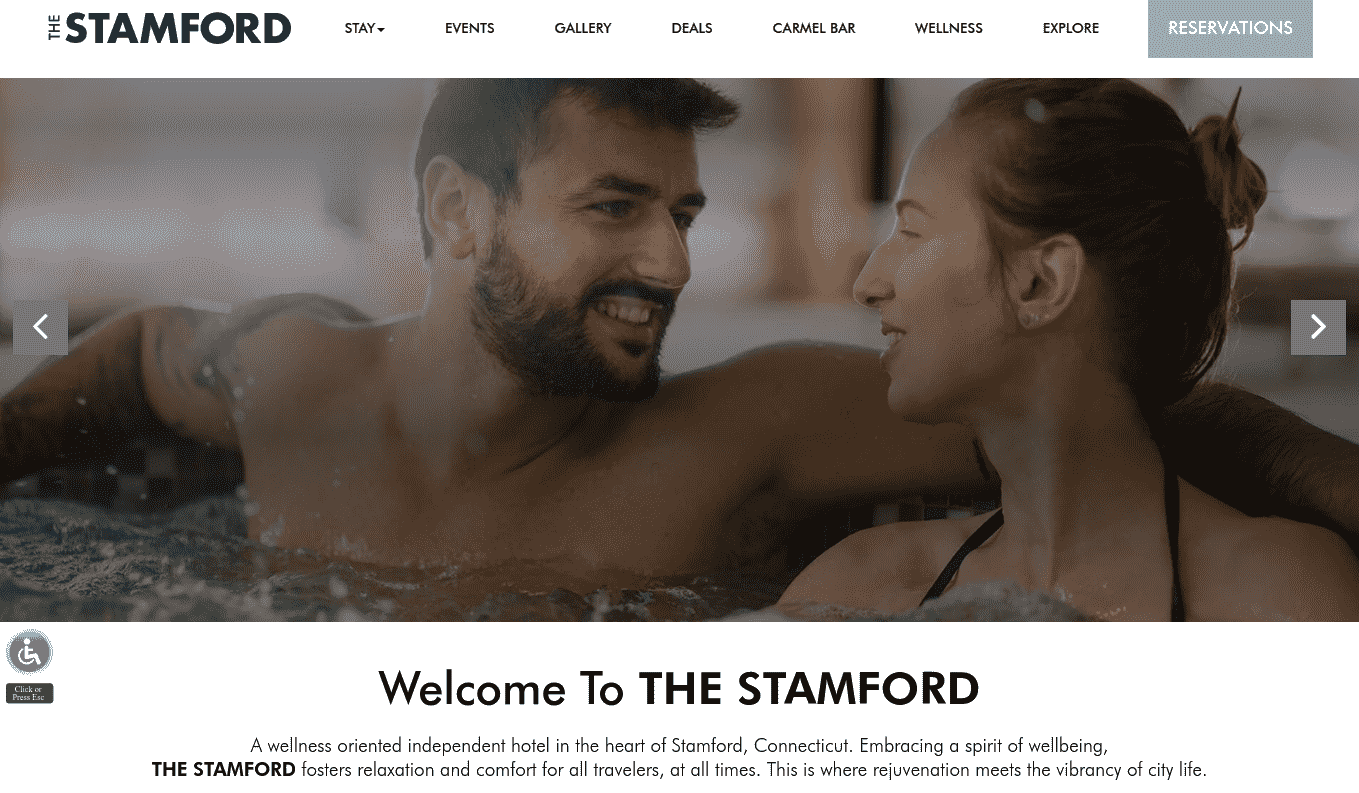 The website has a minimal and clean design.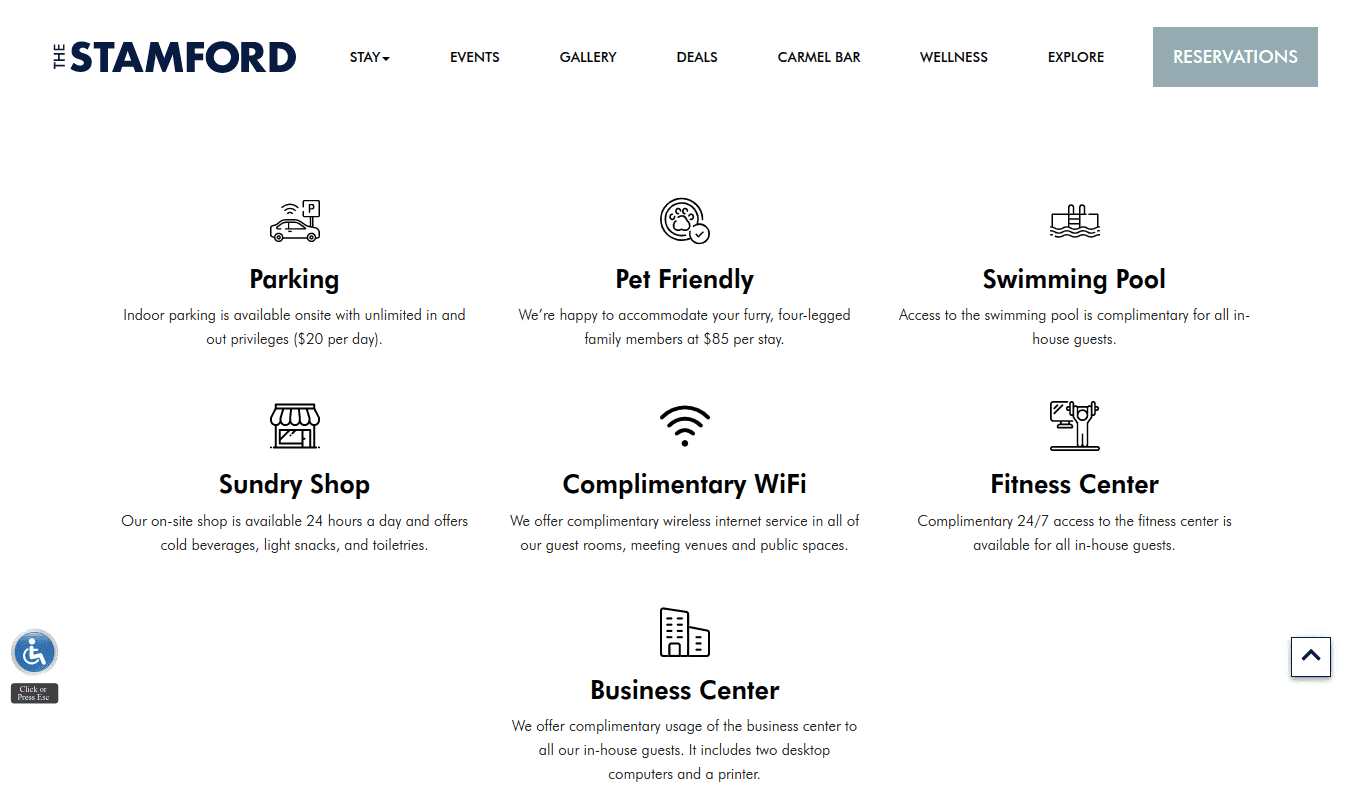 When you open Stage Coach Lodge's website, you can see all their positive reviews through a pop-up.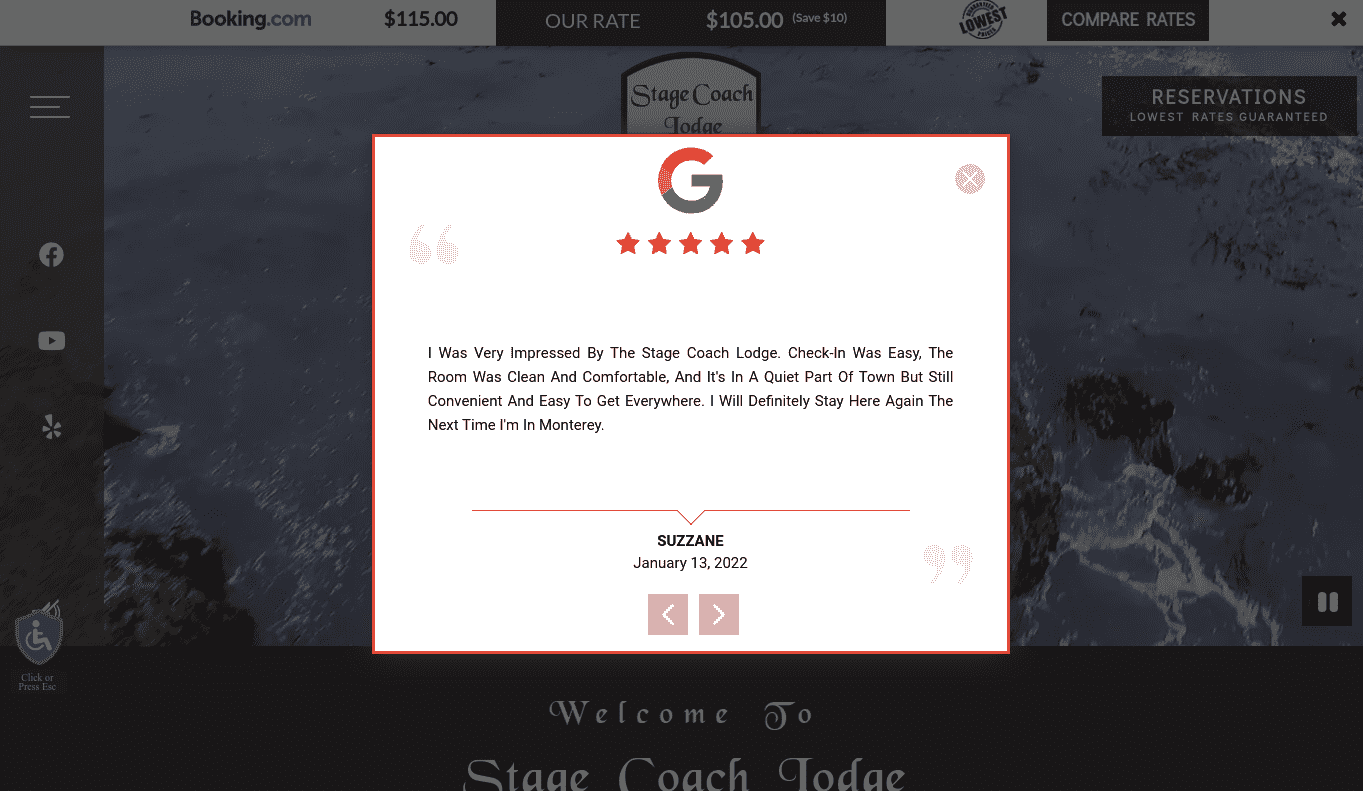 Their booking CTA remains constant as you scroll through the page. Well-displayed amenities make for a user-friendly website that generates bookings!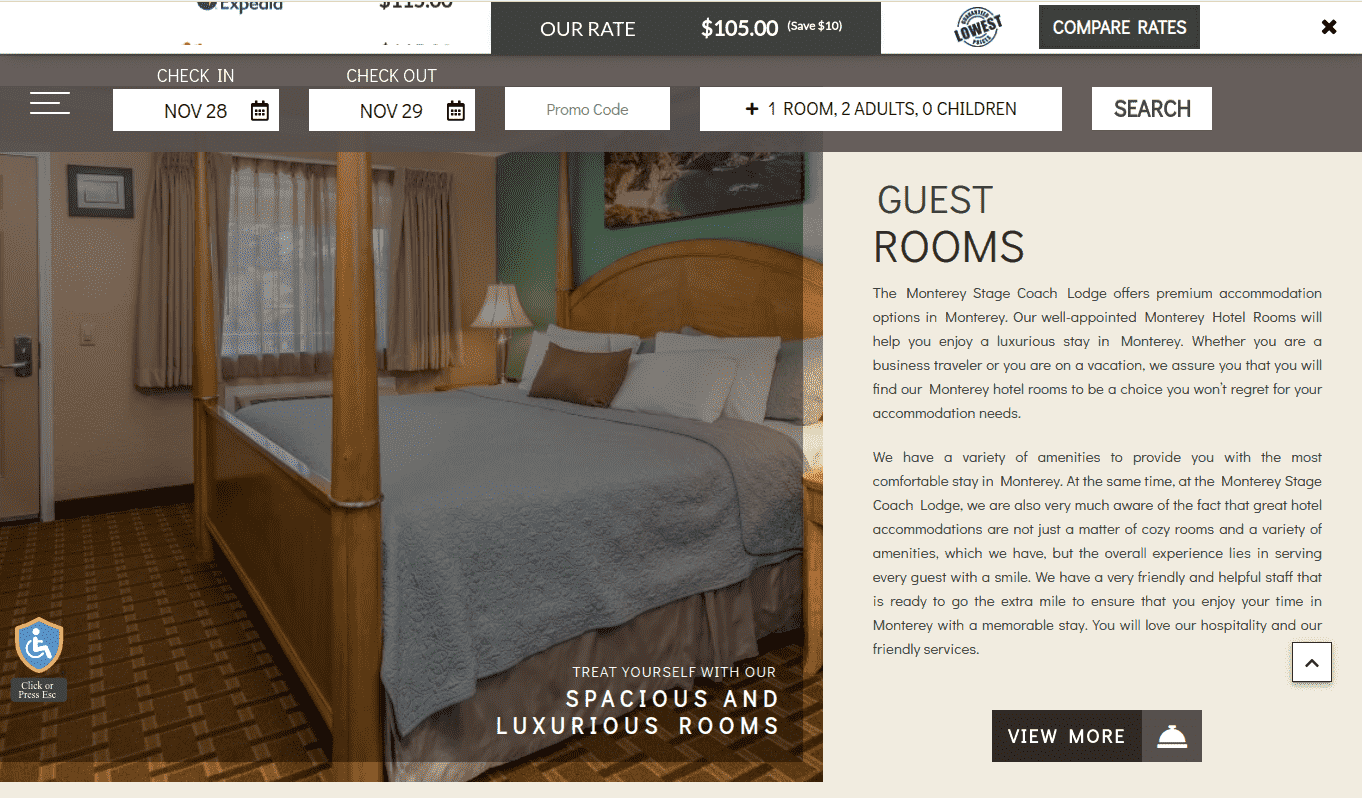 The site greets you with a slider displaying pictures of all their rooms and amenities. This site is well-tailored, as you can read the reviews without needing to scroll.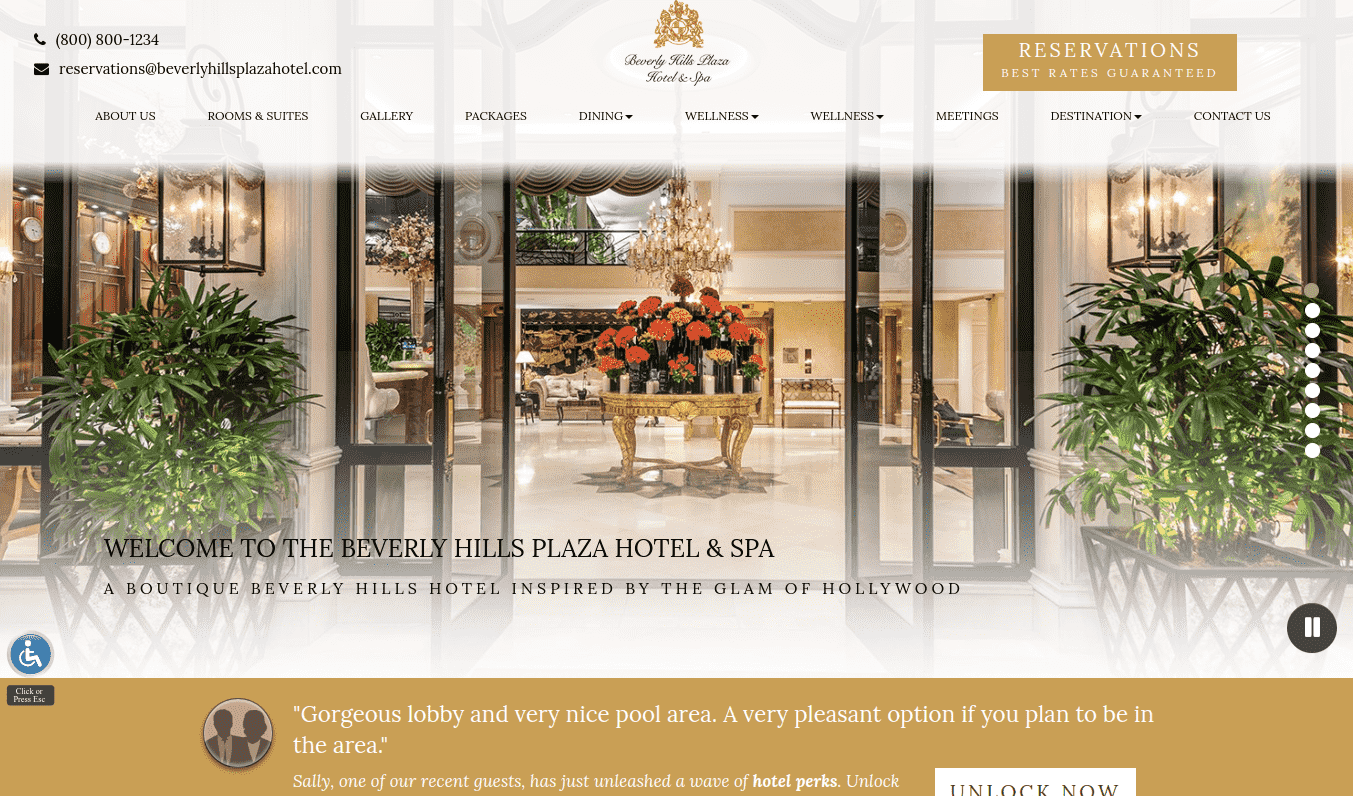 Its minimalistic yet detailed layout contributes to an overall better user experience. With the different categories, you can easily navigate through the website. Being very visual in nature, they let their images do the talking instead of being text-heavy.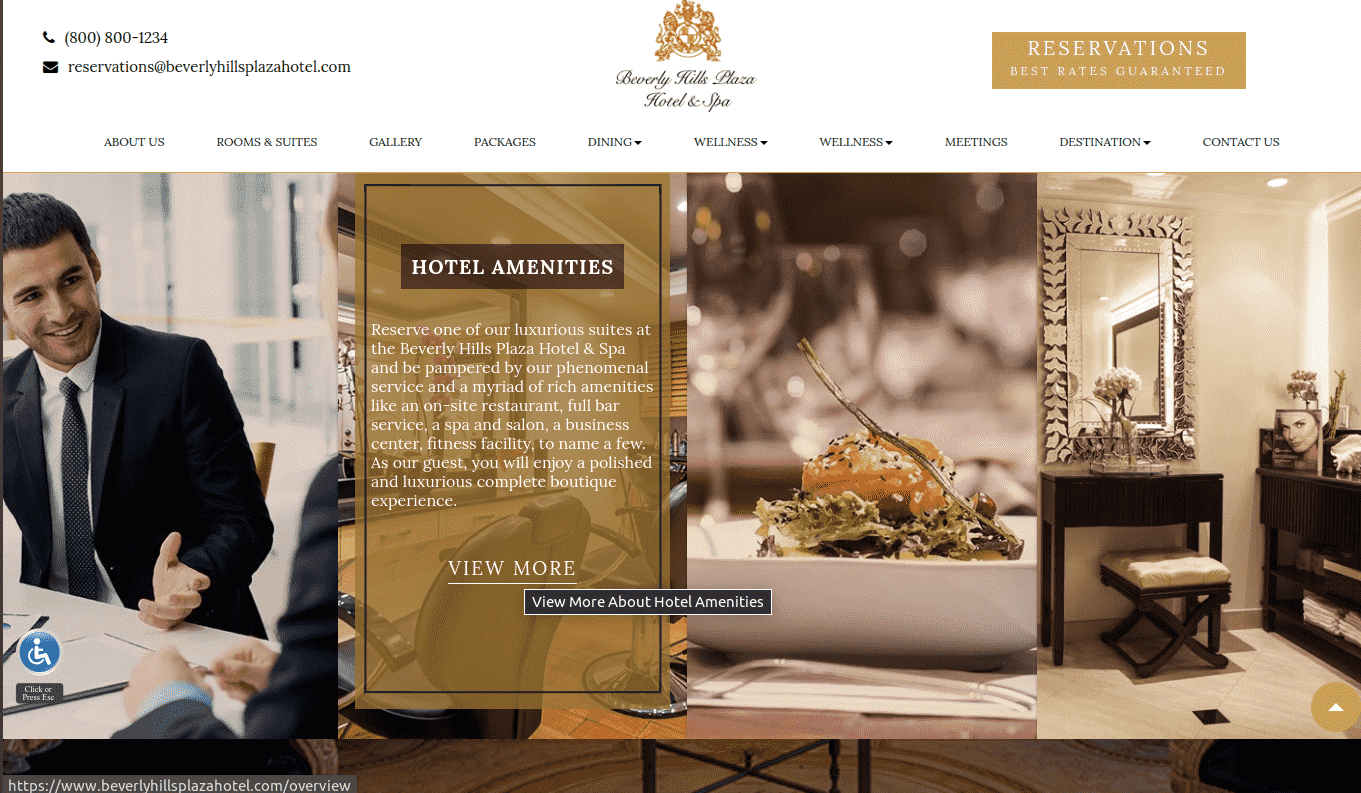 Hotel Botánico in Spain has a website that starts by listing its services. They also boast of the experience their hotel is known to deliver.
It has a minimal design with gorgeous visuals that accompany them. Everything is categorized perfectly; as you scroll, the CTA booking bar stays the same. This allows users to read, think, and make an informed decision immediately.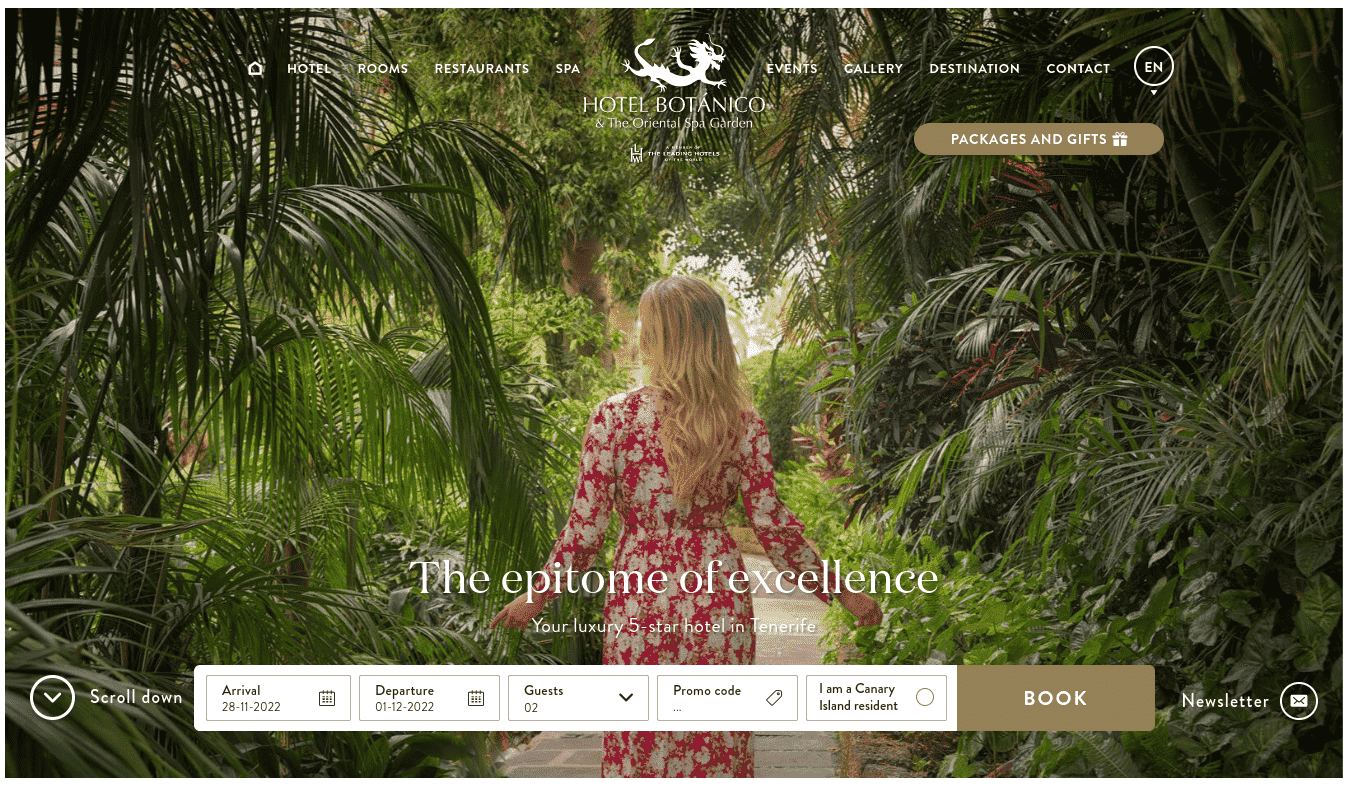 The website doesn't look cluttered despite being text-heavy due to the negative space. If you have a lot to say and show, this is how you do it!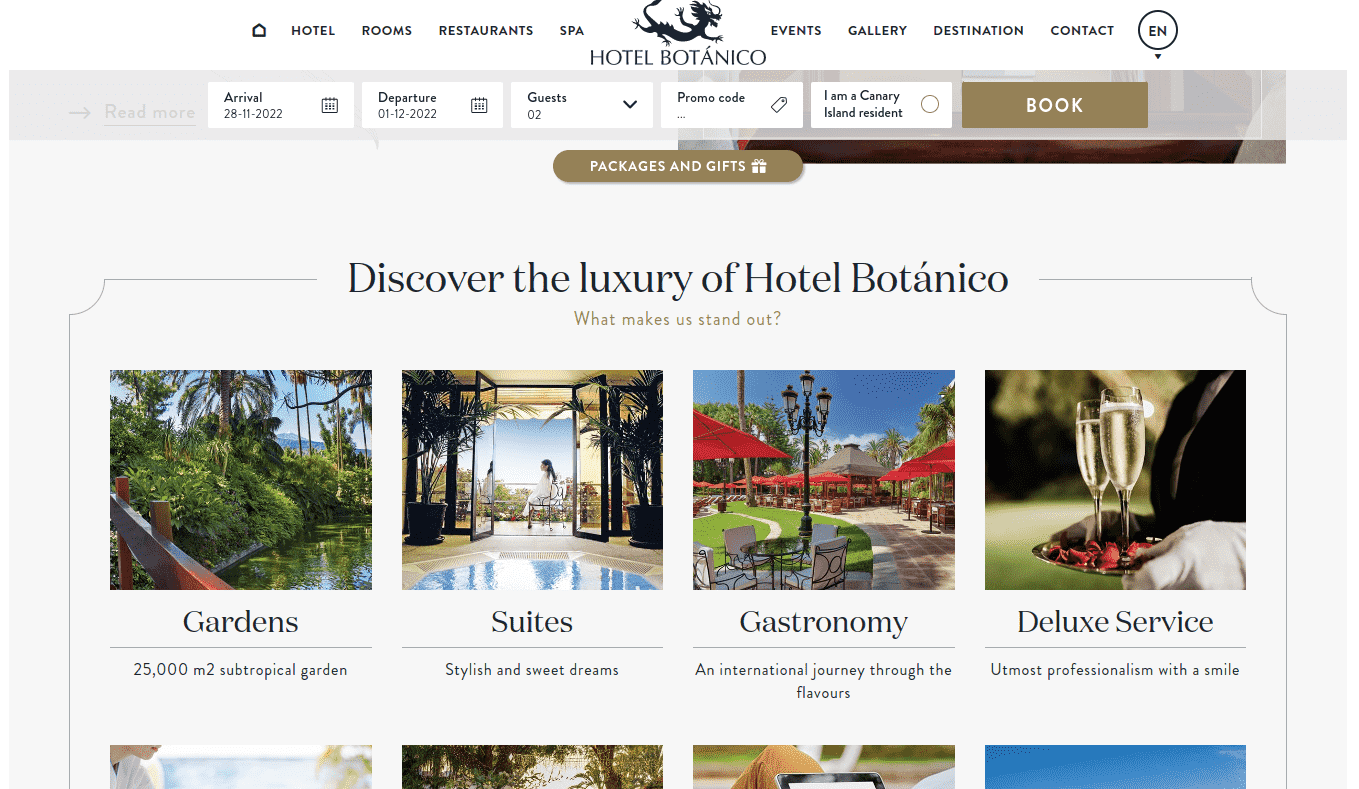 This website does an excellent job of conveying the hotel's vibe. They understand the need to enthuse your target audience about their hotel experience.
This is why it's crucial to design a website that captures your establishment's identity.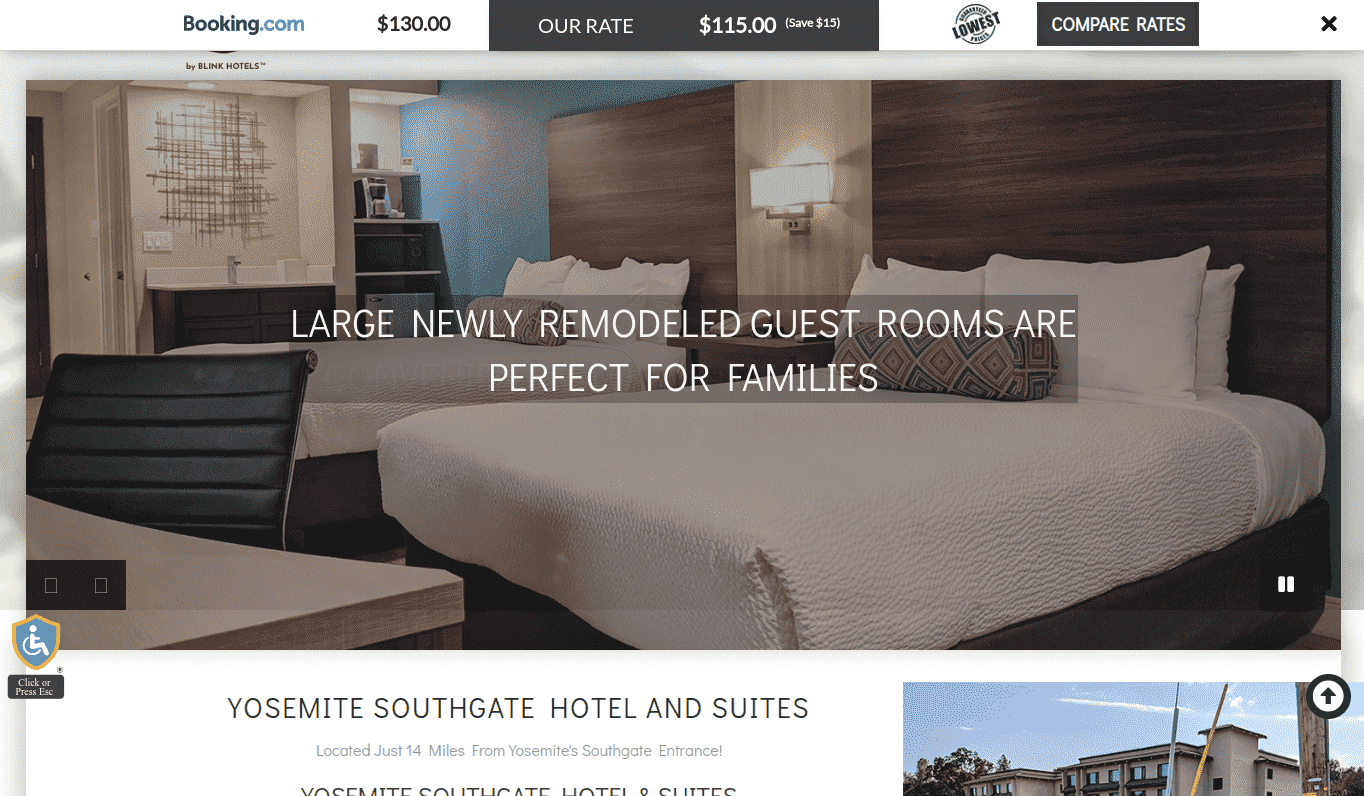 The Yosemite Southgate Hotel & Suites website perfectly suits its overall brand image. It has a straightforward approach and an authentic tone.
You can see a glimpse of their rooms and picturesque location on the front page.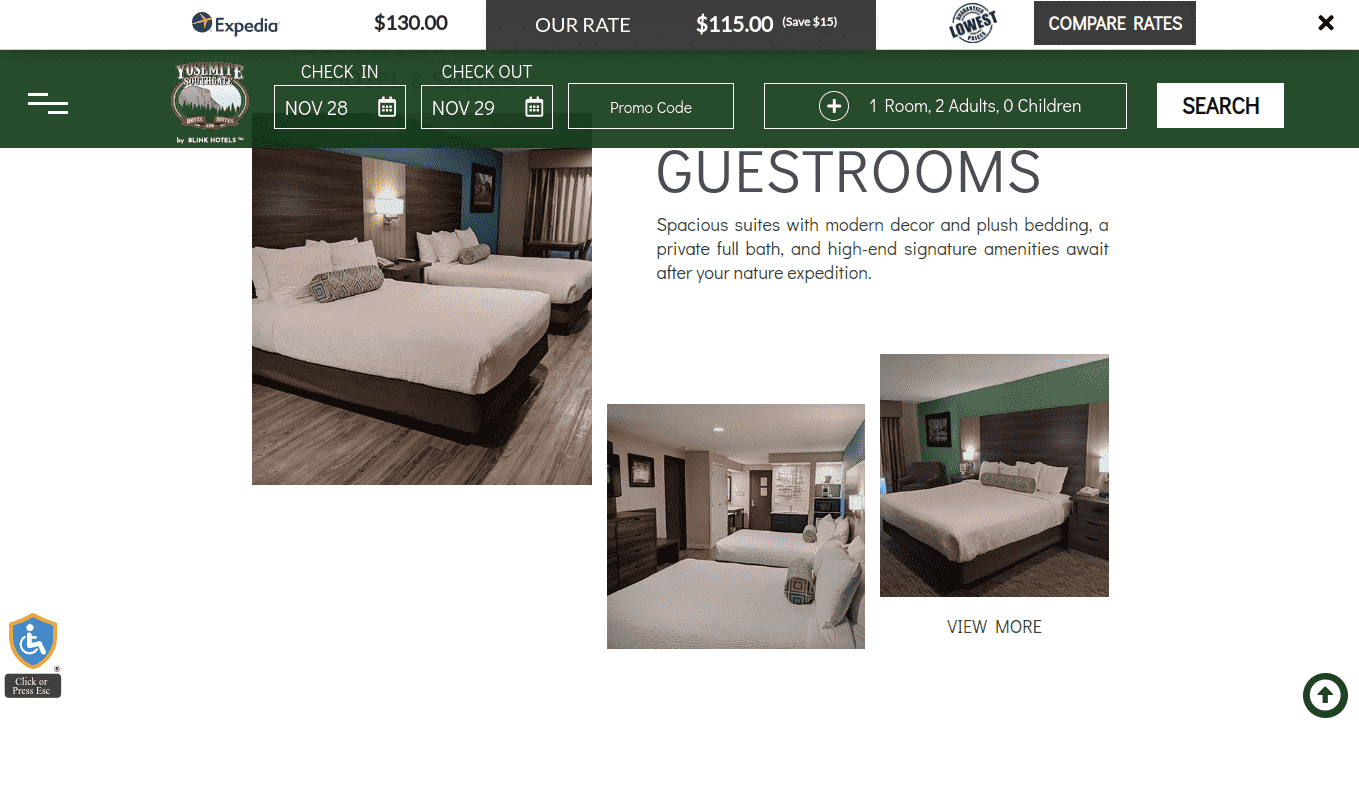 Creating a website specifically for hotels is different that creating a normal website.
Learn how to create a website for your hotel
The website captures the hotel's luxury, richness, and magnificence. The design is minimal but visually appealing. A booking bar follows the viewer through the various site sections.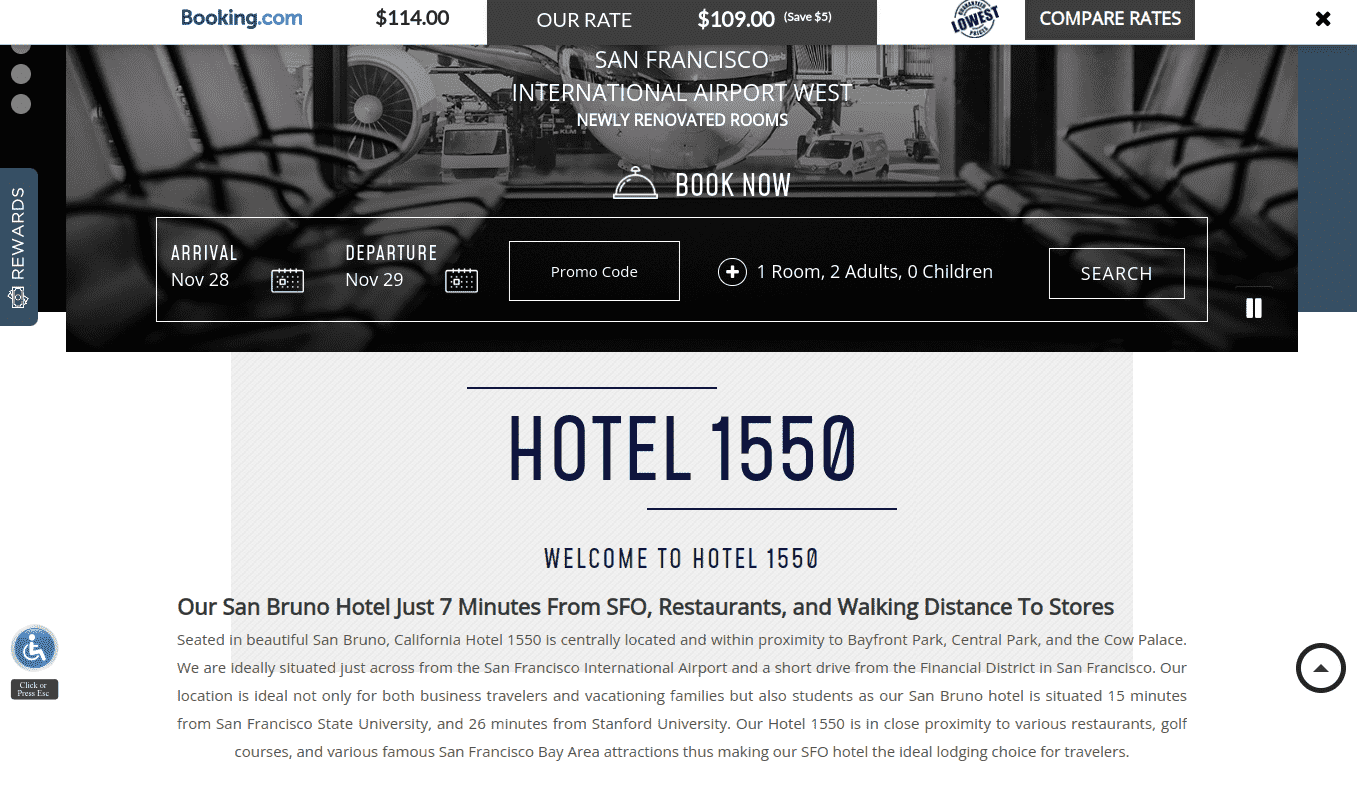 Town House Motel's website welcomes you with a crisp copy in primary colors and a modern font. With ideal vacation images, CTAs, and reviews, there is a lot of clean, easy-to-navigate space.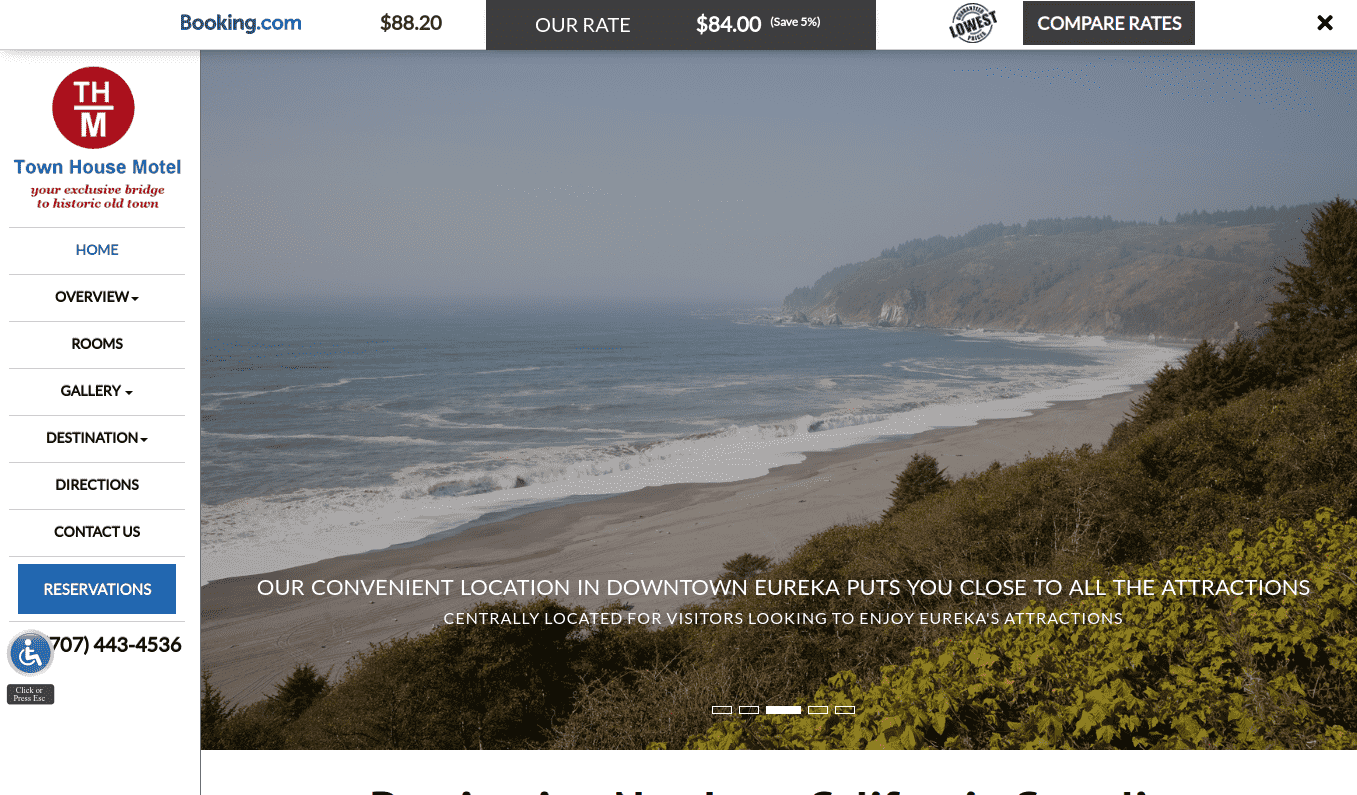 In addition, the Town House Motel emphasizes its essential selling factors. These include that it is pet-friendly, has Universal Electric Charging Stations, and shows vibrant pictures of its amenities.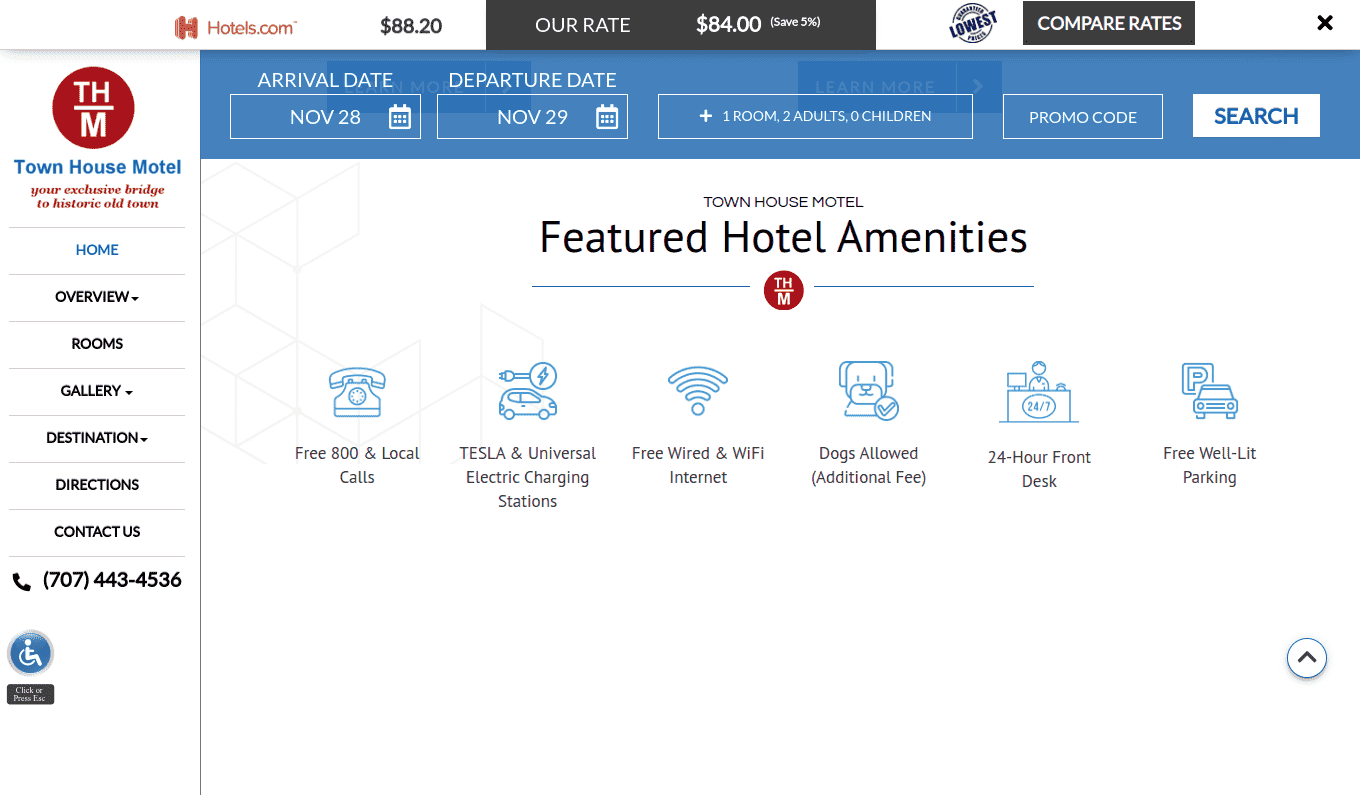 The website reflects the experience of staying at this prominent hotel. If you know you want to book, there's a subtle booking link to convert visitors swiftly.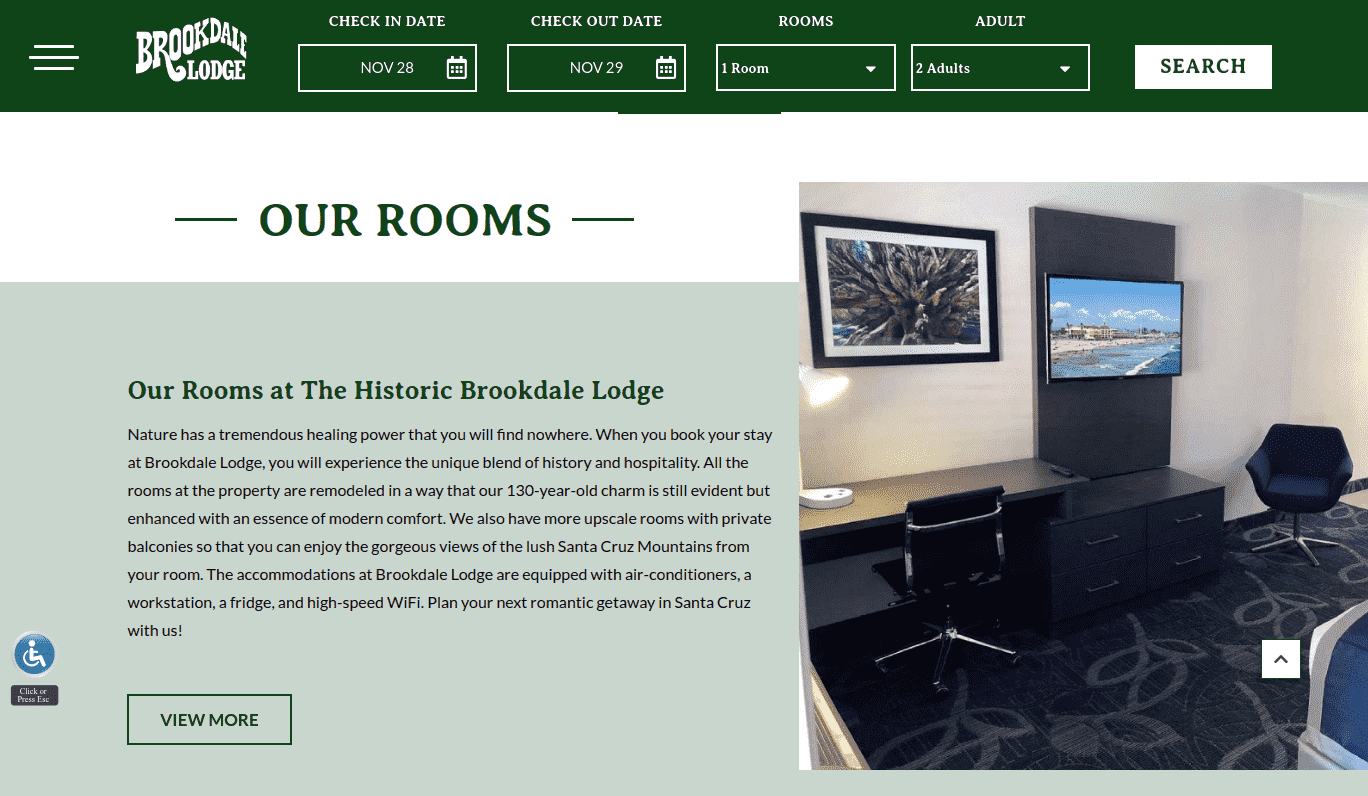 A scrolling slideshow on the website welcomes you and teases the rich amenities of the hotel.
Your desire for vacation peaks when browsing Hotel Alice's website. The website is covered in full-screen images of rooms and seascapes. The navigation choices expand upon the previews of the hotel's amenities.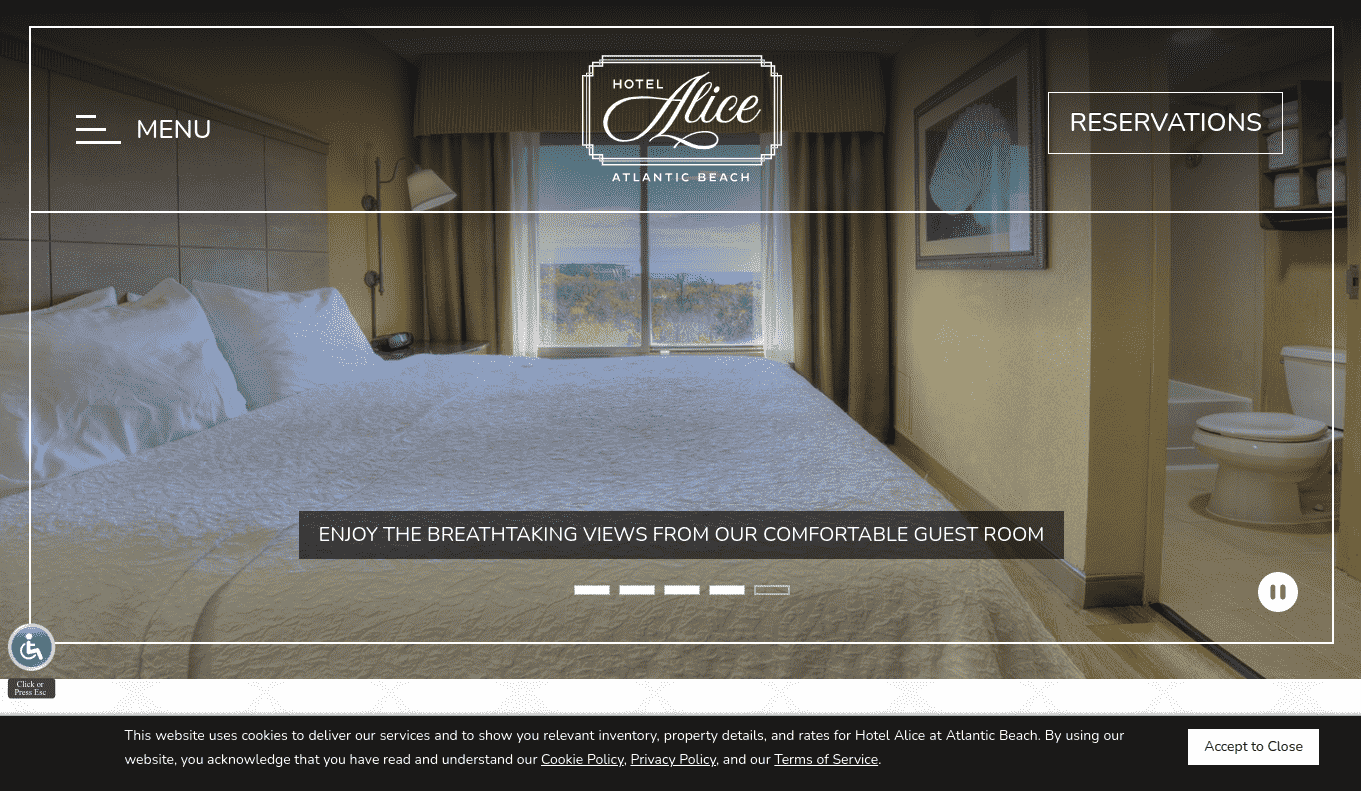 The K11 ARTUS HOTEL in Hong Kong is a 5-star property, and its website proves why. They paired neutral tones with an excellent video. This smartly nudges the user to look at all their activities.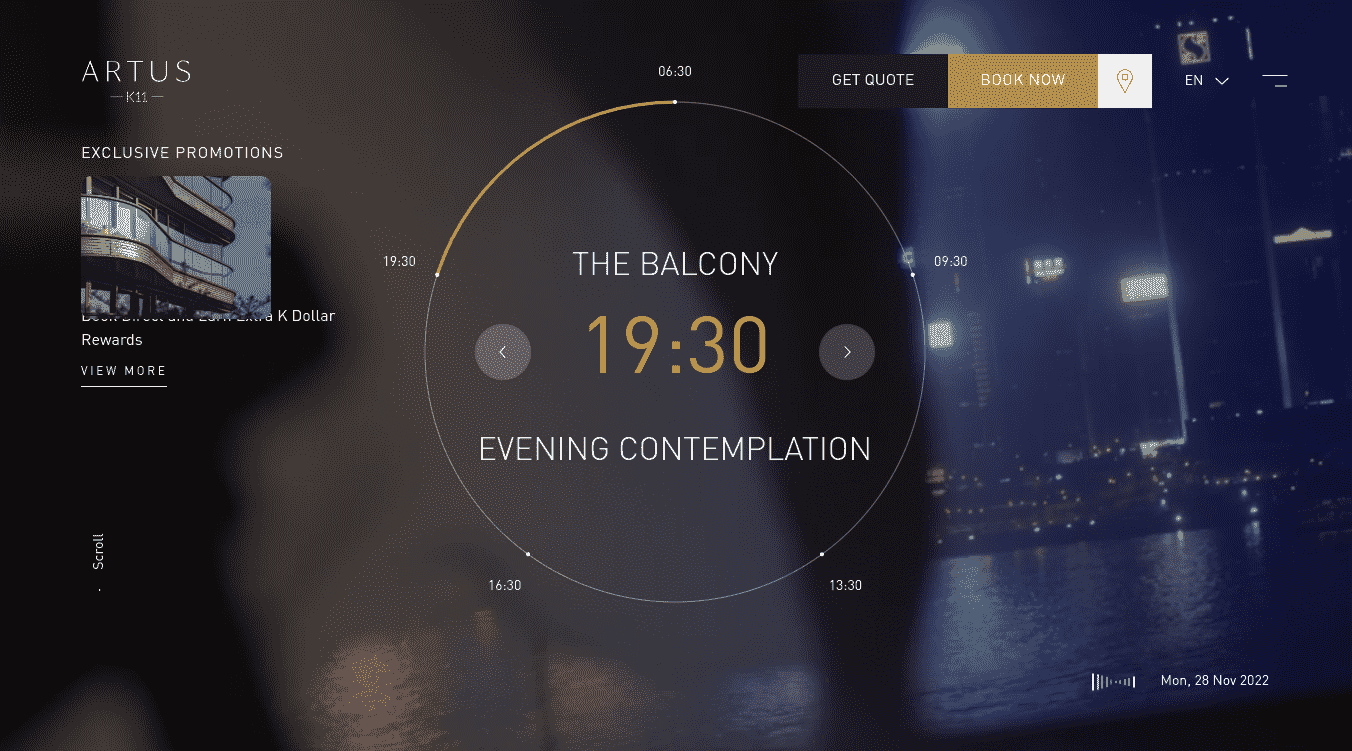 It is a very well-thought-out website. It uses stunning visuals against light backgrounds to make it stand out. The website says more with fewer words. As you hover your cursor over each category, it also displays their sub-categories.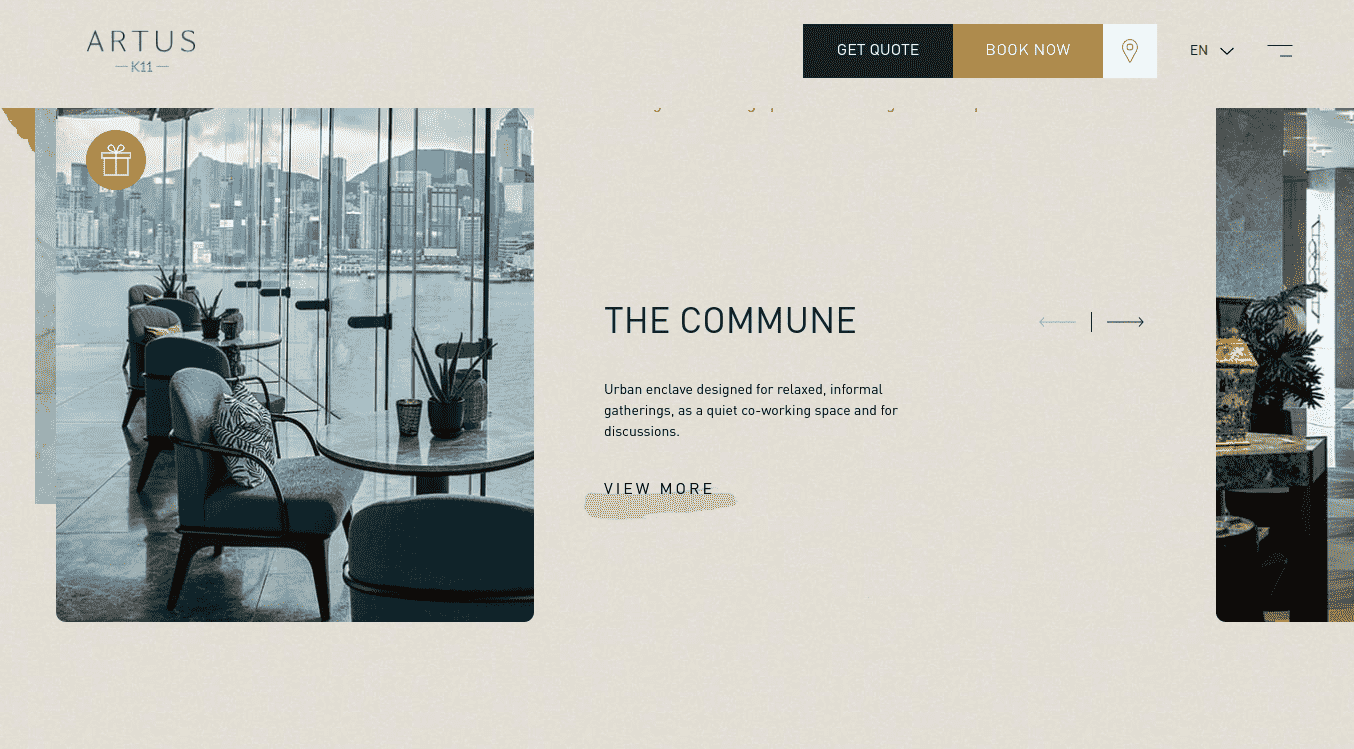 Redwood Creek Inn's website has generated buzz for all the right reasons. It utilizes a variety of appealing dark colors.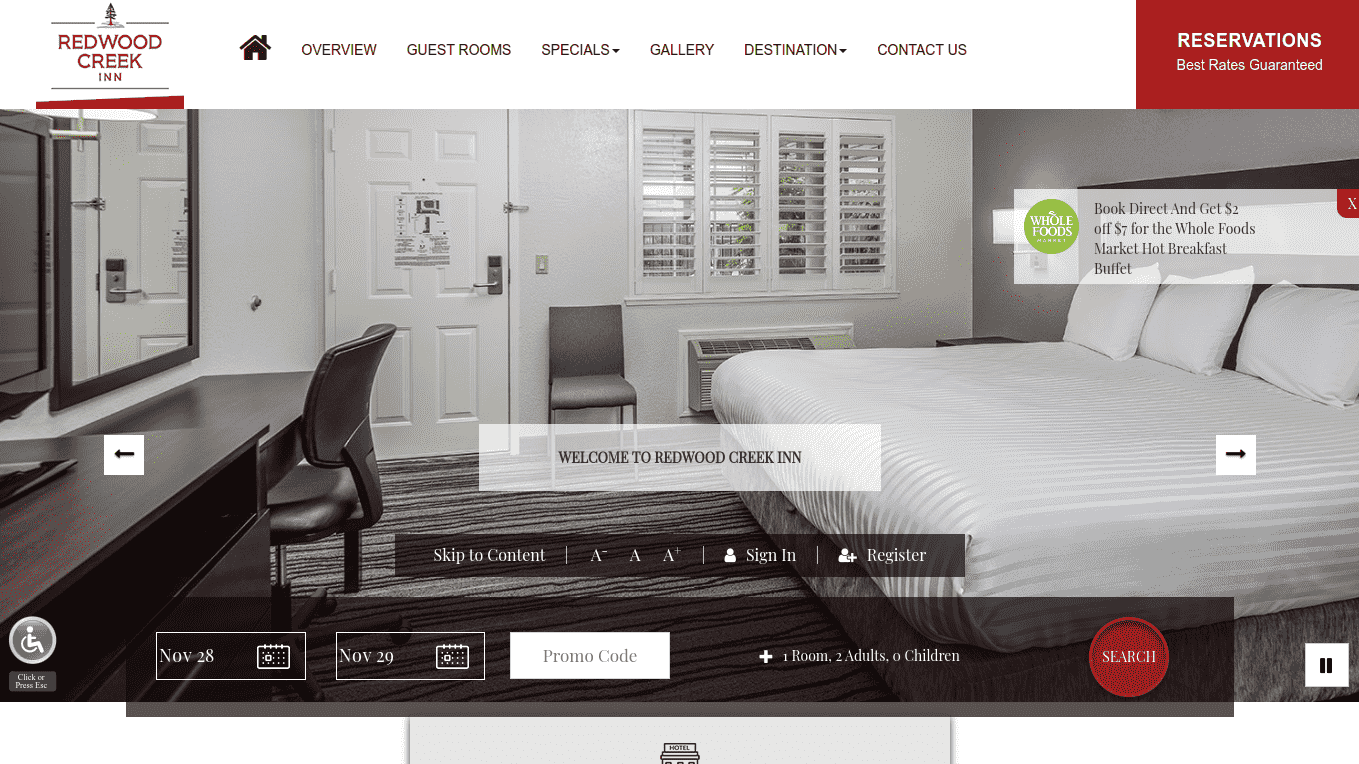 A reservation link is incorporated into its distinctive photo display. The brand radiates confidence knowing that it has drawn in its target audience.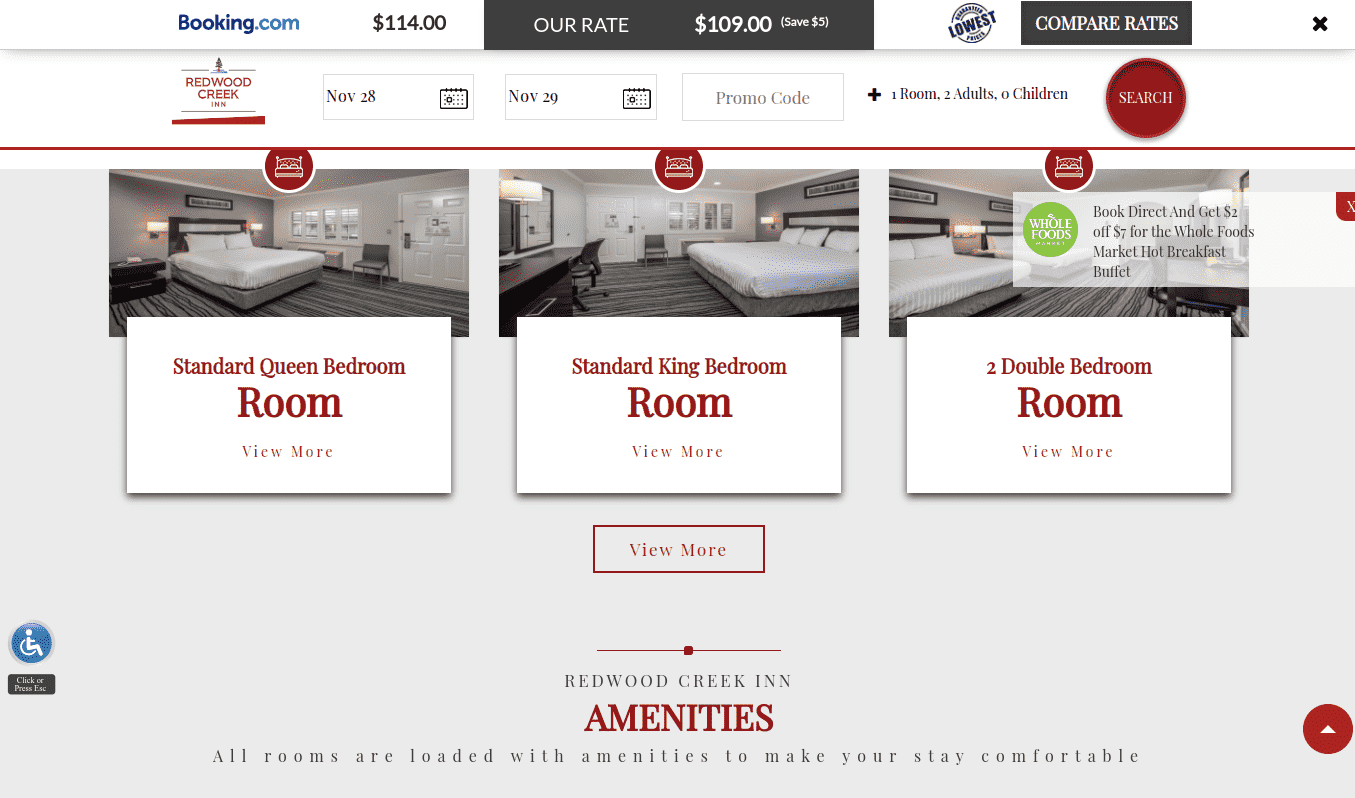 North Bay Inn has indisputably mastered the design of its homepage. The website greets you with an alluring photo on the top fold. This immediately creates a feeling of comfort. It captures the mood and highlights the hotel's location, restaurant, and rooms.
The rest of the homepage layout is structured. The most important details are covered in its many sections.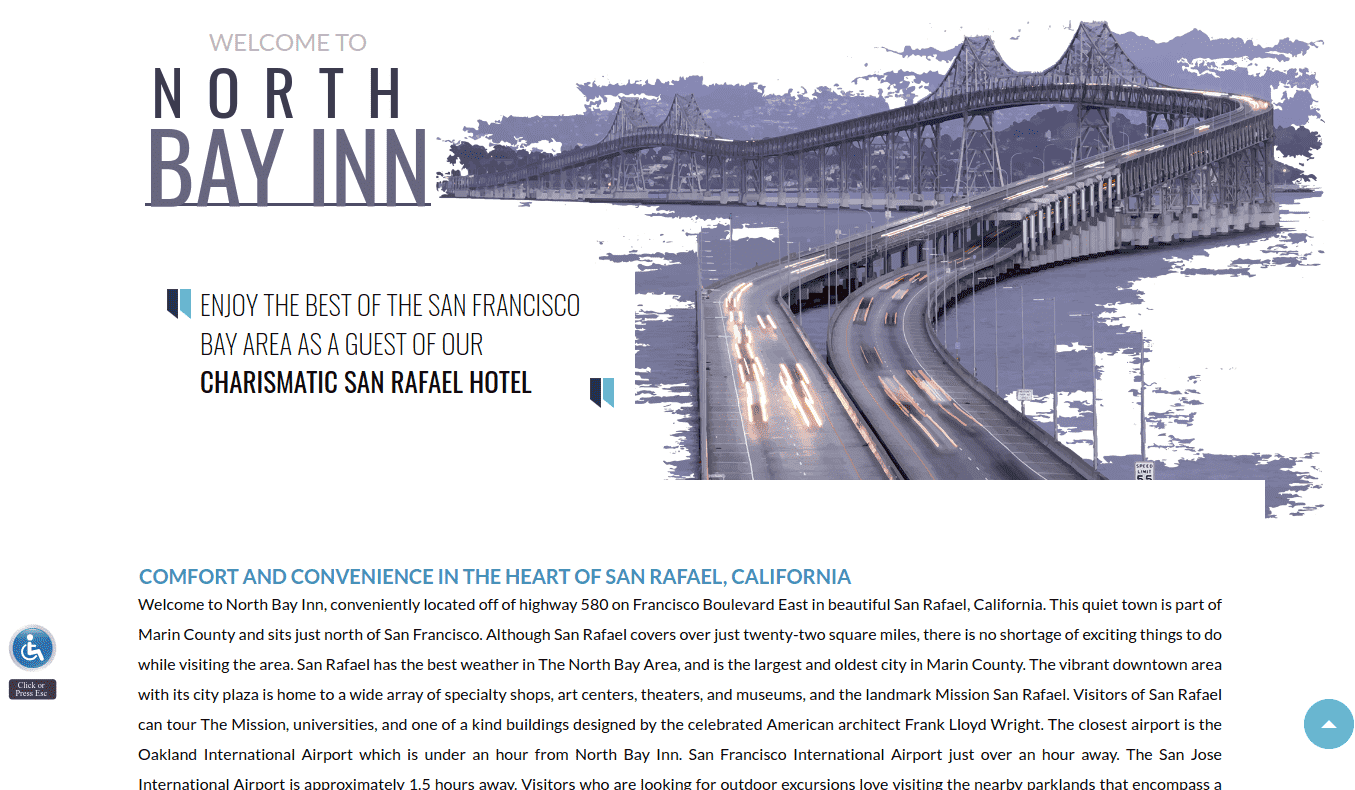 The website for this hotel combines all aspects into a stylish and functional layout.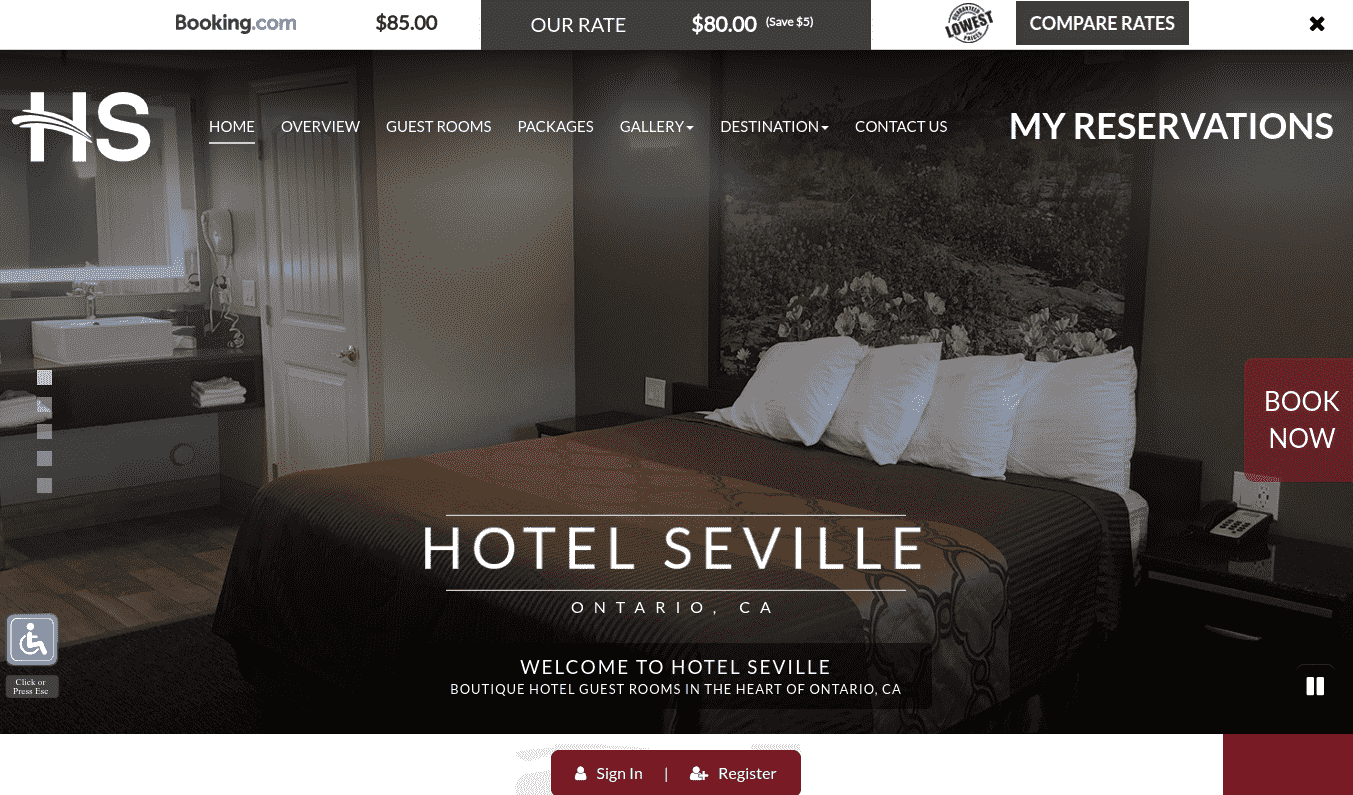 To learn more about their accommodations and other services, peruse the homepage. The photographs are displayed cohesively. The site pays particular attention to typography and uses a variety of fonts and styles. This helps establish textual hierarchy.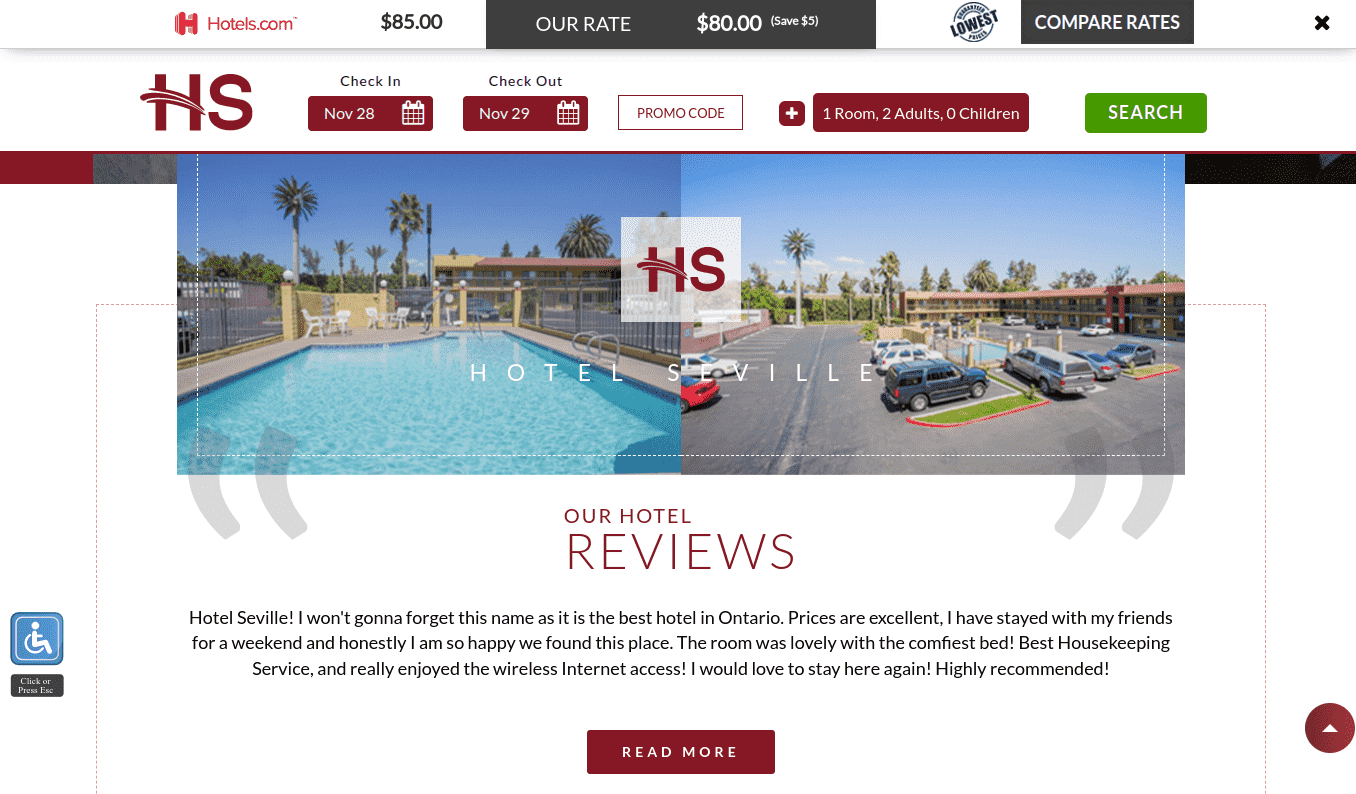 With its clear skies and ocean views, this hotel's website design takes the user right to Mendocino. You can see a series of sunny, bright photographs as you scroll further. The booking bar is another prominent feature.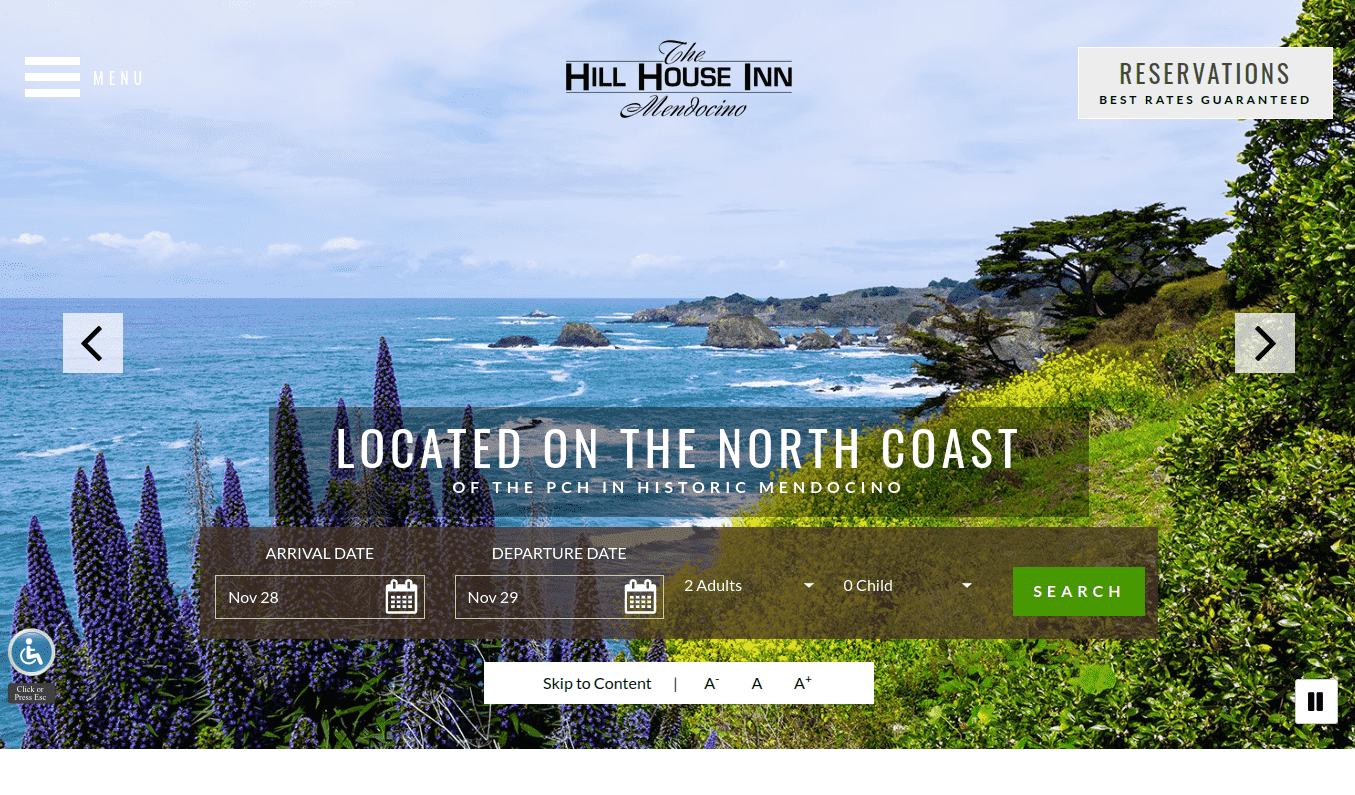 Even though it blends into the design, it is very noticeable. The fixed navigation menu and a convenient back-to-top button appear as you scroll. This makes it easy to navigate the entire website.
The Atrium Hotel website flaunts its amenities and location. It entices visitors with appealing images of its bar, pool, and spacious accommodations.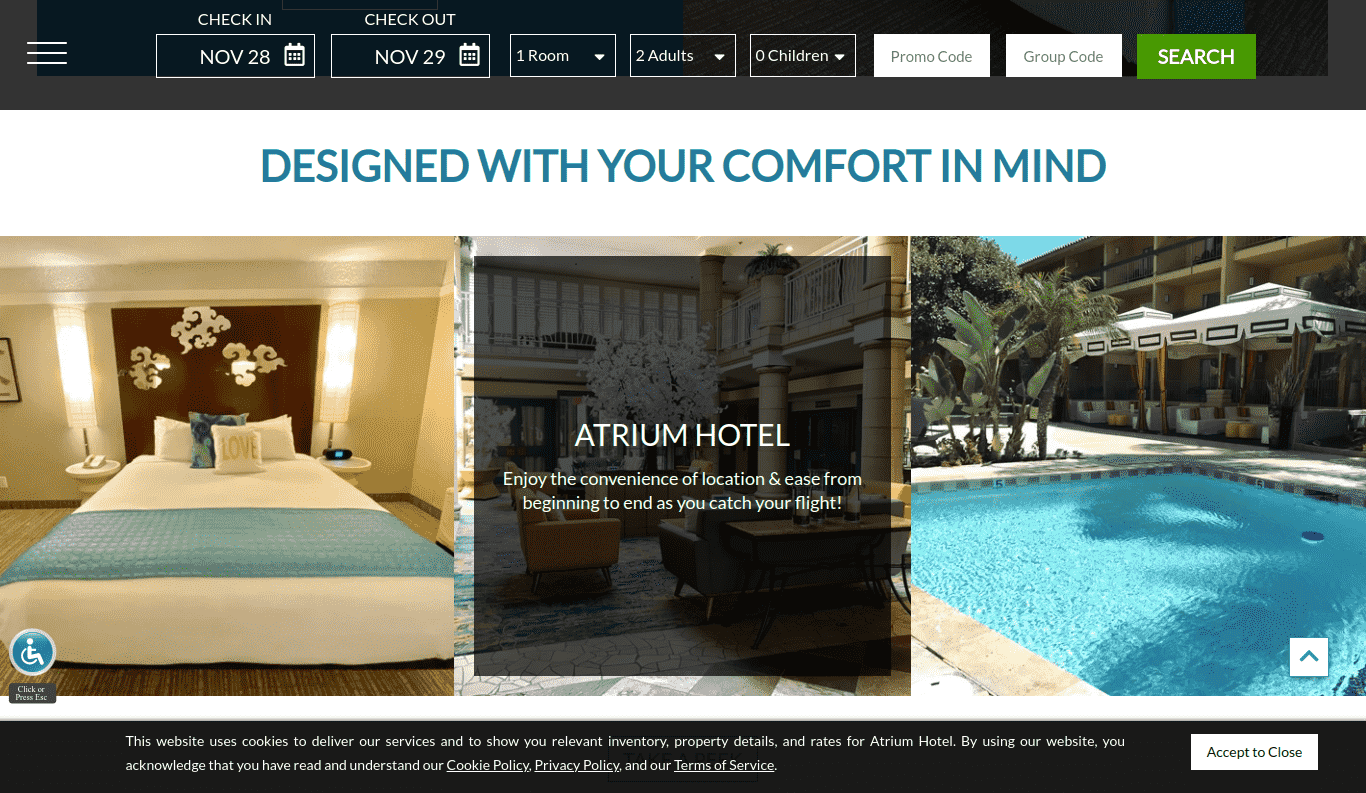 This website's "Rooms" page provides a seamless user experience and a professional appearance. The site uses photos, easy-to-read bullet notes, and helpful vector art icons.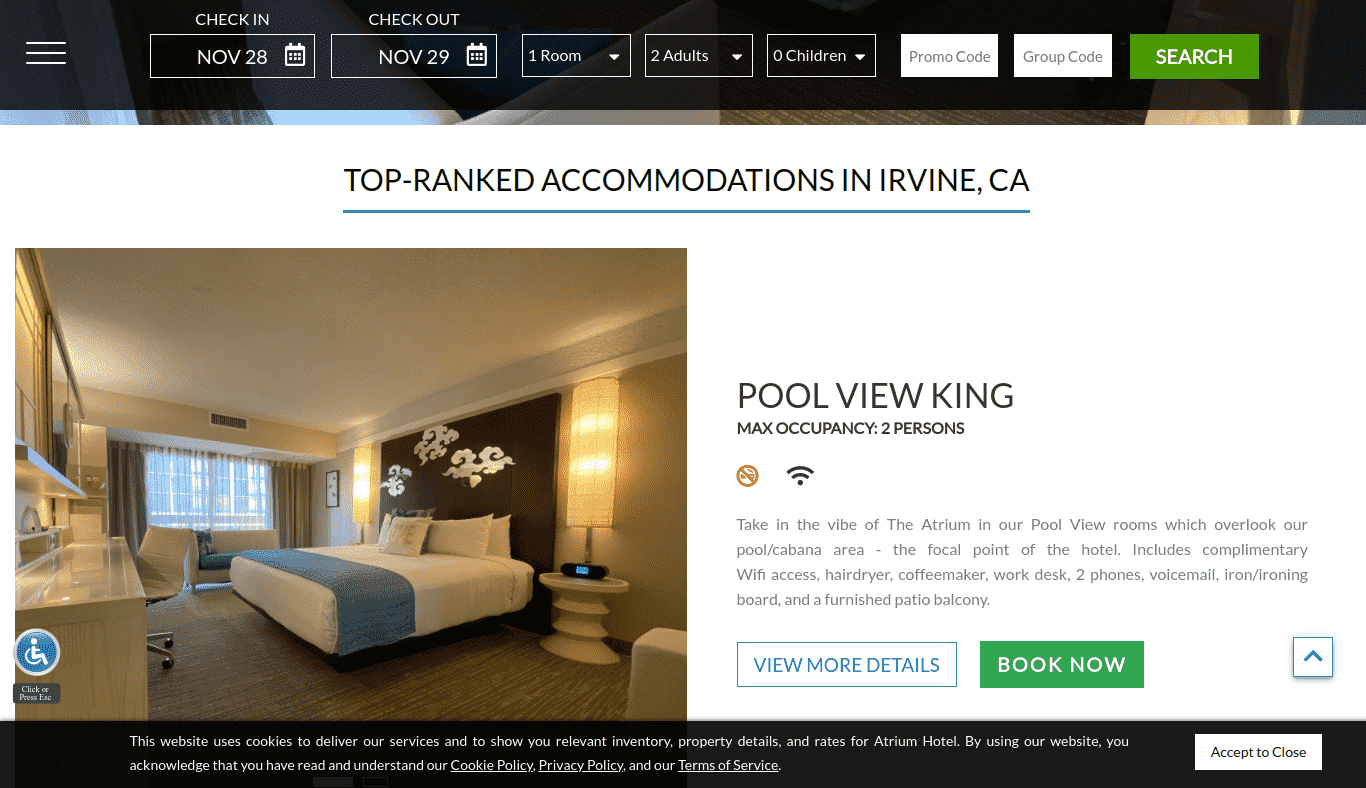 Conclusion
Does your hotel website evoke emotions and capture the attention of your potential guests?
Your hotel website should provide information and simplify the whole process of booking a hotel room.
It must portray a reputable image of your hotel business. All of these objectives can be obtained through a well-designed website.