What are Google Ads (AdWords)?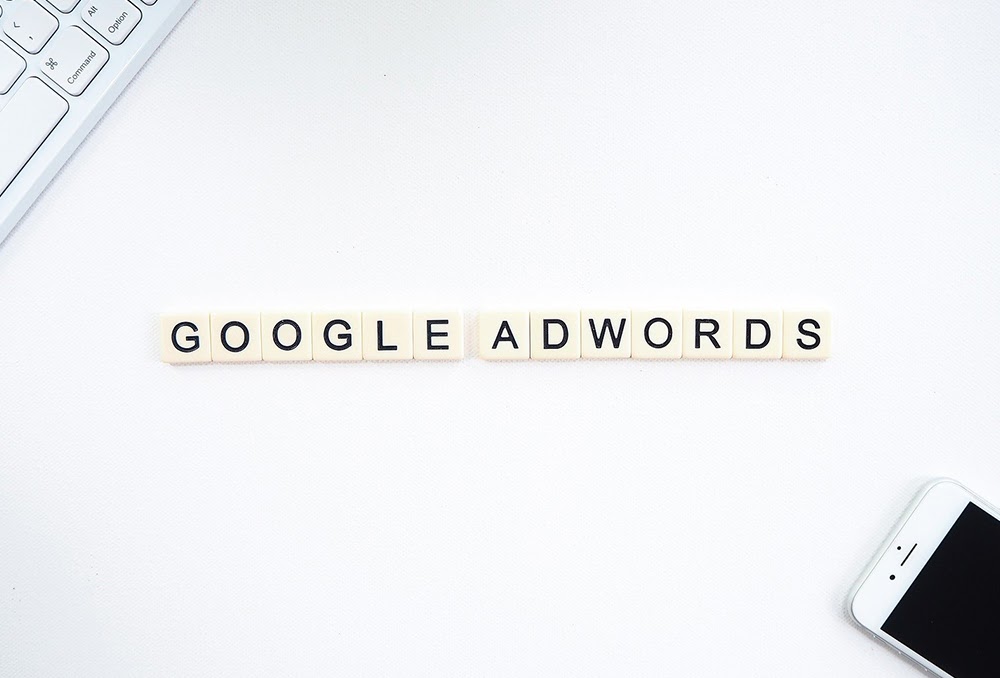 Google Ads (earlier known as Google Adwords) is paid Google advertising where advertisers bid to display advertisements, product listings, service offerings, or videos to web users.
Through its ad network, Google can place ads in search engines' results like its eponymous Google Search and on non-search websites, mobile apps, and videos.
Google Ads exposure can help you obtain more customers by placing your business ad on the first page of Google search results for the keywords you choose, plus a variety of other real estates that the ads network provides placement.
Google Ads help promote your business, sell products or services, raise awareness, and increase traffic to your website. Google now processes over 3.5 billion daily and 1.2 trillion searches per year worldwide.
With the help of Google Ads, you can create online ads to reach people exactly when they're interested in the services and products you offer. In the case of hotels, you can serve up your ads with targeted keywords when potential guests are researching destinations, attractions, or events.
Prerequisites To Get Started With Google Ads
1. Targeting - Find Your Relevant Audience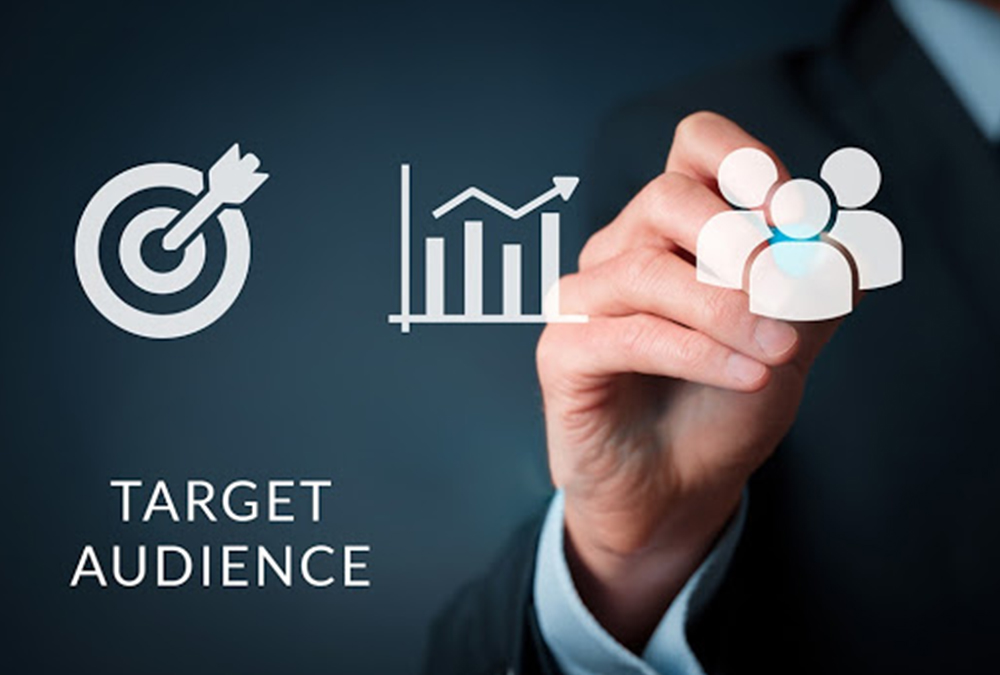 The success of your advertising campaign highly depends on targeting. You must show your ad at the right time to the right person. Google Ads offers different ways of targeting ads:
Demographics: Target your ads based on your hotel amenities and features trend with potential travelers in specific locations, ages, genders, and device types.
Affinity: Apart from offline marketing, hoteliers can extend a campaign online and reach an audience using Google Search or the Display Network based on market research.
In-market: Try to create ads targeting similar keywords to the amenities and services offered at your hotel. Your ads should look unique and eye-catching to searchers looking for the same features as your hotel.
Similar Audiences: Sometimes, your potential guests' searches might not be directed directly at your hotel or services, but they will have conducted related searches. To expand your audience, you can use such interest related to the remarketing lists.
Remarketing: Often, people clicking on your ad might not take your desired action, e.g., booking a stay at your hotel. Target your ad again to them, expecting them to convert somewhere down the line. Remarketing efforts help reaffirm your brand in the mind of the consumer.
Placement: Your target audience will visit the websites where they might get similar information; you can place your ads on those pages.
Content Keywords: As you know the keywords relevant to your hotel offering best, select those keywords to reach your audience.
Display Expansion for Search: Google Ads offers automated bidding and intelligent targeting options where Google will find relevant users for you and target them with their own smart algorithms.
2. Keywords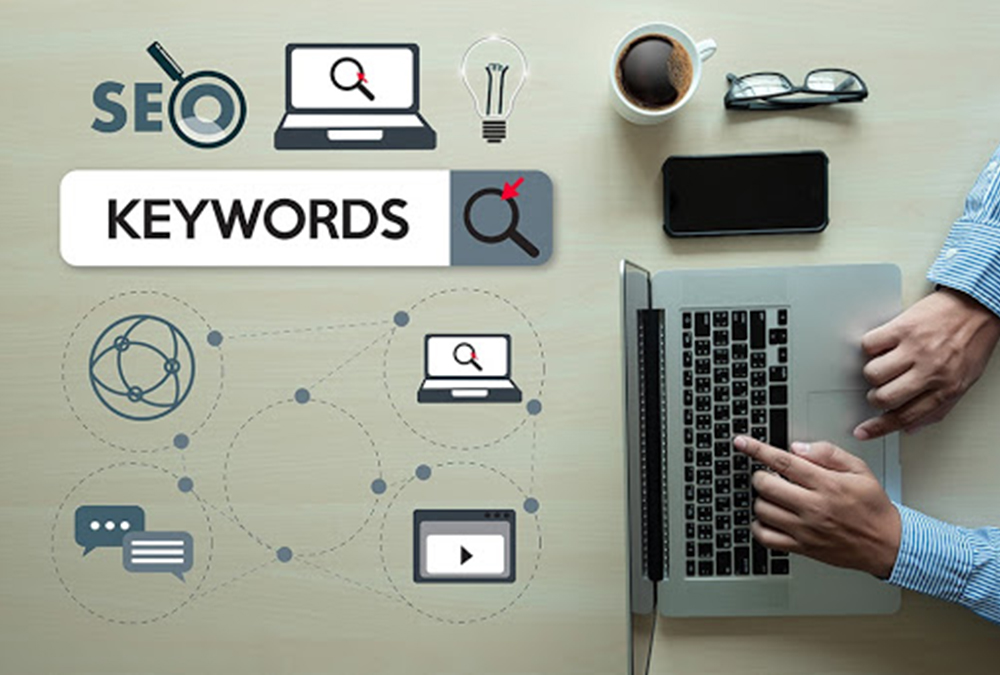 Keywords play an essential role in Pay-Per-Click marketing. Brainstorm all the keywords related to your hotel, facilities, amenities, and offerings to guests. Classify those and make sets of those keywords for better efficiency.
Keywords can be primarily categorized as:
Branded Keywords: This includes your hotel name (e.g., Stage Coach Lodge, Buck Meadows Lodge, Holiday Inn Express, Best Western, Comfort Inn, Super 8, Days Inn, Marriott, etc.
Generic Keywords: This list will mostly cover short-tail keywords and uncertain user intent, such as hotels in Monterey, the best accommodations.
Transactional Keywords: This is the set of keywords with a specific conversion value. Most of the time, these are medium-tail keywords—hotels with Wi-Fi services and accommodations with daily housekeeping.
Locational Keywords: Here, you include most location-based keywords—for instance, hotels in San Francisco and hotels near the Golden Gate Bridge.
Long-tail Keywords: Invest your time creating a fair amount of long-tail keywords. Create your long-tail keywords based on the list of your amenities and services.
Informational Keywords: Though this set of keywords has a low conversion value, they are still crucial as the user might decide after landing on your page—for example, things to do in Oakland, best places to visit in New York.
3. Budget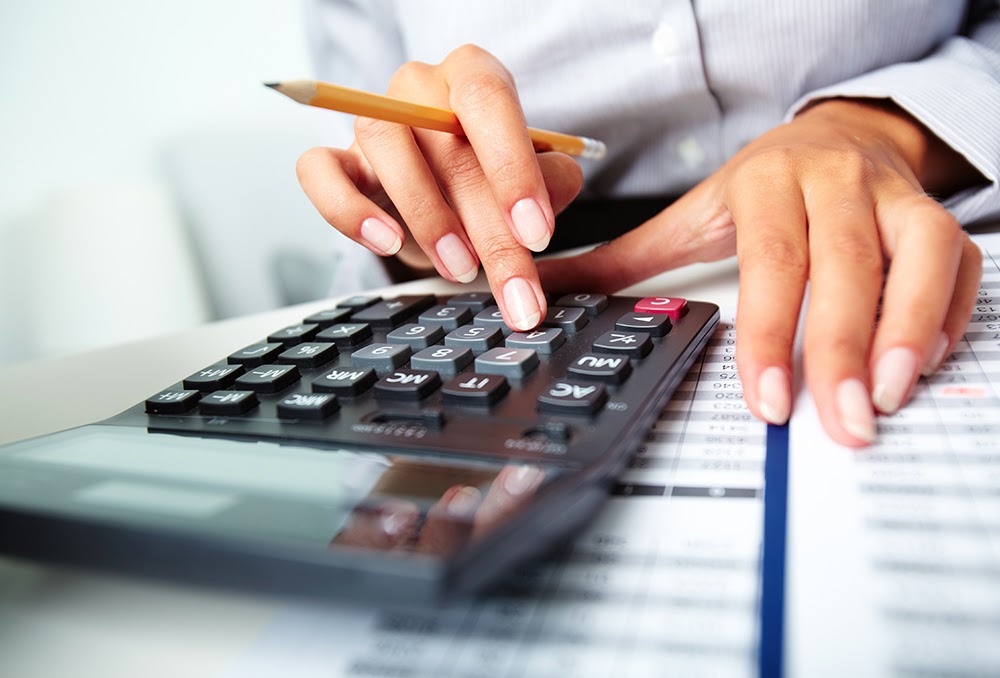 Your decision to use Google Ads for your hotel business depends upon the kind of budget you set for daily and monthly campaigns.
It would be best to have a fair idea of how much to spend on your ads campaign. Sometimes, you must forecast the amount for particular offerings and seasons.
It will be helpful if you make a habit of maintaining projection sheets to understand your ad campaigns and their efficiency better.
Pro Tip: Set smart goals that are realistic, achievable, and measurable that can aid you in setting practical expectations.
4. Google Advertising Networks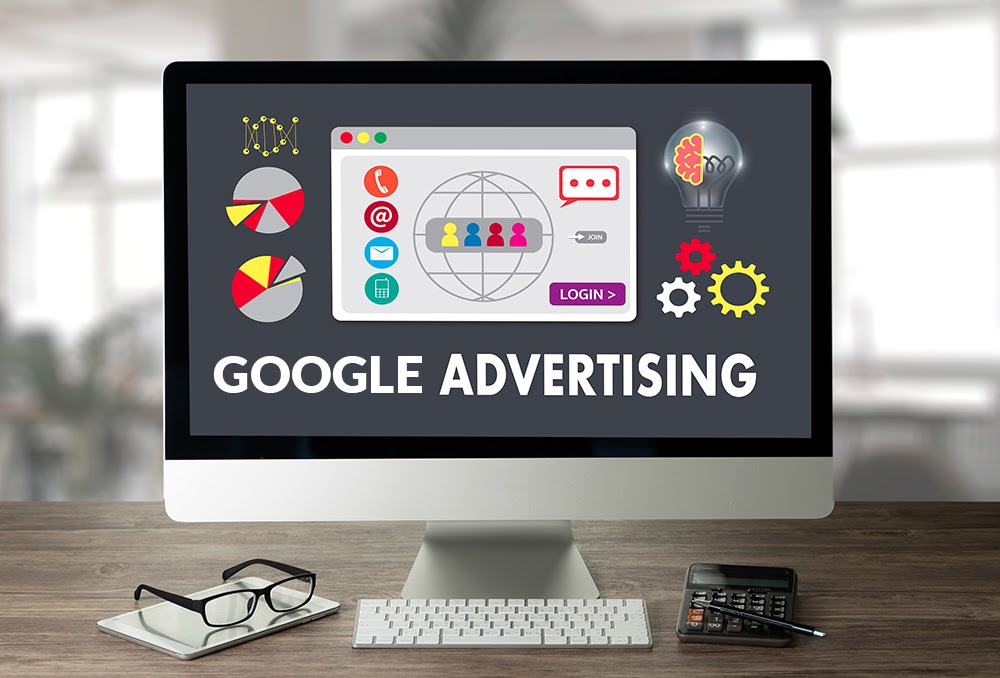 Google Advertising Networks are the places where your Google Ads will appear.
You can choose to show your Google Ads in these locations:
Google Search Network:
Your choice of search networks will display your ads on Google Search Engine Result Pages, Maps, Shopping, and other search sites partnered with Google. Your ad's visibility on this network largely depends on your chosen keywords.
Types of ads on the Search Network
Text ads, Dynamic Search Ads, and call-only ads: The most common kinds of ads on the Search Network. These ads appear with an "Ad" or "Ads" label on the search results page and might have an "Ads by Google" label on partner sites. They often show ad extensions, which allow advertisers to include business details like location or phone number in their ads.
Shopping ads: Shopping ads display and link to products for sale. They're labeled as "Sponsored" or appear with an "Ad" or "Ads" label on the search results page and might have an "Ads by Google" label on partner sites.
Image and Video ads: Search partners can host image ads and video ads.
Google Display Network (GDN):
By choosing this option, your ad will appear on YouTube, Blogger, Gmail, and millions of other websites on Google.
Google Display Network (GDN) gives you the leverage to stop your ads from showing up on websites that provide you with low ROI.
Learn how the Google Display Network works.
Where Will Your Ads Appear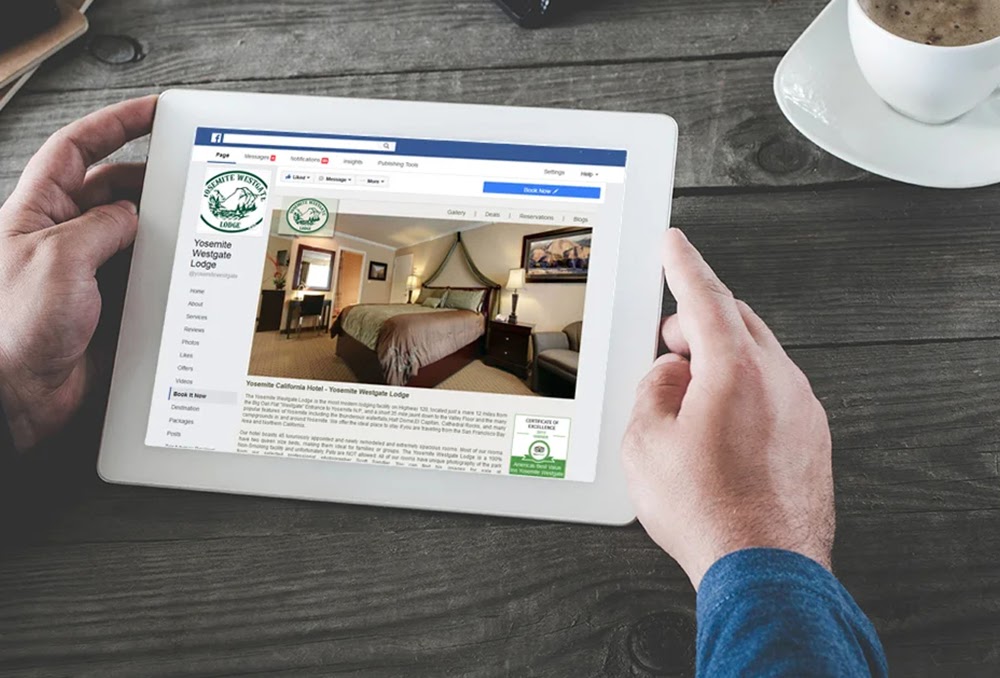 An ad from your Google Adwords Campaign can appear on the Google search engine result page when you look for the product or service.
When you create the ad, you'll choose a specific set of keywords—the words or phrases you select that will trigger your ad to show. Then, when people search using the targeted keywords or phrases you picked, your text ads can appear alongside or above search results.
Ads can appear above or below search results on Google Search. They can appear beside, above, or below search results on Google Play, in the Shopping tab, and in Google Maps, including the Maps app.
Ads might appear with search results on the websites of Google search partners. For text ads, search partners include hundreds of non-Google websites, Google Video, and other Google sites.
How to Set Up Google Ads for Your Hotel
Step 1. Create Your Google Ads Account
First and foremost, you need to create a new Google Ads account. Visit the Google Ads homepage and sign in with your hotel's official email address.
Step 2. Choose Your Advertising Goals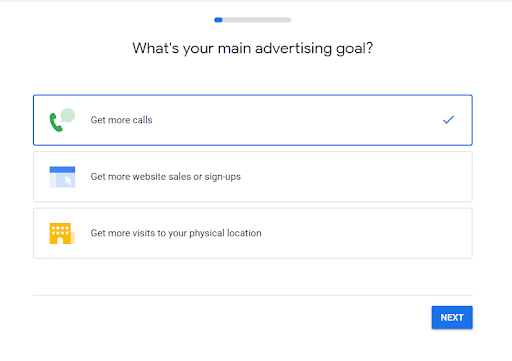 Determine your primary goal and the purpose of running ads on Google. Do you want to get more calls to your hotel? Are you looking to improve website sales or traffic? Or you want more visits to the hotel's physical location? As a hotel owner, all three options can be relevant to your business. If you have a website, we'd suggest you choose option 2. But your decision majorly depends on what results you are aiming for with the ads.
Step 3. Business Details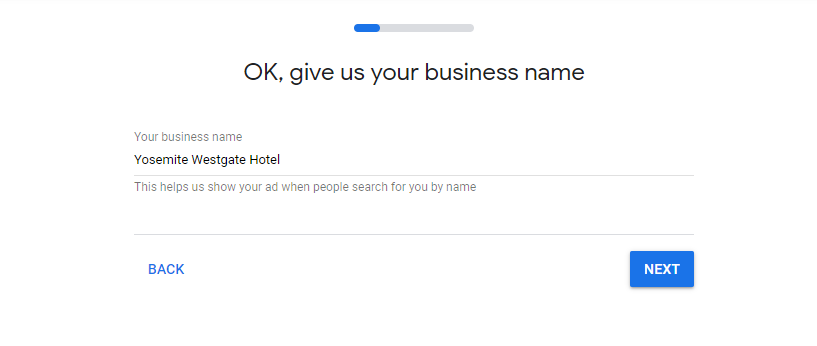 You need to describe your business, particularly the hotel name and the website URL (Since we went with option 2 in the previous step).
Step 4. Writing the ad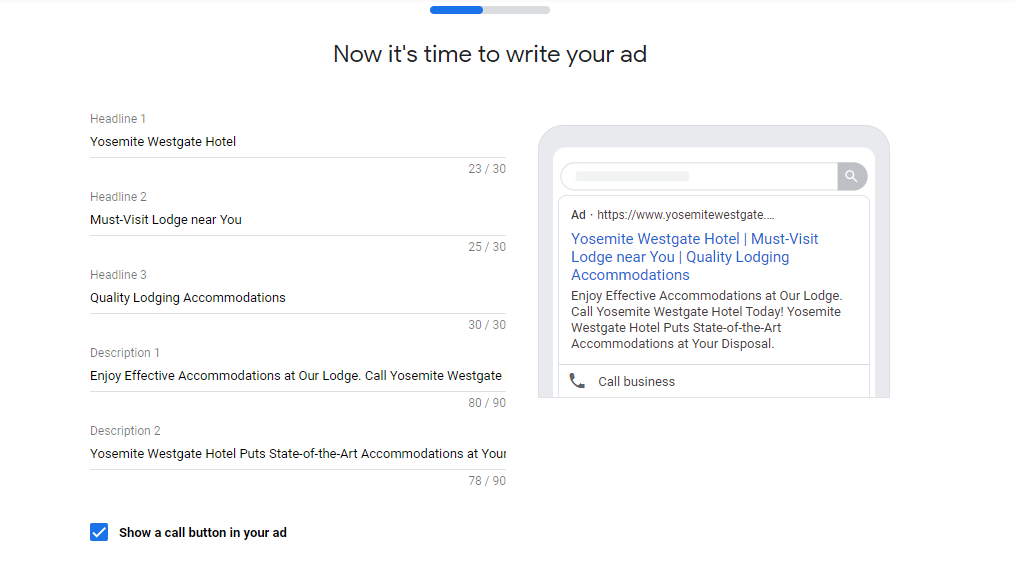 The next step is to write the ad copy. The preview on the right is how your Ad may appear to users on Google.
Google may suggest some ready-made ads based on the website meta-tags and descriptions. You can make edits to the suggested ad copy to your liking. Make sure to include your primary keywords in these fields for better results. Also, keep the call-to-action button checked on in your ads, as it may encourage users to call your hotel directly for inquiries and bookings.
Step 5. Add Keywords
It is imperative to have your keyword research done as a prerequisite to setting up and running Google Ads campaigns. Google Keywords Tool in itself is a fantastic tool to generate your most effective targeted keywords list.
Google will suggest some familiar keywords based on the website meta-tags, website content, and last details that we had provided. But this step will be relatively more manageable if you are already ready with your list of targeted keywords.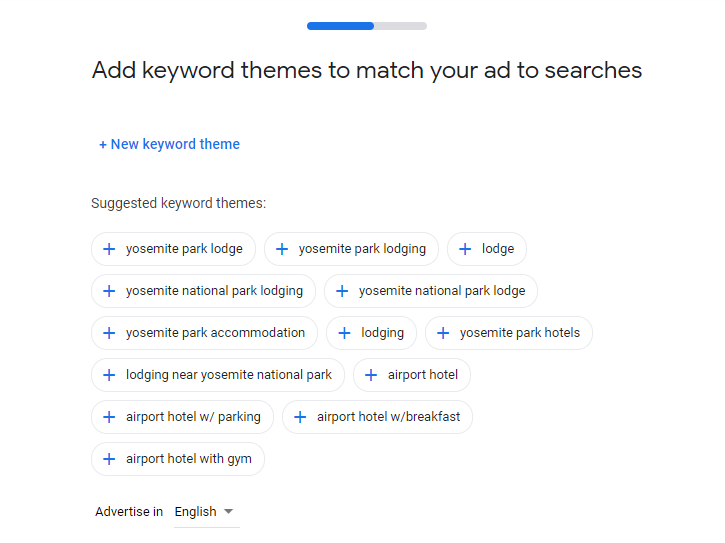 Step 6. Select your target audience
For this step, you need to know information about your previous guests. Ask yourself - From where do you get most of your guests? Who are your typical guests? Where are they from? Why do they stay at your hotel?
You get two options here. You can choose to advertise near an address, where you will have to put in the address and determine the radius you wish to target your audience.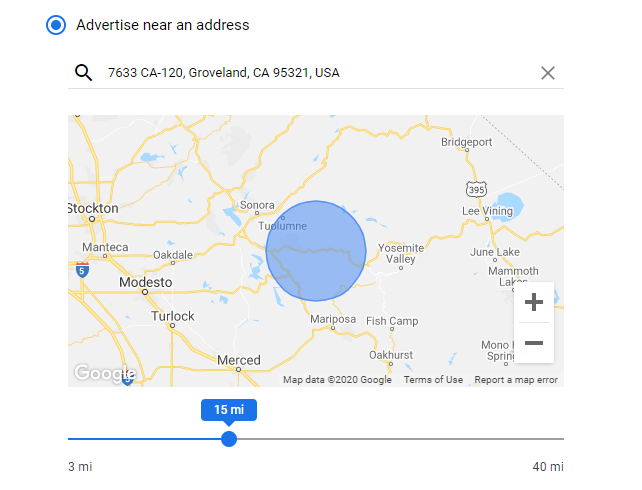 While the other option is to advertise in specific zip codes, cities, or regions, here, you can directly enter the name of the locations that you want to target, and you're good to go.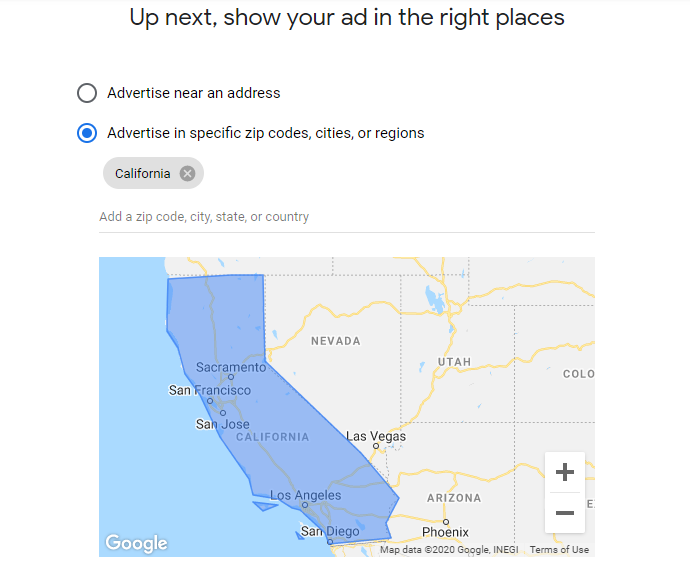 If your hotel has a lot of local or transient business, you probably can focus your target on local geography; however, if you are in a destination that has global appeal, you would need to expand your radius accordingly, thus minimizing your geographic targeting.
Step 7. Set Your Budget
This is one of the most crucial steps of the Google Ads setup. Based on your target locations and keyword themes, Google will give you an average daily budget for running the ad and the month's maximum spend limit. Google will also recommend you the best budget option according to various factors. You are also free to enter your budget directly.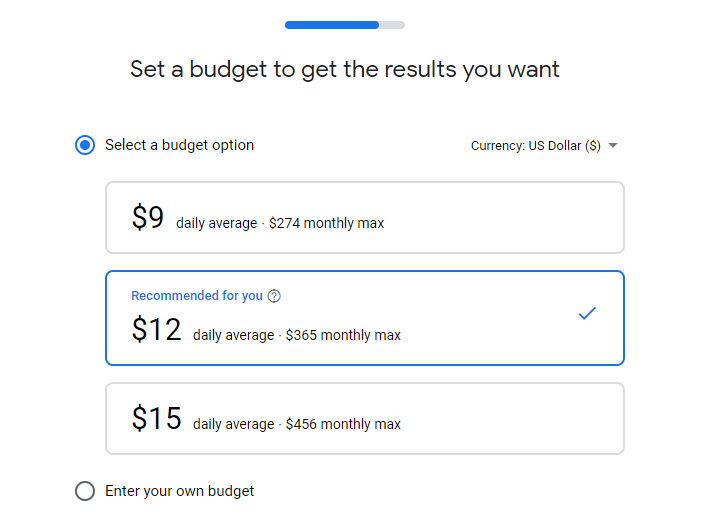 Also, understand that - You only pay for clicks on your ad. Some days you might spend less than your daily average, and on others, you might spend more. But over the month, you won't pay more than your monthly max.
Step 8. Review Your Settings
This is the final opportunity to make any changes or updates to your ads. Check if you have missed something, made an error, or need to make any adjustments.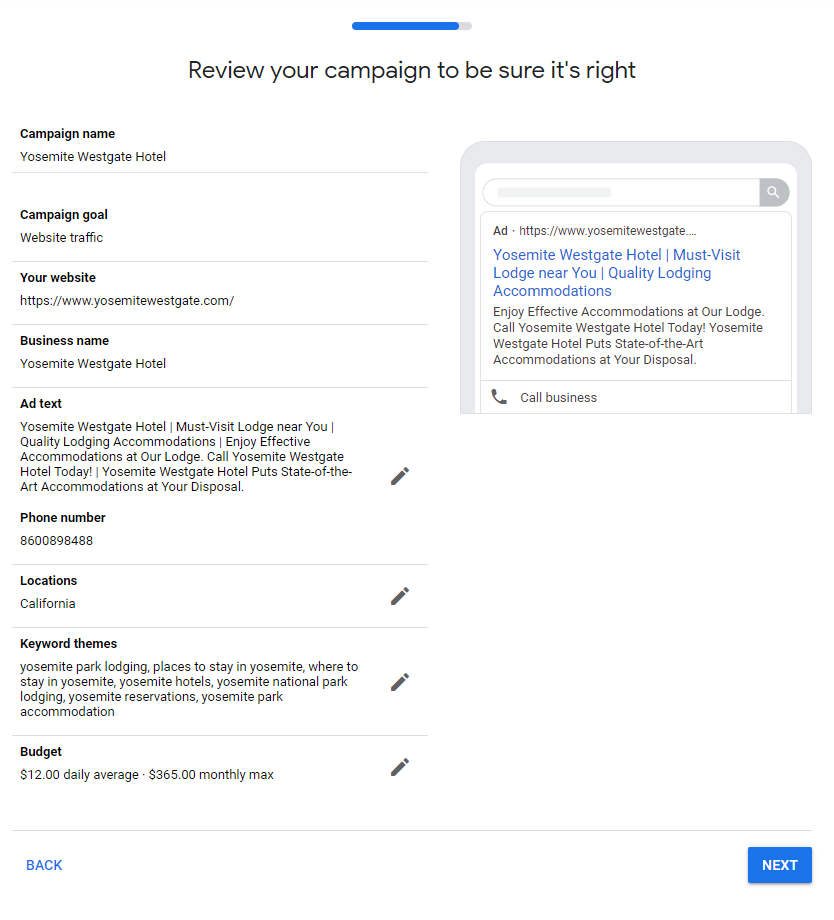 Step 9. Set Up Billing Information
Now that everything is ready to run the ad campaign, all you have to do is provide your contact information and payment details to start the Google Adwords campaign.
Correctly enter all the payment information, and when you click SUBMIT, your Google Ad will begin reaching people.
With this, you're finally DONE with setting up a Google Ads campaign for your hotel!
How Will Your Ad Appear on Mobile Devices?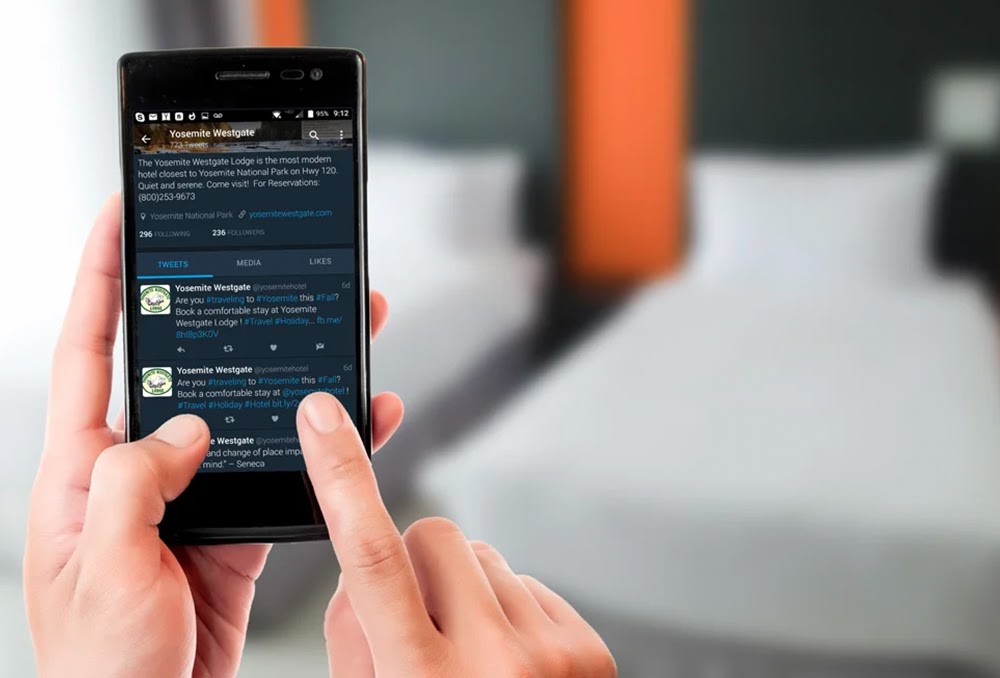 A website that can quickly cater to visitors' needs on mobile devices is an excellent Mobile-friendly or responsive website. Having a mobile-friendly hotel website is very important for an Innkeeper. To have a website that connects to the customer is not that easy, and that on mobile devices for a hotel website that turns lookers into bookers is pretty tough. A visitor tends to leave your website if it is not mobile-friendly. There are specific criteria for a website to be considered mobile-friendly.
Quick Loading: The time a website takes to load the entire contents of the webpage. A website should not take more than 3 seconds to load.
Easy to Navigate: The visitors should navigate from one webpage to another quickly and smoothly.
Fast Response: Visitors should get quick responses whenever they perform some tasks on the website like reservations, reviews, queries, etc.
These criteria enhance your hotel website's effectiveness and tend to engage the visitors that later can turn them into customers. INNsight can help turn your hotel website into an effective mobile-friendly website that can help you transform your prospects into customers.
Which Bid Strategy Should I Choose?
Google Ads are an efficient way to measure the success of your hotel website. Having a correct bid strategy is very important as it is directly related to your budget.
If your bids are too high, your hotel ad will appear high on the rankings, but your budget will be extinguished too soon.
If your bids are too low, your hotel ad will not be high in the rankings, and as a result, it will lead to lower customer acquisition.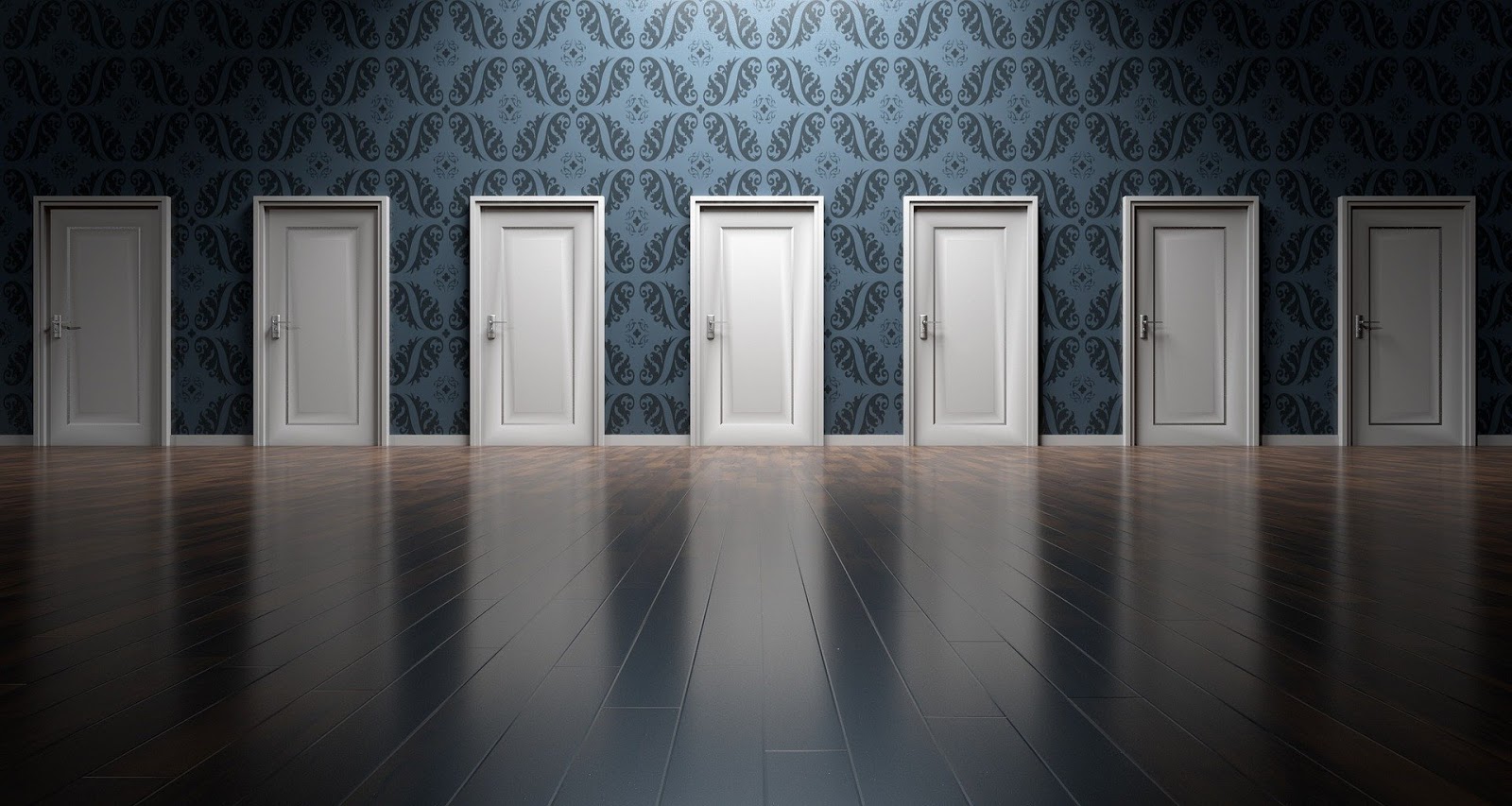 Several innovative bidding strategies offered by Google Ads cater to different types of campaigns.
Cost Per Action (CPA)
For an Innkeeper, converting a prospect into a customer is the foremost priority, and the CPA strategy helps increase conversions. It lets the Innkeeper decide a cost per action, and Google then uses it to have maximum conversions at or within the cost per action. CPA is one of the most influential and cost-efficient bid strategies for driving conversions for hotels.
Target ROAS (Return On Ad Spends)
As the name suggests, this strategy helps the Innkeeper to get more conversions based on the target return on ad spend.
The following equation can explain Target ROAS:
Return on Ad Spend = Revenue ÷ Ad Spend × 100
Manual CPC (Cost-Per-Click)
This strategy enables the Innkeeper to control his bidding manually. The Innkeeper only pays when the visitor clicks on the ads to learn more. It is a time-consuming process and becomes cumbersome when there are more campaigns to handle.
Enhanced Cost Per Click (ECPC)
This tactic helps get more conversions as compared to CPC bidding. The ECPC automatically adjusts the manual bid for clicks that likely leads to a sale or conversion. ECPC also enhances conversions while keeping the average CPC below the target max CPC you set.
Cost Per View (CPV)
This bidding strategy is only for video advertisements. The Innkeeper only pays for the number of video views or interactions. A view is when someone watches the ad for 30 seconds of the entire ad or interacts with it.
Cost Per Thousand Viewable Impressions (vCPM)
This bid strategy focuses on the number of impressions or views rather than the number of clicks. The Innkeeper set the highest bid amount on 1000 viewable impressions.
These are some of the primary and most crucial bidding strategies, which can help make your hotel website earn more views to have more clicks or interactions with it leading to more reservations, reviews, or queries.
Tracking Conversions from Google Ads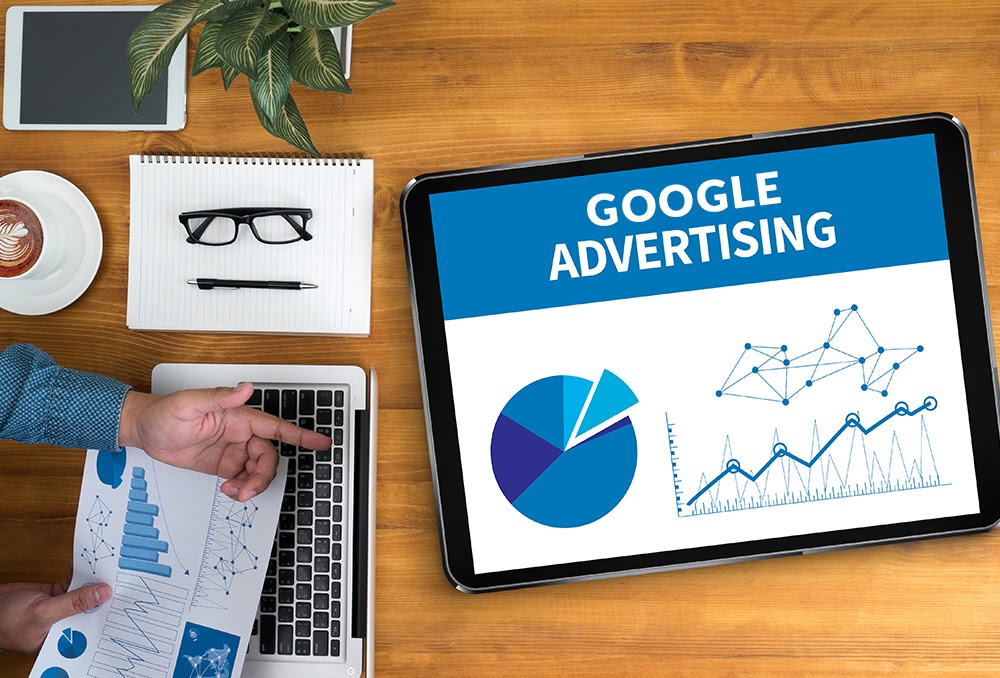 So, you've finally set up a Google Ads account for your hotel, and now you're eager to see how it works out. What is your ROI from running Google Ads for your hotel website?
Most of the time, we miss seeing how our applied strategies work and just focus on implementing them without any additional thought process. But, you CANNOT neglect analytics and teasing out your ad budget effectiveness with Google Ads; otherwise, you have the potential to lose a ton of marketing budgeting very quickly.
Here's how you can track conversions from your Google Ads:
Step 1 – Go to Conversion Tracker
In your Google Ads account, go to the Tools & Settings and select the "conversions" option.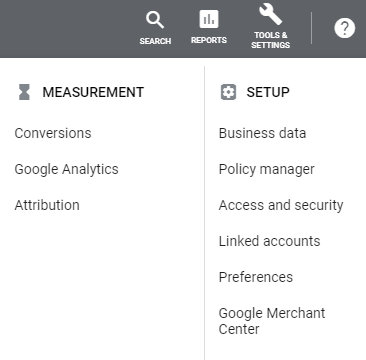 Step 2 - Select the conversions you want to track
After creating your conversion action, you'll get a tracking code that you'll need to add to your website to start sending conversion data to Google.

Step 3 - Choose the action you want to track
For instance, suppose you want to track leads received on your hotel website from Google ads. Select the appropriate parameters of the conversion action and finish this step.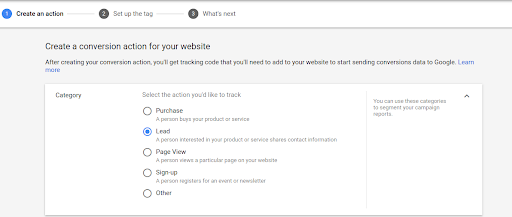 Step 4 – Setting up a tag
Tag is a code snippet that you must set up on your website through which Google will track conversions happening on your website from Google ads whenever the chosen action has taken place.

Select how you want to set up the Google Ads tag on your hotel website and follow the simple steps. That's it, and you're done!
How to Measure The Success of Your Google Ad Campaign
To measure the success of your Google Ad campaign, you will need to measure the customer actions which are valuable to you in your new marketing. These could be purchases, sign-ups, web page visits, leads, or video views. In the case of your hotel website, the biggest measure of success is your eCommerce transaction or direct reservation bookings. These actions are called conversions.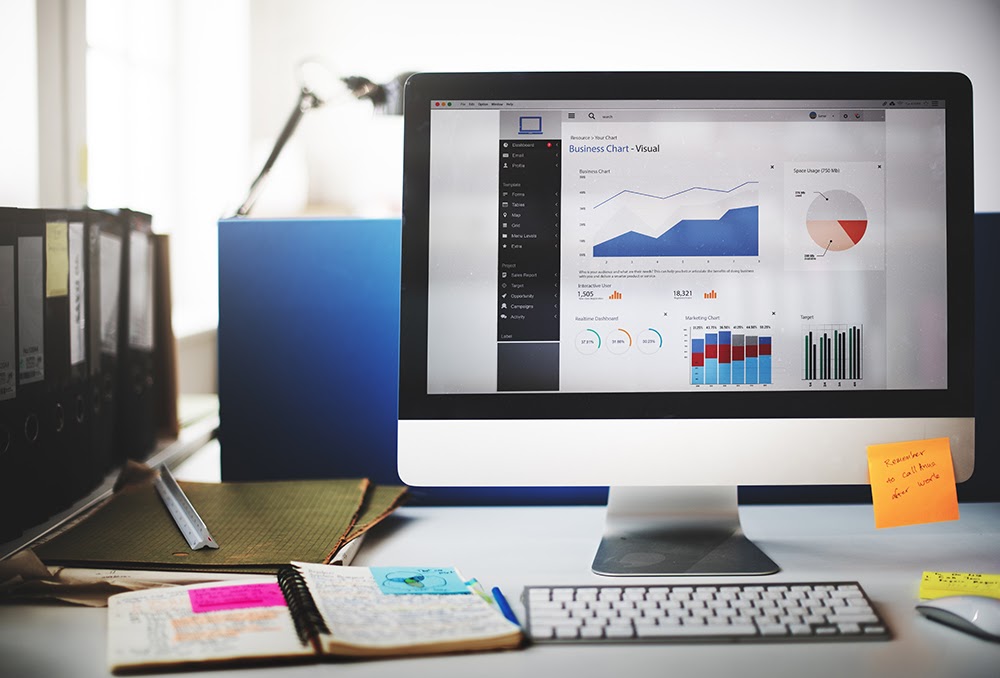 You can track how many clicks lead to conversions with the free Google Ads conversion tracking tool. Tracking this can also help you determine the profitability of a keyword or ad and track conversion rates and the cost for each conversion.
Quality Score
Quality Score is Google's metrics of the quality of your keywords, landing pages, and ads. Higher quality ads will lead to lower prices and better ad positions on Google search results. The Quality Score is calculated on a 1-10 scale. The more relevant your ads and landing pages are to the user, the more likely you'll see a higher Quality Score. You can see your Quality Score by adding the Quality Score column to a report.
The Quality Score includes expected clickthrough rate, ad relevance, and landing page quality:
CTR - Click-Through Rate
Click-Through Rate [CTR] is a metric that represents the expected number of clicks received on ads per number of impressions. It is estimated by how many people will click on your ad, based on users' experience.
The average CTR is 1.91% for Google Search Ads and 0.35% for Display Ads. The higher CTR, the better.
Ad Relevance
Google crawler estimates whether your ad is relevant enough and a good search result for the users.
For instance, if you are setting an ad for the keyword "San Francisco accommodations" and you don't mention San Francisco at all in the title and description, or you direct the users to a landing page that is not connected to accommodations in San Francisco, then, in that case, you cannot expect that you will have a good relevance score.
Another important aspect is to pay attention to the language in which the keyword is written. The language of an ad and landing page should be the same
The Higher ad relevance = higher Quality Score = lower cost-per-click.
Landing Page Quality
Undoubtedly, landing pages are significant, not only for Google Ads but also for your overall online marketing strategy.
The landing page is known as a web page that opens after a user clicks on your ad.
According to Google, landing page experience is determined based on Relevance (evaluated primarily by relevant keywords on the page), original, and valuable content. For a better landing page quality, make sure your landing page is directly relevant to your ad text and keyword.
Conversion Rate
According to Google's definition -
Conversion rates are calculated by simply taking the number of conversions and dividing that by the number of total ad interactions that can be tracked to a conversion during the same time period. For example, if you had 50 conversions from 1,000 interactions, your conversion rate would be 5%, since 50 ÷ 1,000 = 5%.
Ideally, we need to aim for high conversion rates and low costs per conversion to make your ad campaigns a success and obtain the highest bang for your marketing buck (ROI).
You can use the free Conversion Tracking Tool in your Google Ads account to measure your conversion rates.
Cost Per Conversion
Also known as Cost Per Action (CPA), it is defined by Google as -
The average amount you've been charged for conversion from your ad. Average cost per action (CPA) is calculated by dividing the total cost of conversions by the total number of conversions.
For example, if your ad receives 2 conversions, one costing $2.00 and one costing $4.00, your average CPA for those conversions is $3.00.
Along with aiming for high conversion rates, we also need to have low costs per conversion to generate profits and substantial results from your Google Ads campaign.
Use the Performance Targets to set an average CPA target for all campaigns in your Ad campaign group.
Wasted Spend [use of negative keywords]
You may have done your best in researching the best keywords for your ad campaign. Unfortunately, there may be a case that your ads budget may be getting consumed by keywords that you didn't intend to trigger.
It might not be your fault entirely, but not using the Negative Keywords feature provided by Google Ads itself will cost you money.
Have a detailed look at the various Search Terms that your ads are being shown for. You may end up finding search phrases that are related to your competitors, locations you don't serve, and potentially terms that aren't in any way related to your hotel.
There are the phrases that you need to look out for and add them as Negative Keywords.
Once you have added these phrases as negative keywords, Google won't show your ads for those phrases, thus eliminating wasted spending.
Why Should Hotels Invest in Google Ads?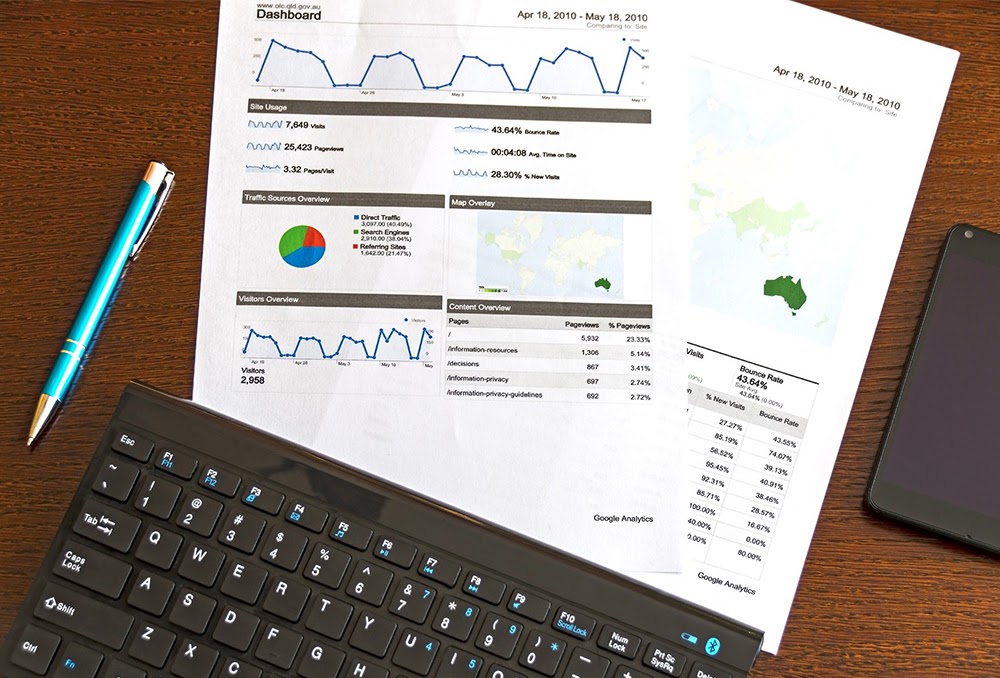 Think about the last time when you booked a hotel. Did you go directly to the hotel website, or Did you visit a local travel agency? No, you didn't. You went to Google and searched on it to make some comparisons. 57% of leisure and business travelers claim they always start their travel booking process with a search, according to a Google study by Ipsos MediaCT Advertising.
It is no secret that Google Ads has played a significant role in the hospitality & tourism industry when it comes to online google searches and getting direct bookings vs. indirect bookings via OTAs.
For hoteliers looking to drive a higher share of direct bookings, Google Ads should be a priority sooner rather than later. The new Google Hotel Ads program, in fact, displays your hotel availability and rates on Google Search, Maps, and the Assistant. Your hotel can begin by setting ad campaign parameters such as budget and duration. Then, once the ads run, you can review reports in Google Ads.
Google Hotel Search is a new dedicated search program where Hotel properties can connect their existing property management system or central reservation system to show the latest rates and availability or manually manage rates, room types, and availability to be displayed on Google. These campaigns work similarly to typical OTA Websites.
Online travelers often turn search on when researching hotels, resulting in millions of hotel search queries each day. On Google Hotel Search, online travelers can search hotels by price, location, ratings, view hotel details and photos, as well as book a room. Hoteliers need to be aware of Google's Ads and Google Hotel Search. We will be exploring the new Google Hotel Search product in an upcoming dedicated educational blog post. Stay tuned...
Conclusion
Gone are the days where customers picked up a phone to book hotel rooms. Nowadays, travelers are smart enough to book their hotel reservations online. So, if you are not on top of the SERP, you tend to miss many opportunities.
The power of SEO is unquestionable, but it's a fact that you need a lot of time and patience to reap fruits from your SEO efforts. So, Search Engine Marketing is the best suitable way to drive bookings in no time.
We at INNsight.com are aware of the PPC strategies to increase direct bookings swiftly. Our team of SEO and SEM professionals will ensure that every dollar you spend on Google Ads results in high ROI and drives higher conversion rates and more high-margin direct bookings.
Contact us today to set a robust Hotel PPC strategy and reach your right audience at the right time.