Remember when your biggest concern was only selling inventory? Independent hoteliers have learned to combat the challenges of competing with OTA's. These same hoteliers have taken their newly acquired operational battle skills to overcome challenges facing them due to competing Air B&B. Now independent hoteliers face a new challenge with the emergence of "Soft Brands" and "Collections."
Independent hoteliers must now compete with large chain Franchises getting comfortable in the driver's seat of lifestyle soft brands that edge themselves into the boutique niche and attract the guest who would otherwise avoid a chain hotel. These large competitors understand that offering travelers a complete experience is what is necessary to fill the house and earn loyal return guests.
Vacation travel is an emotional experience. The goal of every hotelier should be to deliver a complete experience, rather than solely a place to lay one's head, and this experience begins at your standalone website. What is your website telling guests? And how does your site express the experience you are offering potential guests?
Forge Relationships with Your Favorite's
Independent hotels have a competitive edge of knowing their neighborhood and their local area. Flex your freedom and develop relationships with your favorite restaurants, tour operators, sightseeing tours, spas, massage therapists, and create a discounted package deal to offer guests.
It's All About Optics
As a hotelier, you need to optimize your revenue while keeping operational costs in check. To be efficient, you need to effectively identify optimal rates to ensure you aren't losing money. RevPAR, ADR, and OccRate are components that work hand-in-hand. To get ahead of the curve, you must understand how to optimize data and efficiently manage your revenue. Be aware of the rates you display on your standalone site, as well as the rates of your competition and OTA's. You should always keep your standalone rates 5%+ lower than higher cost channels, and your pricing optics should try and leverage the 5's and 9's pricing rule. $99 looks more attractive to travelers than $100. (You get the idea.) Smart pricing optics help drive more direct bookings, creates happy guests, and this equals good business. Delivering value to guests, while keeping a finger on the pulse of your competitive set is essential. Facilitating strike-thru pricing to offer deals, as well as offering discounts and promo codes, is also a fantastic way to entice guests to book direct.
Stay on top of your guest reviews
It is important for potential guests to see that you are involved through responding to reviews by engaging and responding to the concerns and compliments via review sites. Over 67% of travelers will not make a reservation if they perceive that the owners of the hotel do not care enough to respond to reviews. Unfortunately, some hoteliers regard responding to reviews as arduous and futile. However, by answering reviews, hoteliers create an important touch-point with past and future guests and take important steps to secure a positive online reputation and grow their business by increasing occupancy and revenue.
Where Do Your Bookings Originate - Own Your Bookings
To break this list down, Expedia has under its umbrella Hotels.com, Hotwire, Orbitz, Trivago, Travelocity, Home Away, and is also affiliated with TripAdvisor.

Beneath the umbrella of the Priceline Group, you will find Booking.com, Priceline, Kayak, Agoda, and Ctrip, among others. 78% of reviews come from the top four sites, yet the top of the review and travel market mountain is dominated by two behemoth companies.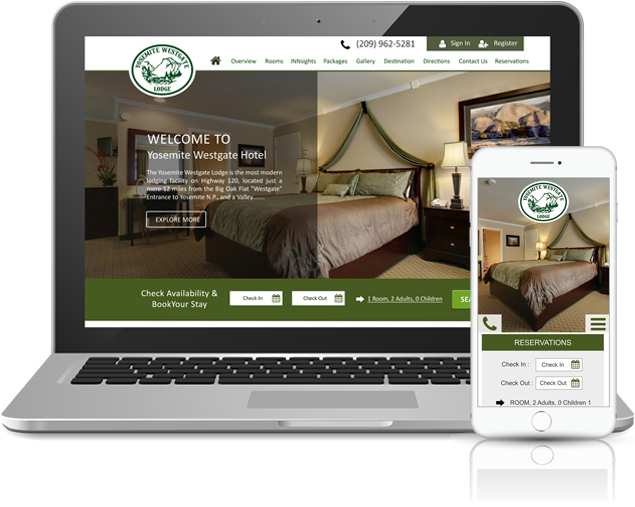 Dominate with a Strong Web Presence and Professional Digital Marketing from INNsight
Let's start with your website. Conversion happens if travelers have a positive experience that is fast, and if the site is engaging. Offering guests a custom responsive designed website, puts you ahead of the curve. You are going to want to bring a professional digital marketing company on board as well. INNsight knows how to navigate this landscape, working with you as your partner in custom design and digital marketing. INNsight offers the only complete digital marketing system in the hospitality industry. With Zero Upfront Costs, No Long-Term Contracts, Zero Cancellation Penalties, Zero Commissions, and Zero Hidden Charges—just a simple, low-cost month-to-month subscription.
INNsight has all-inclusive packages with complimentary custom responsive website design, social media engagement and management, Blog management, SEO services, web hosting, email hosting, PMS, and commission-free booking engine (for properties that need this function), reputation management, facilities management, and a CMS that gives hoteliers unprecedented control of their website, rates and inventory. INNsight also has a Marketplace of places to stay that offers hoteliers across the globe additional web exposure.
INNsight gives you the tools to operate more efficiently, effectively and affordably market your hotel, and increase your margins while becoming less reliant on OTA's for selling inventory.
Get creative with your marketing
Let's face it. As a hotelier, you probably think you don't have time to take on the task of marketing your property or know how to stretch your marketing dollars effectively. This essential function is easier than you might think. By exercising creativity, you can masterfully market your property using on-line and off-line marketing tactics that drive guests to your hotel without breaking the bank.
Do You Still Need Help Finding Travelers?
We recommend looking into Sojern. Sojern takes the issue of OTA commissions head on by making bookings direct, finding travelers that are likely to book a room, and making the cost of acquiring guests lower; delivering a risk-free direct booking platform for independent hotels through property specific, and effective online display advertising. Their creative team can put slick display ads together for you free of charge. Their model is commission based, if they don't perform, you don't pay.
About INNsight
At INNsight, we know hotels and website design. Our San Francisco-based company has been artfully crafting hotel websites for over a decade. Our understanding of how travelers' search, research, and book hotel rooms, leads our fine-tuned design standards. Our user-friendly framework allows a traveler look, and then drives them to book their stay with ease. We use this INNsight to develop the most advanced hotel websites leveraging the latest web technologies and usability best practices to drive higher user engagement and conversion.
If you would like a free audit of your current website or would like more information about how INNsight can help your property's digital marketing through our Award-Winning Technology and awesome customer service, don't hesitate to call: 415.741.4113 or email: sales@INNsight.com.